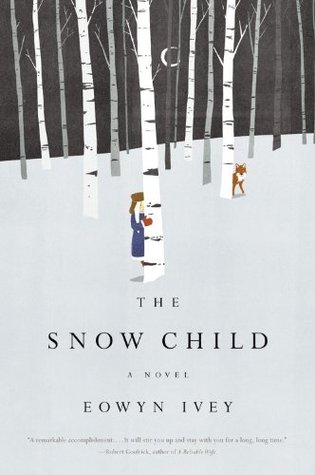 My Review:
I first heard about this book from blogger, Cindy at "Utah's Mom's Life".  I had the book on my reader for some time and was waiting for the perfect time to read this little gem.  I have been in a reading funk lately, so I wanted a book that was fantasy in some ways, a book that would take me away from the serious books I had read lately.
While this book is not a "light" read, it is definitely one that is magical, deals with heartache, family, and realizing that dreams do come true…even if they aren't wrapped up in a way that one perceives.
I loved the rugged and rural setting of the book.  Set in the 1920's, Jack and Mabel decide to venture to a new land: Alaska.  There, they decide to make their home, away from the daily reminders of the loss of their child and family/friends to remind them of those painful memories.  However, as life always shows, no one can run from their past memories.  Mabel is quite stoic and has an inner strength that helps carry her and Jack through the cold winters and harsh reminders of their aloneness.  However, they soon find they aren't alone and develop friendships with George and Esther, and become parents to Faina, their snow child.
I love the relationship between Esther and Mabel, how Esther's resilience and strength helps Mabel and Jack, how George and Esther take care of them and teach them, and the way they all become friends, then family.  The details of their Alaska homesteads were quite descriptive, that it was quite easy to see it in my mind.
There were many times I didn't know where the story would go or how it would end, and that was okay. I liked not knowing where the author would take her readers.  However, there were many times towards the end of the book that I would think: "awww…that's a beautiful ending".  Then, I would turn the page, only to find another chapter.  After awhile, I was ready for it to end.  I felt like one of the animals ensnared in a trap…quick to grab you and slow to let go.  However, that was just the last few chapters.  The first 30 something chapters actually move quite nicely and the characters are all connected in some way.
The ending, or multiple endings (in my opinion) are hard, sad, intense, which is reminder of the harsh times during that era.  Just like the snow is surely guaranteed to appear each year (and with it bring hope), this story also brings hope and shows how you can either stay stuck in your own tragedy or see each new possibility as an opportunity to bring joy.  Overall, a great book!
  *A huge thanks to my bloggey friend, who gifted me this amazing book!