My Review:
This book is celebrating it's 10th anniversary!  For a book to be 10 years old and to still be ever so funny and relevant, says a lot about Plum Sykes quality of writing.
the perfect book to read between some serious reads!  I loved this book, as it reminded me so much of one of my all time favorite books: Valley of the Dolls by Jacqueline Susann.  It's a book about the kind of people that "people like us" are sickened by because of how fake they are, but yet we still watch those reality shows about them and read the tabloids. Told with wonderful 1990's detail, readers will love the way Plum Sykes brings a modern twist to living in New York.  I couldn't help but think of the NY heiresses, Paris and Nicky Hilton, Aly Hilfiger, the Clarin sisters, etc.
The storyline is funny-trading a handbag for a PH (potential husband), and trading crystal facials for a fiancé to get that "glow".  I love how quickly the storyline moves, the characters are really interesting, which makes for a fun read, and it's a book that many will love who enjoy the Chick-lit genre and love books told in a comedic way about the tales of the "oh-so glamorous", who are really just girls with lots of money trying to have it all.
The only issue is the overuse of acronyms.  It's was hard to understand initially, but after awhile, it was easy to figure out.  Just stay with it, it is worth the light read!
*This book was provided through TLC Book Tours and its publisher, in exchange for an honest review.
About Plum Sykes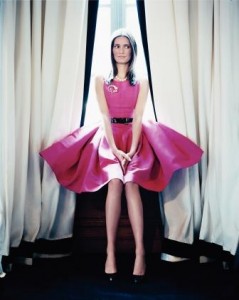 Plum Sykes was born in London and educated at Oxford. The author of the novels Bergdorf Blondes and The Debutante Divorcée and the Kindle Single memoir Oxford Girl, she is a contributing editor at American Vogue, where she writes about fashion, society, and Hollywood. She has also written for Vanity Fair. She lives in the English countryside with her husband and two daughters.
Plum's Tour Stops
Tuesday, August 19th: A Bookish Way of Life – Bergdorf Blondes
Thursday, August 21st: booknerd – Bergdorf Blondes
Friday, August 22nd: Drey's Library – The Debutante Divorcee
Monday, August 25th: Carpe Libros – The Debutante Divorcee
Tuesday, August 26th: Books in the Burbs – Bergdorf Blondes
Wednesday, August 27th: Book by Book – Bergdorf Blondes
Thursday, August 28th: Reading in Black & White – Bergdorf Blondes
Thursday, August 28th: From the TBR Pile – Bergdorf Blondes
Monday, September 1st: A Bookish Way of Life – The Debutante Divorcee
Tuesday, September 2nd: Drey's Library – Bergdorf Blondes
Wednesday, September 3rd: Reading in Black & White – The Debutante Divorcee
Thursday, September 4th: booknerd – The Debutante Divorcee
Monday, September 8th: Mom in Love With Fiction – Bergdorf Blondes
Tuesday, September 9th: Staircase Wit – Bergdorf Blondes
Wednesday, September 10th: Reads for Pleasure – Bergdorf Blondes
Thursday, September 11th: BookNAround – Bergdorf Blondes
Tuesday, September 16th: Cruising Susan Reviews – Bergdorf Blondes
Wednesday, September 17th: A Book Geek – Bergdorf Blondes
Thursday, September 18th: Books à la Mode – Bergdorf Blondes
Thursday, September 18th: Book by Book – The Debutante Divorcee
TBD: Books in the Burbs – The Debutante Divorcee
TBD: Cruising Susan Reviews – The Debutante Divorcee