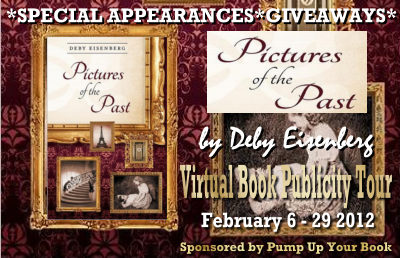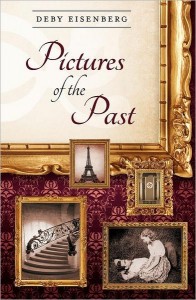 Product Details
Paperback: 376 pages
Publisher: Studio House Literary (August 9, 2011)
ISBN-10: 0615483127
ISBN-13: 978-0615483122
Genre: Historical Fiction
Synopsis:
First-time novelist Deby Eisenberg hits the ground running with PICTURES OF THE PAST, an epic family and historical saga, sweeping through Chicago, Paris and Berlin, reliving events from pre-World War II Europe, but beginning in contemporary times. An Impressionist painting, hanging for decades in the Art Institute of Chicago and donated by the charismatic philanthropist Taylor Woodmere, is challenged by an elderly woman as a Nazi theft.
Mary Lignor of Book Pleasures says, "This novel is one of the most intriguing and beautiful books that I have ever read. The ending of this book will touch your heart… The writing is first class."
Taylor's story takes the reader to 1937. Sent to Paris on family business, he reluctantly leaves his girlfriend, Emily, a spoiled debutante from Newport, Rhode Island. But once in Europe, he immediately falls in love – first with an Henri Lebasque painting, and then with the enchanting Sarah Berger of Berlin. After Taylor returns home, the Berger family becomes trapped in the Nazi web, and any attempts for the new lovers to be reunited are thwarted.
Interwoven with this narrative is the story of Rachel Gold, a beautiful and bright Chicago girl caught up in the times of the late 1960's. Pregnant and abandoned by her boyfriend Court Woodmere, Taylor's son, she moves to New York to live with her aunt, a Holocaust survivor. Years later, as the controversy surrounding the provenance of the painting becomes public, Rachel's grown son is disturbed by his inexplicable familiarity with the work of art. And it is only Taylor Woodmere who can unravel the complicated puzzle of their lives.
As a Book Club leader for the past sixteen years, Eisenberg came to understand the kinds of stories that grabbed her group and she challenged herself to write a novel that her avid readers could not put down and would love to discuss.
The result was PICTURES OF THE PAST.
My Review:
Because my book club is reading Sarah's Key for our Book of The Month, I wasn't really looking forward to another WWII/Holocaust story. However, I loved this book!! Deby Eisenberg's writing style reminds me of Jodi Picoult's. Each chapter tells a story from a different characters perspective, in a different time period, with there being quite a few characters to keep up with. However, it is all leading up to the merging of these characters and how they are all connected.
In Sarah's Key, I didn't feel that I had closure with the main character and I was left with more questions than resolution. However, in Pictures of the Past, I felt that Deby brings the characters full circle without it being too unrealistic or too perfect. I loved the descriptiveness of each scene and the beauty brought out during a time of war. For example, Sarah takes Taylor to all her favorite shops and sees past the markings of hatred the Nazi's wrote across Jewish shops/businesses. It was in the simple things mentioned that made me fall in love with the characters. I didn't feel a sense of rushing through different character's chapters, like I did with Sarah's Key. I loved reading about each perspective and life story and towards the end of the book, it all came together beautifully.
This is a beautiful story, very well written, and deserves to be recognized as a great Historical literary book. I highly suggest this book and encourage you to add this to your must read book list!
*This book was provided by Pump Up Your Books in exchange for an honest review.
Pictures of the Past Virtual Book Publicity Tour Schedule

Monday, February 6
Book reviewed at Year of Jubilee Reviews

Tuesday, February 7
Book reviewed at Book Nook Club
Wednesday, February 8
Book reviewed at Acting Balanced

Thursday, February 9
Guest blogging at Acting Balanced

Friday, February 10
Book reviewed at Moonlight, Lace & Mayhem

Monday, February 13
Book reviewed at True Media Solutions

Tuesday, February 14
Book reviewed at Bookworm Lisa
Interviewed at The Writer's Life
Wednesday, February 15
Book reviewed at Books in the Burbs
Thursday, February 16
Book reviewed at Hands and Home
Friday, February 17
Book reviewed at Everyday Is An Adventure
Monday, February 20
Book reviewed at 2 Kids and Tired Books
Tuesday, February 21
Book reviewed at Library of Clean Reads
Wednesday, February 22
Book reviewed at Bags, Books & Bon Jovi
Thursday, February 23
Book reviewed at Hey, I Wanna Read That
Friday, February 24
Book reviewed at Celtic Lady's Reviews
Monday, February 27
Book review & interview at S.O.S. Aloha
Interviewed at Literarily Speaking
Tuesday, February 28
Book reviewed at Broken Teepee
Wednesday, February 29
Book reviewed at The Bookish Dame
Related articles