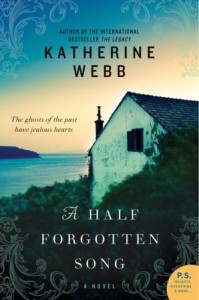 Book Information:
Source:  TLC Book Tours/Publisher
Genre:  Historical Fiction
Paperback: 496 pages
Publisher: William Morrow Paperbacks; Original edition (May 28, 2013)
Cupcake Rating:  An excellent cupcake with sprinkles AND a cherry on top (click here to find out what that means)
Synopsis:
England, 1935. In the village of Blacknowle on the Dorset coast, thirteen-year-old Mitzy Hatcher has endured a wild and lonely upbringing. Shunned by her neighbours, the arrival of renowned artist Charles Aubrey, along with his exotic mistress and their two daughters, is like a breath of fresh air for Mitzy. Over the course of three summers, Mitzy develops a deep and abiding bond with the Aubrey household, gradually becoming Charles's muse. Slowly, Mitzy begins to perceive a future she had never thought possible – and a powerful love is kindled in her. A love that will grow as she does: from innocence to obsession; from childish infatuation to something far more dangerous. Moving from the wilds of the Dorset coast to the intoxicating heat of a Moroccan summer, A HALF-FORGOTTEN SONG explores the quixotic nature of memory – and the perils of obsessive love. A sweeping and powerful tale that will leave you captivated.
My Review:
This book has a gothic vibe, that will certainly keep the reader engaged.  While this book is told through alternating voices and past/present, the reader will easily be able to follow the storyline and see how the truth unravels for both-Mitzy and Zach.  The story is rather a bitter sweet tale of love lost, love regained, abandonment, and regret.
When I first read the synopsis and started reading the book, I thought the feelings Mitzy were reciprocated in an unhealthy pedofile-ish way.  However once I got into the meat of the book, I was able to see how infatuation can be one-sided and quite blinding.  To understand Mitzy and love her (despite of  her flaws and regrettable things she does), one has to remember how broken her home life was.  Her mother was a prostitute, her father was no where to be found (maybe lost at sea), leaving Mitzy neglected and the laughing stock of the town for having a mom like that.
Enter the Aubrey family, with their love and joyfulness, which makes her want to be a part of their world.  I loved the innocence that both Aubrey sisters displayed and their carefree personality.  Naturally, Mitzy loves being around the girls and is accepted openly into their family….in the beginning.  Then, Mitzy's feelings for Charles become more of daughter/father relationship and become an unhealthy infatuation, where she will do anything to be him, at any cost.  And cost, it does!
There are so many twists and while the beginning may be a little slow, it shows the relationship Zach has with his daughter and what draws him to the small town of Blacknowle.  The ending is sooo good! It unravels all the truths that were hidden by guilt, sadness, and regret.  What I loved most about this book is the lessons it teaches.  It shows how we can perceive something in our mind, but our reality can be quite different.  It also shows how there are always consequences and everyone pays in some way.
Overall, an excellent book!
*This book was provided by the publisher, in collaboration with TLC Tours.
For more information about Katherine Webb and the book check out her author
page at her publisher, find her on Facebook, or follow her on Twitter.
Monday, June 10th: Tiffany's Bookshelf
Tuesday, June 11th: Wordsmithonia
Wednesday, June 12th: Books in the Burbs
Thursday, June 13th: A Dream Within a Dream
Related articles