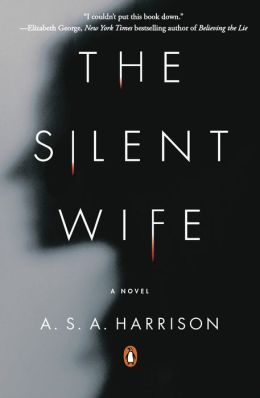 Synopsis:
A chilling psychological thriller about a marriage, a way of life, and how far one woman will go to keep what is rightfully hers
Jodi and Todd are at a bad place in their marriage. Much is at stake, including the affluent life they lead in their beautiful waterfront condo in Chicago, as she, the killer, and he, the victim, rush haplessly toward the main event. He is a committed cheater. She lives and breathes denial. He exists in dual worlds. She likes to settle scores. He decides to play for keeps. She has nothing left to lose. Told in alternating voices, The Silent Wife is about a marriage in the throes of dissolution, a couple headed for catastrophe, concessions that can't be made, and promises that won't be kept. Expertly plotted and reminiscent of Gone Girl and These Things Hidden, The Silent Wife ensnares the reader from page one and does not let go.
My Review:
Having not read Gone Girl I really didn't have anything to compare this book to.  I always think that when a book is compared to another, it dilutes the experience for the reader because it becomes more of a comparative analysis-rather than just having an organic reading experience.
I read this book pretty quick. While the subject matter is heavy, the storyline really didn't dive deep into issues of infidelity, betrayal, anger, and guilt.  Each chapter alternates with a "his" and "her" chapter, giving the reader an inside perspective to that person's opinion.  While it was interesting to read both points of view, both Jodi and Todd don't ever really look at the ramifications of their actions and don't take full responsibility for their decisions.
On the whole, the book seemed a little surface to me-touching on topics, but not really exploring the in's and out's of a relationship on the brink of destruction.  However, it would make for a great book to discuss with others-at a book club or just readers chatting about it, because the subject matter is prevalent and affairs happen quite often.
While the author doesn't spell out for the reader the why's, it was quite interesting to read how easy it is for couple's to come together through their own pain and personal issues, how childhood impacts adult relationships, and that in the end-everyone wants to be loved and respected.
There was a lot of dialogue between Jodi and her therapist, who modeled this counseling approach to Adlerian.  This was also the model Jodi used in her own private practice and how she approached her own relationship with Todd.  While Jodi is quite focused with her clients and helps them to be aware of their situations, be empowered, and create the change they want, she is unable to do that in her own relationship.  Rather, she diverts to modeling her relationship with Todd like that of her own parents.  Whereas Todd feels entitled and feels that because he isn't an alcoholic like his father, that he is that much better as a partner.  Sadly, they both never work together to create their own rules and follow through with their own relationship expectations.  Both seem to be cohabitating and living parallel lives.
Overall, this was a great book!  I was sad to read that A.S.A. Harrison passed away from cancer before her first novel-The Silent Wife, was published.  I would have loved for her to have seen the success of her own book and wish her loved ones some healing and hope during this difficult time in their lives.
*This book was provided for review through Netgalley.
Related articles