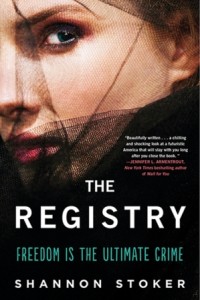 About The Registry
Genre:  Dystopian
Paperback: 336 pages
Publisher: William Morrow Paperbacks; Original edition (June 11, 2013)
Source:  TLC Book Tours, Publisher
Rating:  A Good Cupcake with Icing (click here to know what that means)
Synopsis:  Welcome to a safe and secure new world, where beauty is bought and sold, and freedom is the ultimate crime.
The Registry saved the country from collapse, but stability has come at a price. In this patriotic new America, girls are raised to be brides, sold at auction to the highest bidder. Boys are raised to be soldiers, trained to fight and never question orders.
Nearly eighteen, beautiful Mia Morrissey excitedly awaits the beginning of her auction year. But a warning from her married older sister raises dangerous questions. Now, instead of going up on the block, Mia is going to escape to Mexico—and the promise of freedom.
All Mia wants is to control her own destiny—a brave and daring choice that will transform her into an enemy of the state, pursued by powerful government agents, ruthless bounty hunters, and a cunning man determined to own her . . . a man who will stop at nothing to get her back.
My Review:
Ever since Hunger Games by Suzanne Collins, I have entered into the realm of Dystopian Lit!  And, another realm, it is!
The Registry is definitely a book that is possibly more geared toward a younger YA audience.  Perhaps, for those who haven't yet read Hunger Games, or are too young to read it yet.
The book is set to be a trilogy! So, I'm hoping what was loosely written or not fully developed, will be as the stories progress through the next 2 books.  The second one is set to be published this Winter, 2013.  If you've read other reviews of mine, you will know how much I LOVE trilogies!!  I become invested in the characters and their lives, as a reader, so having extra books to look forward to-is always a treat!
I thought the premise was interesting: it's set in the future, but the rules are so archaic that it takes you back to the Leave it to Beaver times…where the women are so submissive and obedient to their husbands, that their only requirement is to say, "yes, dear".
The girls are a huge commodity to their families, as they are wed to the highest bidder.  Based on beauty, and not brains, girls are taught to primp and style themselves…think Toddler & Tiaras being the guideline for raising your little girls.
Boys are raised by the government, to be soldiers, who may survive after their service.  For those who do, they may be able to invest in a bride as well.
Mia, the main female character, is no different from the other girls being trained to be wed.  However, she is also a sister of 2 others daughters in her family and is surprised to learn that "happily ever after" doesn't really exist once the sisters leave home.  Determined to be in charge of her own fate, she escapes before being wed.
From there, the storyline goes quite fast.  There is a love triangle, Mia is determined to go to Mexico (where she feels there is freedom from "the registry"), and along the way, people will help her.
The story is quite unique, but didn't develop strong as the story went along. I wondered about Mia's parents, the history behind Mia's sister, why was the registry enforced in the U.S. (which is now sectioned off in regions), and how parents can subject their daughters to abuse and being more of a Stepford wife.
While it does seem the country (USA) is learning more towards giving up freedoms in the name of  so-called "security", I don't know how "realistic" this book seemed.  It's almost as if the world goes full circle with men dominating women and women not seeing themselves anymore, but as a trophy wife.  Mia starts off quite head strong, only to get more clueless as the story progresses.  I also didn't understand the motives behind those helping Mia, when they themselves were living under those same conditions and requirements.  It would have been great to have seen an anarchy type group, building it's group up to overthrow the government by getting recruits (of those wanting to leave the registry).
I also didn't understand why people would risk their own life for Mia to escape.  There wasn't a strong enough motivation and the people, who helped, weren't developed as strongly.  However, I still couldn't stop reading this book! So, I finished it, wanted to know more…what develops between Mia, Andrew, and Carter.  Yes, there is a little bit of an awkward love triangle.  Nonetheless, it was a good book! And, yes, I will be reading the next book.
*This book was provided by TLC Book Tours and the publisher, in exchange for an honest review.
******************************************
  About Shannon Stoker
Shannon Stoker is a licensed attorney who works for Northern Illinois University, assisting students and staff with research integrity. The Registry is her first novel. Shannon lives in De-Kalb, Illinois, with her husband and small dog.
Connect with Shannon on Facebook.
Shannon's Tour Stops
Tuesday, June 11th: Jenn's Bookshelves
Wednesday, June 12th: Doing Dewey
Thursday, June 13th: Unabridged Chick
Friday, June 14th: Let Them Read Books
Monday, June 17th: Kritters Ramblings
Tuesday, June 18th: Bookmagnet's Blog
Wednesday, June 19th: Giraffe Days
Thursday, June 20th: Reflections of a Bookaholic
Tuesday, June 25th: From L.A. to LA
Wednesday, June 26th: Books in the Burbs
Thursday, June 27th: she treads softly
Monday, July 1st: No More Grumpy Bookseller
Tuesday, July 2nd: Sweet Southern Home
Wednesday, July 3rd: Luxury Reading
Tuesday, July 9th: Drey's Library
Wednesday, July 10th: From the TBR Pile 
Related articles