Product Details
ISBN-13:

9780062246912

Publisher:

HarperCollins Publishers
Pages: 304
Genre: Contemporary Literature
Overview:
Courtney Farrell is a disaffected, sexually precocious fifteen-year-old. She splits her time between Manhattan, where her father works in publishing, and Los Angeles, where her mother is a still-beautiful Hollywood actress. After a boarding-school crush on a female teacher ends badly, Courtney sets out to learn everything fast. Her first drink is a very dry martini, and her first kiss the beginning of a full-blown love affair with an older man.
A riveting coming-of-age story, Chocolates for Breakfast became an international sensation upon its initial publication in 1956, and it still stands out as a shocking and moving account of the way teenagers collide, often disastrously, against love and sex for the first time.
My Review:
There are books that have stayed with me for years, causing a shift in my thinking, making me see things a little differently, and taking me into a world that I want to leave, but I'm somehow drawn to stay and linger for a while. This book is reminiscent of , The Bell Jar by Sylvia Plath, Valley of the Dolls by Jacqueline Susann, and Go Ask Alice by Beatrice Sparks. It's such a great book, and deserves to be republished again!
What I love about Pamela Moore's writing is how easy her writing flows. She was only 18, when she wrote this brave and harrowing tale of a young teen that is on the brink of finding her own identity and independence, while also exploring her sexuality and living quite alone in Hollywood and later in New York. Back in 1956, women, much less teens, weren't talking about cutting, uninhibited sex, and drinking. Certainly not opening the curtains into their own daily lives and giving a front row seat to the emotionally and sexually charged youthfulness that girls, like Courtney experienced. This book, being written by a teen, for teens, has crossed over generations to show that it still holds relevance to today-for all genders and ages.
Based on a semi-autobiographical history of Pamela's youth, I couldn't help but wonder if somehow Pamela was trying to regain some normalcy by writing and stowing away those dark reminders of her past. Much like the analogy Anthony gives of losing his shadow, I wonder if Pamela was trying to lose hers, too. Unlike books of today, Pamela's book writes about her cutting, her curiosity about being "queer", and the drinking parties, which are not told in such graphic and minute detail, but does lend itself to further interpretation by the reader. Pamela Moore's writing is done with ease and a blazay attitude, that actually causes the reader to want to know more.
As I read this book, I couldn't help but picture certain actors/artists in different roles being these characters. I kept seeing the young Drew Barrymore as Courtney and think that Drew could relate to Courtney's character as they did have similarities. I also kept picturing a young pretty boy as Barry Cabot, like Jennifer Lopez's young boyfriend (Casper Smart). I couldn't help but see some similarities with Anthony as a young Andy Warhol, and Courtney being a bit Edie-esque in their last scene together. I could picture Cat Marnell playing Janet, as they both have issues with their respective fathers and unstable mothers. I also could see a bit of the neurotic and narcisstic personality in Courtney's mom as actress Joan Crawford, without the wire hangers! So, that is a very rough draft of the characters I pictured in my mind, as I read this book.
One quote that seemed to be the central point of Courtney's being was:
"they just want to bleed me white, and leave me battered by the roadside". (p.88)
Courtney really did feel used, felt she could never love and didn't want to be loved back. However, there were moments she felt "safe". It was interesting how she wouldn't allow herself to be loved, yet it was the one thing she truly did crave. Perhaps it was because she didn't openly receive that from her parents and by denying others that opportunity, she could then validate that the reason her parents didn't love her was because they weren't allowed to…not because they in fact were incapable of giving it. It was her way of having some control over her destiny.
What was rather interesting, and disturbing, was that Courtney slept with 2 men who had bedded her two most important people in her life: her mom and her best friend. Al, her mother's publicist, and Charles, a young man she meets, were her voices of reason throughout the book. They gave her that realistic side of what was happening, although she never fully opens herself up to them, either. It's not until her best friend kills herself that Courtney feels she has a purpose in her life-to do what Janet couldn't, which was to have a normal life and be married. While the story ends before finding out exactly what Courtney decides to do, her conversation with Anthony is rather poignant. Anthony tells her:
" 'It isn't a tragedy, angel. People like you, and me, and Janet-we're not capable of tragedy. This was no epic play, with heroic characters and vast emotions. This was not a tragedy. It was a child's game that came to an end. You haven't any choice, darling. You've outgrown this. I can't, you see. I can't go on, anymore than Janet could. But you can." (p.184,185).
There is so much more I can go on about in this book, such as the dead leaves that haunt Courtney, the lack of chocolate in the book, and the little boy who loses his shadow and his enchantment. However, it will lose its magic for you. While this book has been on many book lists for Lesbian fiction, this is a book that would make for a great book club pick, a book to be studied in Psychology or Sociology, and perhaps be that little book hiding under a stack of bills, that you secretly are reading. It's a great book, one that will stay with you, and afterwards, please do have Chocolates for Breakfast, along with something fun in the sun! Otherwise, you are likely to spiral further down the rabbit hole!

*This book was provided through TLC Book Tours &  Edelweiss, in exchange for an honest review.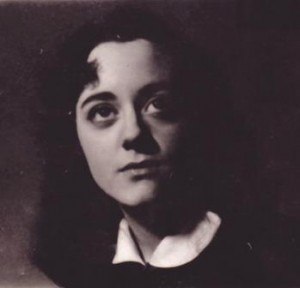 About Pamela Moore:
Pamela Moore was an American writer educated at Rosemary Hall and Barnard College. Her first book,Chocolates for Breakfast, was published when she was eighteen and became an international bestseller. Moore went on to write four more novels, but none of these enjoyed the success of her first. She died in 1964 at the age of twenty-six, while at work on her final, unpublished novel, Kathy on the Rocks.
 Pamela's Tour Stops
Tuesday, June 25th: Write Meg
Wednesday, June 26th: I Read a Book Once 
Thursday, June 27th: A Chick Who Reads
Monday, July 1st: The Feminist Texican [Reads]
Tuesday, July 2nd: Broken Teepee
Wednesday, July 3rd: A Bookish Affair
Thursday, July 4th: From the TBR Pile
Thurday, July 4th: Sharon's Garden of Book Reviews
Monday, July 8th: Unabridged Chick
Tuesday, July 9th: Tiffany's Bookshelf
Thursday, July 11th: Luxury Reading
Monday, July 15th: Books in the Burbs