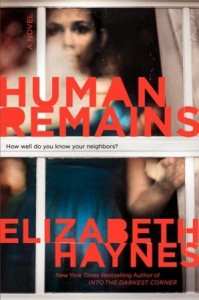 About Human Remains
• Paperback: 464 pages
• Publisher: Harper Paperbacks (August 20, 2013)
Synopsis:
New York Times bestselling author Elizabeth Haynes returns with a disturbing and powerful tale that preys on our darkest fears.
Police analyst Annabel wouldn't describe herself as lonely. Her work and the needs of her aging mother keep her busy. But Annabel is shocked when she discovers her neighbor's decomposing body in the house next door, and she is appalled to think that no one, including herself, noticed the woman's absence. Annabel sets out to investigate, despite her colleagues' lack of interest, and discovers that such cases are frighteningly common in her hometown.
A chilling thriller and a hymn to all the lonely people whose individual voices haunt its pages, Human Remains shows how vulnerable we are when we live alone, and how easily ordinary lives can fall apart when no one is watching.
My Review:
After having read and reviewing, In The Darkest Corner, I knew I had to read this book!  I love Elizabeth Haynes' work and the detail she includes behind the behavior and thoughts.
If you have never read Haynes' work before, then you will most likely get confused with the many chapters dedicated to different people's viewpoints.  Don't fret…don't memorize who they are, because it will all come together like pieces of a puzzle.
Told through many viewpoints, the primary characters are Colin and Annabel, who you will get to know quite well by the end of the book.  With so many mysterious deaths (possible suicides), Annabel begins to do her digging and finds that the deaths in her area are possibly linked to 1 killer…or is he??
The story goes into detail about what Colin does to help people end their life, but I never understood the dynamics behind his warped mind. While there were glimpses into his childhood, I couldn't figure out if he had Antisocial Personality Disorder with some narcissistic traits, if he was experiencing some form of DID, or just plain sadistic.  Because I didn't understand his reasoning behind the fascination with the decaying process (more than just being an "angel",helping people die), it was difficult for me to fully understand the storyline.
I did enjoy the questions a reader can't help but ask: Are we alone in this world? Do we have a support system? What happens to those who don't have anyone to look for them? Are we a target of some sort when out going about our day?
He reminded of America's, Dr. Jack Kevorkian, who did help people die.  However, his reasons were more to help people die a dignified death and not one in pain and loss of control.  Although, people will question that too.
What I enjoyed most about the book were the though provoking questions the reader leaves with and how an everyday ordinary life for someone can be anything but ordinary!  And, no matter how busy someone is, invest in someone else…give back, be friendly, get to know those you surround yourself with.  Because at the end of the day, no one knows the struggles and challenges one experiences at home.
It so happens that I saw this video on Facebook, that I wanted to share here.  No, no one died.  However, it really puts things in perspective and that no matter how bad or bleak things are, love connects us all.
http://www.youtube.com/watch?v=9bSu_Snlbsw
Thank-you to the publisher and TLC Book Tours for allowing me the opportunity to read and review this book!
*******************************************************************
Win the Book!
Want to win a copy?
*If you live in the US-
1.  simply enter your name as you'd like it to appear
2.  email
3.  what about this book intrigues you.
One random winner will be selected and notified by email.
Giveaway ends September 15, 2013.
About Elizabeth Haynes
Elizabeth Haynes is a police intelligence analyst, a civilian role that involves determining patterns in offending and criminal behavior. She is also the New York Times bestselling author of Into the Darkest Corner and Dark Tide. She lives in England in a village near Maidstone, Kent, with her husband and son.
Visit her at elizabeth-haynes.com, connect with her on Facebook, and follow her on Twitter.
Elizabeth's Tour Stops
Tuesday, August 20th: No More Grumpy Bookseller
Wednesday, August 21st: BoundByWords
Friday, August 23rd: A Bookish Way of Life
Tuesday, August 27th: Book-alicious Mama
Tuesday, August 27th: Peeking Between the Pages
Wednesday, August 28th: Booksie's Blog
Thursday, August 29th: Books in the Burbs
Tuesday, September 3rd: Bloggin' 'Bout Books
Tuesday, September 3rd: A Bookworm's World
Wednesday, September 4th: Kritters Ramblings
Thursday, September 5th: Lectus
Friday, September 6th: Olduvai Reads
Friday, September 6th: From the TBR Pile
Tuesday, September 10th: Tiffany's Bookshelf
Wednesday, September 11th: Peppermint PhD
Thursday, September 12th: Kahakai Kitchen
Friday, September 13th: Drey's Library
Related articles