About Girls No More
• File Size: 669 KB
• Publisher: Diversion Books (November 11, 2012)
Three young women find themselves embroiled in the rough-and- tumble politics and the sexual hijinks of the world inside the Washington beltway. The Vietnam protests are exploding, the president and his men want to grab the young anti-war students and throw them in jail, black rage is simmering, and the first green shoots of the women's movement are starting to appear. Love, lust, politics and conspiracy are the ingredients of this tale of women daring to step beyond the bounds of  "woman's place" and into the male turf of politics and journalism.
My Review:
Because this is a sequel, I had to read the first book, Virgins.  I could definitely understand why readers who loved Caryl Rivers first book, would want to find out what happens to the characters everyone will fall in love with: Sean, Peg, and Constance.  However, if you haven't read the first book…don't fret! I definitely think the second book can easily be a stand alone.
Caryl Rivers does an exceptional job of giving the reader glimpses into the character's past, which can be followed more in depth by reading the first book.  However, the reader won't feel they are missing out on any important details because of those glimpses into their past.  I liked the realism with Sean's issues being a priest, the issues all the characters experienced living in difficult times, and dealing with their own spirituality.  As a non-Catholic, I was able to still understand and appreciate their struggles and how they overcome or at least come to accept themselves as adults with challenges.  I don't think that Catholics will get insulted or feel that it's "typical challenges" Catholics are known to have.  Rather, I think readers will resonate with their struggles because of the desire everyone has as teens to earn their parent's approval, trying to fit in, and reconciling their differences and finding some commonality and understanding in the challenges they all face.
I loved the ending, but have to admit, it was something I expected to happen.  The ending was a little predictable, but it was something that I, as a reader, wanted the whole time!  However, Caryl Rivers doesn't serve it to us very nicely packaged.  It's not without some bumps, some unexpected scenarios, and it definitely leaves the door open for a 3rd book!!! Just saying….
*This book was provided by the publisher and TLC Book Tours, in exchange for an honest review!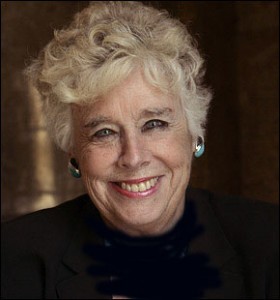 About Caryl Rivers
Caryl Rivers has been called "one of the brightest voices in contemporary fiction." Her novel Virgins was an international critical success, published in the US, UK, Sweden, Germany and Japan. It was on many best seller lists and in paperback (Pocket Books) sold more than a million copies. Her novels deal with American women trying to find a foothold in a rapidly changing world. She was included in the book Feminists Who Changed America from the University of Illinois Press.
She is a nationally known author, journalist, media critic and professor of Journalism at Boston University. In 2007 she was awarded the Helen Thomas Lifetime Achievement Award from the Society of Professional Journalists for distinguished journalism. She is the author of four novels and nine works of non-fiction, all critically acclaimed. Her books have been selections of the Book of the Month Club, Literary Guild, Doubleday Book Club and Troll Book club. The Chicago Tribune says of her,  "Few other writers are as funny as she, and none funnier. Yet she is capable of wrenching your heart and soul."  There are film offers in place for the new edition of Virgins.
Her articles have appeared in the New York Times magazine, Daily Beast, Huffington post, Salon, The Nation, Saturday Review, Ms., Mother Jones, Dissent, McCalls, Glamour, Redbook, Rolling Stone, Ladies Home Journal and many others. She writes frequent commentary for the Washington Post, Los Angeles Times, Boston Globe, Chicago Tribune and Womensenews. Of her book Selling Anxiety: How the News Media Scare Women, Gloria Steinem says it "will save the sanity of media watchers enraged or bewildered by the distance between image and reality."
She has co-authored four books with Dr. Rosalind Barnett, senior scientist at the Women's Studies Research Center at Brandeis—the latest (2011) being The Truth About Girls and Boys: Confronting Toxic Stereotypes About Our Children. Articles based on the book won a Casey medal for distinguished journalism about children and families and a special citation from the National Education Writers association.
Girls No More was selected as a "Nook First" by Barnes and Noble under the heading of " Compelling Books from authors you need to know."
Critics  raved:
What a pleasure…as fresh as this morning's newspaper. –The New York Times
A great, totally involving story. –Newsday
The most likable, natural, believable set of characters I have found in some time… Finding a book with three strong characters is quite difficult. One with four, well, it doesn't happen very often. Girls is one of the season's most spirited novels. –Book World
A pleasure to read. –The Washington Post
A splendid trip into the world where politics takes the worry out of being close. Better than Buckley and more politically astute than Patti Davis, this is probably closer to what really happens in Washington than we'd care to believe. –San Francisco Examiner
Caryl's Tour Stops
Tuesday, August 20th: Tiffany's Bookshelf
Wednesday, September 4th: Books in the Burbs
Thursday, September 12th: Kindle and Me
Date TBD: Speaking of Books
Related articles