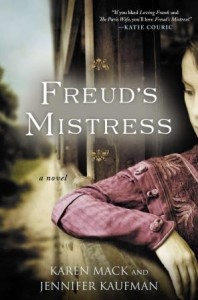 Title: Freud's Mistress
Author: Karen Mack & Jennifer Kaufman
ISBN: 0399163077
Pages: 368
Release Date: July 9, 2013
Publisher: Amy Einhorn Books/Putnam
Genre: Historical Fiction
Source: TLC Book Tours
Cupcake Rating:  An excellent cupcake with sprinkles AND a cherry on top!
Synopsis:
A page-turning novel inspired by the true-life love affair between Sigmund Freud and his sister-in-law, Minna Bernays, set in Vienna in 1895. Minna is everything her sister Martha is not—intellectually curious, an avid reader and a beguiling beauty. She and Freud embark on what is at first simply an intellectual courtship, yet something deeper is brewing beneath the surface, something Minna cannot escape.
In this sweeping tale of love, loyalty, and betrayal—between a husband and a wife, between sisters—fact and fiction seamlessly blend together to offer an intimate peek at Minna's profound influence on the founding father of psychoanalysis, while revealing her unforgettable story of internal conflict and passion.
My Review:
I remember my first introduction class in Psychology, where I learned about the Oedipus Complex (ummm, ewww!), and everything else that he developed.  Having a Bachelor's degree in Psychology and a Masters degree in Family Therapy, I know Freud's ideologies pretty well.  Sure, as a student of psychology, I learned about other theorists.  However, Freud is and will always be considered the Father of Psychoanalysis, and quite possibly the Father of Psychology.
So, this book really peaked my interest and I wanted to know more about the life of Freud.  I always knew of his unhealthy relationship (some even say incestuous) that he had with his daughter, and that he left behind his sisters in Austria (taking his staff instead).  However, I didn't know anything about his affair with his sister-in-law.
The authors did an incredible amount of research, weaving it into a fantastic storyline!  I loved the emotional and humanistic side of Freud, albeit, narcissistic and quite egotistical.  While I found myself not liking the "person" Freud was, I enjoyed reading the relationship and the way Minna (his sister-in-law) dealt with the delicate balance of being a sister and mistress under the same household!
As an observer, I can understand how easily she got swept up into Freud's world.  While Martha may come across as uncaring and unsupportive of Freud's development of theories, the authors do a superb job of showing her vulnerability and that of a tired mom of 6, while also maintaining the household as best as she can.  If it were not for Martha's understanding of Freud and learning when to just step aside, I don't think Freud would have had the space, time, or creativity to develop theories that are used today.
Minna is a woman that by the standards of that time, was an old maiden.  She was not married and the best she could hope for was to be a governess for a household.  While she cares deeply for the child ( a servant) in the last household she worked, she desires knowledge and is a bibliophile in every since of the word.  With nowhere to go, she arrives at Martha and Sigmund's house, with low esteem and feeling hopeless.
Couple a hopeless, destitute woman with a man that is self-centered, eccentric, and full of wild theories, Minna is a sponge and soon their relationship evolves from in-law, to supporters, to lovers.
As the story evolves, there is so much that happens, that it is almost hard to believe it to be true.  Sadly, it is and the authors left me saddened for the Freuds, Minna, and thankful that a personal side to Freud was shown with such transparency.
It's an excellent read and those who love Historical fiction and/or Women's literature, will certainly enjoy this book.  There is absolutely no requirement to knowing anything about Sigmund Freud, but I guarantee you, that after this read-you will most certainly do some googling! ;)
*A huge thanks to the publishers and TLC Book Tours for allowing me the opportunity to read and review this book!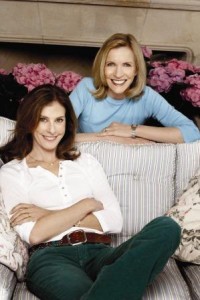 Freud's Mistress is the third novel by Karen Mack and Jennifer Kaufman. Their first novel, Literacy and Longing in L.A., reached #1 on the Los Angeles Times Bestseller List and won the Best Fiction Award from the Southern California Independent Booksellers Association. Their second novel, A Version of the Truth, was also a Los Angeles Times bestseller. Freud's Mistress is their first historical novel. Karen Mack, a former attorney, is a Golden Globe Award-winning film and television producer. Jennifer Kaufman is a former staff writer for the Los Angeles Times and a two-time winner of the national Penney-Missouri Journalism Award. Both authors live in Los Angeles with their families.
Find out more about Karen and Jennifer at their website, and
connect with them on Facebook.
TLC Book Tour Stops
Monday, September 2nd: BookNAround
Monday, September 2nd: Peppermint PhD
Tuesday, September 3rd: The Lost Entwife
Wednesday, September 4th: Unabridged Chick
Friday, September 6th: Kritters Ramblings
Monday, September 9th: A Bookish Affair
Tuesday, September 10th: Books in the Burbs
Wednesday, September 11th: A Novel Review
Thursday, September 12th: A Chick Who Reads
Friday, September 13th: My Bookshelf
Monday, September 16th: Read Lately
Monday, September 16th: Diary of a Stay at Home Mom
Tuesday, September 17th: WalkieTalkieBookClub
Wednesday, September 18th: Lectus
Friday, September 20th: Book-alicious Mama
Friday, September 27th: guiltless reading
Monday, September 30th: Lavish Bookshelf
GIVEAWAY DETAILS:
One random winner will be selected to win a hardback copy of this fantastic book!
Simply enter in the comment section:
*Your name as you'd like it to appear
*Email to contact you
*What about this book or Freud himself interests you?
Giveaway closes September 30, 2013.
Related articles