Genre:  Historical Fiction
  Author: Pamela Schoenewaldt  
  Pages:  368 pages  
  Publisher: William Morrow Paperbacks (September 3, 2013)
  Cupcake Rating:  An excellent cupcake with sprinkles AND a  cherry on top!  
Goodreads' Synopsis:
From the author of When We Were Strangers comes a uniquely American story-a tale of deep, shifting ties between a determined daughter and her gifted, wounded mother in the early 1900s, framed by bitter union strikes, the thrill of vaudeville and a young woman's struggle to find her place Lucia D'Angelo's voice is nothing like her mother's. She's no nightingale with the gorgeous tones, tender and passionate, peaking and plummeting as dramatically as her moods. Yet in the rough world she's chosen, Lucia's words may truly change lives. In 1904, fourteen-year-old Lucia and her young mother Teresa are servants in a count's lush villa on the Bay of Naples. Between scrubbing floors and polishing silver, Teresa soothes the unhappy countess with song until one morning's calamity hurls mother and daughter to America, exchanging their gilded cage for icy winds off Lake Erie and Cleveland's taut immigrant neighborhoods. Lucia blossoms and Teresa wins fleeting fame on the tawdry stage of vaudeville until old demons threaten their new life. In factories and workhouses, Lucia finds her own stage, giving voice to those who have given her a home. As roles reverse, mother and daughter reshape their fierce and primal bond.
My Review: This story has so many layers, in-depth characters, and the storyline unfolds in a way that really makes the reader connected to each character.  Teresa is a single mother, with her dreams of becoming a famous singer, but stifled as a servant.  Teresa is such a fascinating, yet sad character, plagued with mental illness that impacts her role as worker and mother. Lucia is a young girl, with an old soul, who takes on the responsibility of taking care of her mother.
As their journey takes them to America, Pamela brings such a raw and open view to the struggle immigrants faced, the challenges of learning a foreign language, and assimilating into a culture that isn't very accepting of foreigners. Told in such vivid detail, the scenes are quite dynamic and the reader will identify with different parts of the story, regardless of his/her own family history.
Pamela covers so many topics: mental illness, single motherhood, women's rights, immigration issues, abuse, worker's rights, women's rights, and self-empowerment.  There were many times that I simply had to put the book down and cry.  While the book is fiction, there were some incidents that truly did happen, and it simply took my breath away.
If readers have read Pamela's first book, When We Were Strangers, they will love that Lula has a role in this book!!  Lula is the "wise woman" in the book and is a mother figure for Lucia. While the book doesn't cover racism in the way Americans know it to be (black vs. white), it was quite interesting to read about the way immigrants from different countries viewed each other, and the lack of trust they had for one another based on what they heard in their communities.  The stereotypes and ignorance truly impacted relationships and kept people from uniting, until they had a similar cause: worker's rights, later-women's rights.
While the book covers many issues, the story doesn't get bogged down with too much information, nor does it dilute the relationships developed between characters.  Told through Lucia's point of view, it is quite interesting to see that as she grows, the decisions she makes reflect her maturity.  In the beginning, she simply wants safety and to be with her mother.  As she grows up, she begins to realize her own dreams and works towards accomplishing those.  Then, as an adult, she realizes her dreams are bigger and aren't just about herself.
This is simply an exceptional story, and the discussions would be endless in a classroom setting, book club, between friends over coffee, or even amongst friends online!! It's a book that will leave you wanting to know more about Lucia and her relationships with her friends and family, the plight for women's/worker's rights, and the way mental illness evolves over time.  I highly recommend this book and could definitely see a sequel becoming a success…and maybe, even a movie!!
There is so much to discover in this book, that I know you will be inspired and motivated through Lucia's journey!
*This book was provided through TLC Book Tours. A very HUGE thank you to Trish, for understanding and being patient with me!!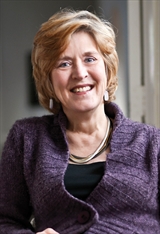 About Pamela Schoenewaldt:
Pamela Schoenewaldt lived for ten years in a small townoutside Naples, Italy. She visited Opi, where her novel When We Were Strangers opens on cross-country skiing trips and was inspired by its solemn beauty, isolation and the reserved pride of its people. Her short stories have appeared in literary magazines in England, France, Italy, and the U.S. Her play "Espresso con mia madre" (Espresso with My Mother) was produced at Teatro Cilea, Naples. Pamela Schoenewaldt taught writing at the University of Maryland, European Division, and at the University of Tennessee. She lives in Knoxville, Tennessee, with her husband, Maurizio Conti—a medical physicist, and their dog, Jesse—a philosopher.
Find out more about Pamela at her website and connect with her on Facebook.
Pamela's Tour Stops
Tuesday, September 3rd: Lavish Bookshelf
Tuesday, September 3rd: Excellent Library
Wednesday, September 4th: Tiffany's Bookshelf
Monday, September 9th: West Metro Mommy
Tuesday, September 10th: Kritters Ramblings
Wednesday, September 11th: BookNAround
Thursday, September 12th: Reflections of a Bookaholic
Monday, September 16th: Book-alicious Mama
Tuesday, September 17th: A Lovely Bookshelf on the Wall
Thursday, September 18th: BoundbyWords
TBD: Books in the Burbs
Related articles