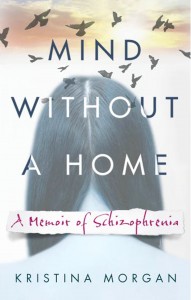 Synopsis from Goodreads:
Experience the inner world of a woman with schizophrenia in this brutally honest, lyrical memoir.
Have you ever wondered what it is like in the mind of a person with Schizophrenia? How can one survive day after day unable to distinguish between one's inner nightmares and the everyday realities that most of us take for granted?
In her brutally honest, highly original memoir, Kristina Morgan takes us inside her head to experience the chaos, fragmented thinking, and the startling creativity of the schizophrenic mind. With the intimacy of private journal-like entries and the language of a poet, she carries us from her childhood to her teen years when hallucinations began to hijack her mind and into adulthood where she began abusing alcohol to temper the punishing voices that only she could hear.
This is no formulaic tale of tragedy and triumph: We feel Kristina's hope as she pursues an education and career and begins to build strong family connections, friendships and intimacy—and her devastation as the insistent voices convince her to throw it all away, destroying herself and alienating everyone around her. Woven through the pages of her life are stories of recovery from alcoholism and the search for her sexual identity in relationships with both women and men. Eventually, her journey takes her to a place of relative peace and stability where she finds the inner resources and support system to manage her chronic illnesses and live a fulfilling life.
My Review:
I remember taking an assessments class in graduate school and watching a video of a Psychologist with Schizophrenia.  It showed how she coped through each day and how she managed to take control of her life, or at least try to.  So, when I read the synopsis for this book, I was instantly intrigued.  Kristina Morgan, a woman who chooses to write so honestly and openly, as she struggles with the impact of schizophrenia is nothing short of extraordinary.  It wasn't a long read for me, but it still left a great impact on my mind!  The book read at times like the struggles she has in her minds, sometimes fragmented, sometimes skipping from one subject to another, which was the beauty of it all.  This story, Kristina's memoir, wasn't meant to placate what this illness truly is and she invites you into her mind to see what it's like for her everyday.  While Kristina navigates her way through life, she shows readers why mental illness is real, why it should be treated, and what it looks like if left untreated.  During a time with a heightened curiosity about Amanda Bynes, this book will certainly show the real and scary struggles people with schizophrenia live.  And hopefully, after reading this book, people will not only walk away with a little more insight, but also with a lot more compassion.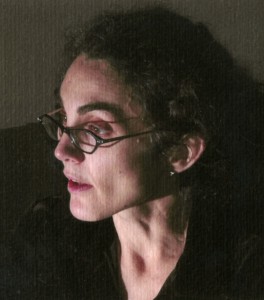 About Kristina Morgan
Kristina Morgan is a first-time author. She is currently married, working, and managing her co-occurring disorders, schizophrenia and alcoholism with the Twelve Step recovery. She lives in Arizona.
Visit Kristina's blog at MindWithoutAHome.com.
Kristina Morgan's TLC Book Tours TOUR STOPS:
Monday, September 30th: Book Hooked Blog
Thursday, October 3rd:  My Bookshelf
Monday, October 7th:  Books in the Burbs
Wednesday, October 9th:  Good Girl Gone Redneck
Thursday, October 10th:  Book-a-licious Mama
Monday, October 14th:  Love at First Book
Wednesday, October 16th:  A Lovely Bookshelf on the Wall
Thursday, October 17th:  Tiffany's Bookshelf
Monday, October 21st:  Justice Jennifer
Tuesday, October 22nd:  Books Speak Volumes
Wednesday, October 23rd:  Bookchickdi
Thursday, October 24th:  Sara's Organized Chaos
Monday, October 28th:  Patricia's Wisdom
Wednesday, October 30th:  A Bookish Way of Life
Friday, November 1st:  Bibliophiliac
Date TBD:  Peppermint Ph.D.
Related articles