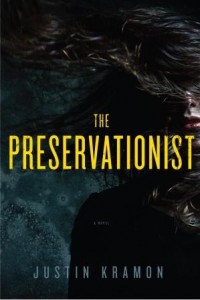 Author: Justin Kramon
Publisher: Pegasus (October 15, 2013)
Pages: 288
Genre: Thriller (Psychological)
Source: TLC Book Tours
Cupcake Rating: An excellent cupcake with sprinkles AND a cherry on top!
Synopsis from TLC Book Tours Site:
To Sam Blount, meeting Julia is the best thing that has ever happened to him.
Working at the local college and unsuccessful in his previous relationships, he'd been feeling troubled about his approaching fortieth birthday, "a great beast of a birthday," as he sees it, but being with Julia makes him feel young and hopeful. Julia Stilwell, a freshman trying to come to terms with a recent tragedy that has stripped her of her greatest talent, is flattered by Sam's attention.
But their relationship is tested by a shy young man with a secret, Marcus Broley, who is also infatuated with Julia. Told in alternating points of view, The Preservationist is the riveting tale of Julia and Sam's relationship, which begins to unravel as the threat of violence approaches—and Julia becomes less and less sure whom to trust.
My Review:
I read this book in one very long road trip-17 hours to be exact. Driving from Houston, Tx to a small town in Tennessee…down dark roads, with not much traffic on the way, made for a very scary read!!!
This is the perfect book to read, with Halloween fast approaching. However, it can really be read any time throughout the year….just be prepared for some goose bumps along the way! The story centers around Julia and her relationships with two men: Marcus and Sam. I loved that the storyteller alternated between characters, which gave me a bird's eye view into their mind and ways they reasoned their behavior/actions. Each have their own secrets, their own issues, and their own reasons for doing what they do.
Julia could be any young college student, dealing with grief, and feeling quite alone. Sam reminded me of Norman Bates…even with his warped mother issues, although nothing incestuous. Marcus is the typical college student, however he also is dealing with grief. When their worlds collide, the storyline moves quite rapidly. I loved the feeling of being on the edge of my seat, not knowing what was going to happen next, and trying to figure out how Julia decides which man to give her heart to….or does she???
This is a very creepy, chilling read that shows the making of a serial killer (who is that?), and how one attempts to escape the clutches of a mad man. Being isolated, Julia finds herself making decisions based on persuasion, rather than instinct, and she finds herself in quite a difficult situation. I loved the book from the beginning to end, and found myself watching the gas station clerks a little more closely, when we'd stop en route to Tennessee!
The ending made me cringe! The very last sentence…while some may get warm and fuzzy feelings, I felt quite the opposite. I'm not sure if that is what the author wanted from the readers, but knowing that a lie was told had me thinking if the cycle would continue in some weird, subconscious way. Either way- it left me thinking….
What I learned: Trust your instinct and never, ever stay in a cabin on a lonely road!!
I absolutely loved this book! If you love psychological thrillers, mysteries, or simply want a great read-then pick up this book! It's a fantastic story!!
P.S. I am absolutely ecstatic to interview Justin Kramon (interview will be posted at a later date)!
*A huge thank-you to TLC Book Tours and Justin Kramon for giving me the opportunity to read this book, in exchange for an honest review!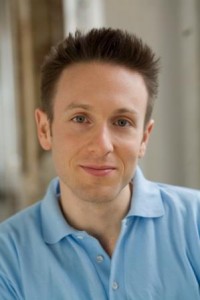 About Justin Kramon
Justin Kramon is the author of the novels Finny (Random House, 2010) and The Preservationist (Pegasus, 2013). A graduate of the Iowa Writers' Workshop, he has published stories in Glimmer Train, Story Quarterly, Boulevard, Fence, TriQuarterly, Alaska Quarterly Review, and others. He has received honors from the Michener-Copernicus Society of America, Best American Short Stories, the Hawthornden International Writers' Fellowship, and the Bogliasco Foundation.
Find out more about Justin at his website and connect with him on Facebook.
Justin's Tour Stops
Tuesday, October 15th: Booksie's Blog
Wednesday, October 16th: Book-a-licious Mama
Thursday, October 17th: The Lost Entwife
Tuesday, October 22nd: BoundbyWords
Wednesday, October 23rd: No More Grumpy Bookseller
Thursday, October 24th: Books in the Burbs
Monday, October 28th: Book Addict Katie
Tuesday, October 29th: Tina's Book Reviews
Wednesday, October 30th: A Novel Review
Thursday, October 31st: Lectus
Monday, November 4th: Under My Apple Tree
Tuesday, November 5th: Seaside Book Corner
Wednesday, November 6th: The Well-Read Redhead
Thursday, November 7th: nomadreader
Friday, November 8th: Kritters Ramblings
Tuesday, November 12th: Cerebral Girl in a Redneck World
Related articles