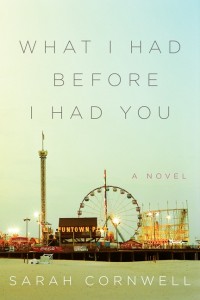 Page Count: 288
Release Date: January 7th 2014
Publisher: Harper (Harper Collins)
Genre:  Contemporary Fiction
Source: TLC Book Tours
ISBN-10: 0062237845
Synopsis:
Written in radiant prose and with stunning psychological acuity, award-winning author Sarah Cornwell's What I Had Before I Had You is a deeply poignant story that captures the joys and sorrows of growing up and learning to let go.
Olivia Reed was fifteen when she left her hometown of Ocean Vista on the Jersey Shore. Two decades later, divorced and unstrung, she returns with her teenage daughter, Carrie, and nine-year-old son, Daniel, recently diagnosed with bipolar disorder. Distracted by thoughts of the past, Olivia fails to notice when Daniel disappears from her side. Her frantic search for him sparks memories of the summer of 1987, when she exploded out of the cocoon of her mother's fierce, smothering love and into a sudden, full-throttle adolescence, complete with dangerous new friends, first love, and a rebellion so intense that it utterly recharted the course of her life.
Olivia's mother, Myla, was a practicing psychic whose powers waxed and waned along with her mercurial moods. Myla raised Olivia to be a guarded child, and also to believe in the ever-present infant ghosts of her twin sisters, whom Myla took care of as if they were alive—diapers, baby food, an empty nursery kept like a shrine. At fifteen, Olivia saw her sisters for the first time, not as ghostly infants but as teenagers on the beach. But when Myla denied her vision, Olivia set out to learn the truth—a journey that led to shattering discoveries about herself and her family.
Sarah Cornwell seamlessly weaves together the past and the present in this riveting debut novel, as she examines the relationships between mothers and daughters, and the powerful forces of loss, family history, and magical thinking.
My Review:
I read the first part of the book in one night. It was so gripping and haunting, that I just couldn't put the book down.  The underlying tone is such sadness and despair, with little glimmers of hope.  Told in alternating time periods: teenage Olivia and the older Olivia, readers will get a glimpse into the crazy, unpredictable life of Olivia.
Olivia lives with her mother, who claims to be a psychic.  At times, her mother, Myla, disappears for long periods of time, and Olivia has to care for herself with the random stop-by's from Myla's male friends.  As a teenager, Olivia experiences many life choices and the summer of her 15th year will never be the same.
On the heels of a divorce, Olivia decides to take her two kids back to her childhood neighborhood.  Struggling with the impact of having her son diagnosed with early onset bipolar, she flashes back to the summer when her life changed.  While having flashbacks, she loses her son and as she tries to find him, she is confronted with the ghosts of her past.
This is a great read that will certainly raise lots of great questions between book club members, a group discussion, even as a required reading for college. The issues of how mental illness impacts everyone is something that most people will be able to identify.  More than anything, it shows how family secrets will eventually demand attention, that a secret is only strengthened in the dark, but in the light-it isn't so scary, and that there is never a hopeless situation.
*This book was provided by TLC Book Tours, in exchange for an honest review.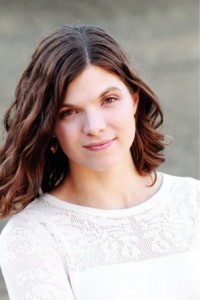 About Sarah Cornwell
Sarah Cornwell grew up in Narberth, Pennsylvania. Her fiction has appeared in the 2013 Pushcart Prize Anthology, the Missouri Review, Mid-American Review, Gulf Coast, andHunger Mountain, among others, and her screenwriting has been honored with a Humanitas Prize. A former James Michener Fellow at UT-Austin, Sarah has worked as an investigator of police misconduct, an MCAT tutor, a psychological research interviewer, and a toy seller. She lives in Los Angeles.
Sarah Cornwell
Facebook | Goodreads | Follow the Tour!
Sarah's Tour Stops
Tuesday, January 7th: Bibliophiliac
Wednesday, January 8th: Books à la Mode
Thursday, January 9th: bookchickdi
Monday, January 13th: missris
Wednesday, January 15th: Jenn's Bookshelves
Monday, January 20th: Kritters Ramblings
Wednesday, January 22nd: Books in the Burbs
Thursday, January 23rd: Sweet Southern Home
Monday, January 27th: The Well-Read Redhead
Tuesday, January 28th: Bibliotica
Wednesday, January 29th: Conceptual Reception
Thursday, January 30th: Turn the Page
Monday, February 3rd: Book-alicious Mama
Tuesday, February 4th: BoundbyWords
TBD: …the bookworm…