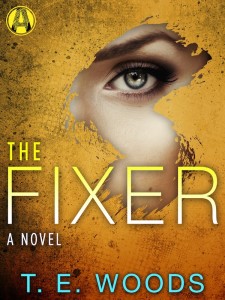 Genre:  Thriller
Publisher: Alibi (February 4, 2014)
Sold by: Random House LLC
Source:  TLC Book Tours & Publisher
Synopsis:
T.E. Woods delivers a fast-paced thriller—the first in an electrifying new series—peopled with sharp, intriguing characters and more twists and turns than a corkscrew. 
Never a doubt. Never a mistake. Always for justice. Never for revenge. She's the person you hire when you need something fixed—permanently. With a strict set of criteria, she evaluates every request and chooses only a few. No more than one job per country, per year. She will only step in if it's clear that justice will not be served any other way. Her jobs are completed with skill and precision, and never result in inquiry or police investigation. The Fixer is invisible—and quite deadly. . .
In the office of a clinical psychologist in Olympia, Washington, a beautiful young woman is in terrible emotional pain. She puts up walls, tells lies, and seems to speak in riddles, but the doctor is determined to help her heal, despite the fact that she claims to have hurt many people. As their sessions escalate, the psychologist feels compelled to reach out to the police . . . but it might be too late.
In Seattle, a detective gets a call from his son. A dedicated journalist, he wants his father's expertise as he looks into a suspicious death. Together they follow the trail of leads toward a stone-cold hired killer—only to find that death has been closer than either could have imagined.
My Review:
I loved the synopsis, the author is a clinical psychologist (so she will have some fantastic insight into the mind of an assassin), and the main character is a heroine…hello!
The story starts off with a bang, literally.  The characters are flawed, imperfect, and will certainly do some crazy things that will have you on the edge of your seat.  The storyline moves quite quickly, and as it gets more complex, more rabbit trails are created, with more mysteries to solve.
This book is not for the queasy, or for those who don't like detailed violent acts in novels.  There are some graphic, very disturbing, and often stomach turning details, of the different murders that take place.  There are also unethical issues that made me cringe, more than once.  I realize it is only a story, but as a therapist, I couldn't help but have a difficult time connecting with Lydia.  As a psychologist, she broke so many taboos: self-mutilator, burnt out or works off a standard script with clients, works with a client that she's had a relationship with before, allows a client to set her own boundaries and schedule, and goes to the police and starts working with him with ulterior motives.
In the beginning, I could understand the reasons why Savannah is "a" vigilante and how she decides which "job" to do.  However, as the story evolves, it seemed that more issues and storylines were thrown in to a storyline that already worked.  It was like reading lots of little vignettes, squished into one.  I am hoping the follow-up novel will dive more into the story behind Mort, and even Lydia, as they both had very interesting backstories.
*A huge thanks to TLC and the publisher for giving me an opportunity to join this tour!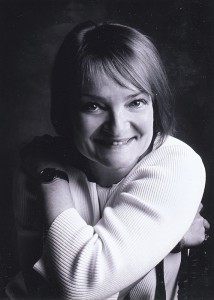 About T. E. Woods
T. E. Woods is a clinical psychologist in private practice in Madison, Wisconsin. Her scientific writings are well represented in peer-reviewed journals and academic texts. Her literary works earned her first place for Fiction at the University of Wisconsin Writers' Institute. Dr. Woods enjoys kayaking, hiking, biking, and hanging around the house while her two dogs help her make sense of the world. Her habit of relaxing by conjuring up any manner of diabolical murder methods and plots often finds her friends urging her to take up knitting.
Connect with Alibi: Facebook | Twitter
T. E. Woods' TLC Book Tours TOUR STOPS:
Monday, January 27th:  No More Grumpy Bookseller
Monday, January 27th:  No More Grumpy Bookseller – Author Guest Post & Giveaway
Tuesday, January 28th:  The Best Books Ever
Wednesday, January 29th:  Patricia's Wisdom
Tuesday, February 4th:  Kritter's Ramblings
Tuesday, February 4th:  Booksellers Without Borders
Wednesday, February 5th:  Mockingbird Hill Cottage
Thursday, February 6th:  She Treads Softly
Monday, February 10th:  Books in the Burbs
Tuesday, February 11th:  Tiffany's Bookshelf
Wednesday, February 12th:  A Fantastical Librarian
Wednesday, February 12th:  Queen of All She Reads
Thursday, February 13th:  The Written World
Monday, February 17th:  Booksie's Blog
Tuesday, February 18th:  Mystery Playground
Wednesday, February 19th:  Kahakai Kitchen
Thursday, February 20th:  The Reader's Hollow
Friday, February 21st:  From the TBR Pile
Monday, February 24th:  The Novel Life
Wednesday, February 26th:  Luxury Reading