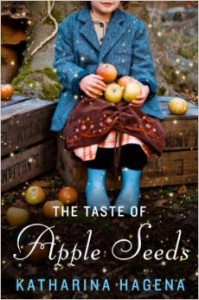 Publisher: William Morrow and Company
Publish Date: February 4, 2014
Pages:  256
Genre:  Women's Fiction, Contemporary Literature
Source: TLC Book Tours
Synopsis from TLC:
The internationally bestselling tale of love, loss, and memories that run deep
When Iris unexpectedly inherits her grandmother's house in the country, she also inherits the painful memories that live there. Iris gives herself a one-week stay at the old house, after which she'll make a decision: keep it or sell it. The choice is not so simple, though, for her grandmother's cottage is an enchanting place, where currant jam tastes of tears, sparks fly from fingertips, love's embrace makes apple trees blossom, and the darkest family secrets never stay buried.
My Review:
As I first started to read this story, I was reminded of my own childhood at my great-grandmother's house.  She had this huge tree, where I would eat the pomegranates, it would produce in the Spring.  This story has a touch of whimsy, beautiful descriptions, all mixed in with a crazy family.  I found the stories of  Iris's family quite interesting and there were many times I wanted the storyline to go deeper in the descriptions.  At 256 pages, the book had so many interesting characters, that the author could have easily added another 100 pages to help make the storyline more seamless.  The story read more like someone laying on the couch in a Freudian like setting, and just telling whatever stories come to mind, like someone's stream of consciousness: a bit disjointed, skips a little bit, but ultimately goes back to the magic in this small town,  connected by shared memories, and the different seeds the apple tree produces.  It would make for a great discussion in a literary class, because of the symbolism and literary style of the book.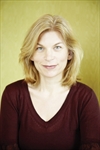 About Katharina Hagena
Katharina Hagena is the author of On Sleep and Disappearing. She lives in Hamburg, Germany.
Katharina's Tour Stops
Tuesday, February 4th: A Bookish Affair
Wednesday, February 5th: She's Got Books On Her Mind
Thursday, February 6th: Broken Teepee
Monday, February 10th: cupcake's book cupboard
Tuesday, February 11th: Bibliotica
Thursday, February 13th: From L.A. to LA
Monday, February 17th: Book-alicious Mama
Tuesday, February 18th: No More Grumpy Bookseller
Wednesday, February 19th: BookNAround
Thursday, February 20th: Kritters Ramblings
Monday, February 24th: BoundbyWords
Wednesday, February 26th: Books in the Burbs