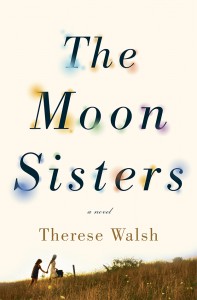 Title: The Moon Sisters
Author: Therese Walsh
ISBN: 9780307461605
Pages: 336
Release Date: March 4, 2014
Publisher: Crown
Genre: Literary Fiction
Source: TLC Book Tours & Publisher

Synopsis from TLC Book Tours:
This mesmerizing coming-of-age novel, with its sheen of near-magical realism, is a moving tale of family and the power of stories.
After their mother's probable suicide, sisters Olivia and Jazz take steps to move on with their lives. Jazz, logical and forward-thinking, decides to get a new job, but spirited, strong-willed Olivia—who can see sounds, taste words, and smell sights—is determined to travel to the remote setting of their mother's unfinished novel to lay her spirit properly to rest.
Already resentful of Olivia's foolish quest and her family's insistence upon her involvement, Jazz is further aggravated when they run into trouble along the way and Olivia latches to a worldly train-hopper who warns he shouldn't be trusted. As they near their destination, the tension builds between the two sisters, each hiding something from the other, until they are finally forced to face everything between them and decide what is really important.
My Review:
The story starts with a mother's suicide and one daughter's quest to find the place her mother always wanted to visit.  Having an aloof, drunken father, and a grandmother that encourages this journey, Jazz goes after Olivia to help her reach the destination.  Told with such vivid detail, it was quite interesting to read Olivia's take on foods, emotions, objects, etc.  Having synesthesia, Olivia's point of view was quite interesting.  Jazz is the level headed sister, who felt most disconnected from her mother and sees her dysfunctional family as it is…nothing flowery…just insane.  Both embark on a journey that deals with train hoppers, getting sidetracked on their journey.
It was interesting for the author to break the book into the different stages of grief, based on Elizabeth Kubler-Ross's model.  Each section also had a letter that the sisters' mother wrote her own father (their grandfather, respectively).  Even though I couldn't make the connection with the stages of grief and the issues the sisters were faced in those particular sections of the book, it did remind the reader that the sisters were grieving and both had their ways of coping with this loss and finding meaning in that tragic circumstance.
It's a story of sisterly love, sometimes hate or resentment, and how one can move on when someone they love lets go.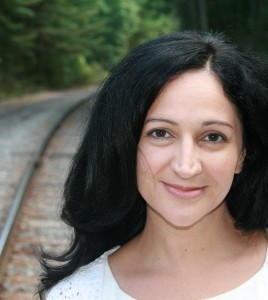 About Therese Walsh
THERESE WALSH is the author of The Last Will of Moira Leahy and the cofounder of Writer Unboxed. She lives in upstate New York with her husband and two children.
Follow Therese on Twitter and Facebook.
Therese Walsh's TLC Book Tours TOUR STOPS:
Monday, March 3rd:  Lit and Life
Tuesday, March 4th:  Beth Fish Reads – "Today's Read" guest post
Tuesday, March 4th:  Book Club Classics!
Wednesday, March 5th:  Book-a-licious Mama
Thursday, March 6th:  girlichef
Friday, March 7th:  Books in the Burbs
Monday, March 10th:  Bookchickdi
Tuesday, March 11th:  Traveling with T
Wednesday, March 12th:  Patricia's Wisdom
Thursday, March 13th:  Book Snob
Friday, March 14th:  The Book Barn
Tuesday, March 18th:  Fiction Addict
Tuesday, March 18th:  5 Minutes for Moms
Wednesday, March 19th:  Time 2 Read
Thursday, March 20th:  Bibliotica
Monday, March 24th:  Mockingbird Hill Cottage
Wednesday, March 26th:  A Novel Review
Thursday, March 27th:  A Bookish Affair
Tuesday, April 1st:  Suko's Notebook
Wednesday, April 2nd:  A Reader of Fictions
Tuesday, April 8th:  Books a la Mode
A huge thanks to TLC Book Tours!!