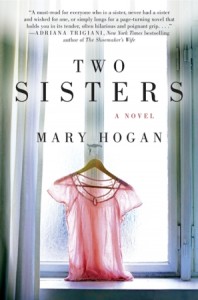 Genre: Women's Fiction
Publisher: William Morrow
Release Date: March 4/2014
Pages:  384
Source: TLC Book Tours & Publisher
Rating: An Excellent Cupcake
Synopsis:
One family, two sisters, a lifetime of secrets . . .
The third child in a family that wanted only two, Muriel Sullivant has always been an outsider. Short, dark-haired, and round, she worships her beautiful blond sister, Pia, and envies the close bond she shares with their mother, Lidia. Growing up in their shadow, Muriel believes that if she keeps all their secrets—and she knows plenty, outsiders always do—they will love her, too.
But that was a long time ago. Now an adult, Muriel has accepted the disappointments in her life. With her fourth-floor walk-up apartment and entry-level New York City job, she never will measure up to Pia and her wealthy husband, their daughter, and their suburban Connecticut dream home. Muriel would like nothing better than to avoid her judgmental family altogether. One thing she does quite well.
Until the day Pia shows up to visit and share devastating news that Muriel knows she cannot tell—a secret that will force her to come to terms with the past and help her see her life and her family in unexpected new ways.
Two Sisters is a powerful and poignant debut novel about two sisters—opposites in every way—as well as their mother and the secrets and lies that define them all.
My Review:
This book, on the surface, can seem quite simple.  Two sisters, both treated differently by their parents, living separate lives, have different relationships with their parents (as adults), and how an illness can bring a family together or separate them further.  However, there were so many layers to this book, that it made it quite interesting all the way through.
What I believe the author, Mary Hogan, truly shows is how hurt people marry other hurt people, and how those hurts can turn to rejection experienced by their children.  It's a cycle, it's a family pattern, and it's sadly one that happens all the time.
Through Muriel's pain, readers are introduced to the relationship she has with her mother, father, and siblings.  Pia is the woman, every woman wants to be on the outside.  Perfect relationship with her mother, husband, and the mom of a beautiful child.  She has the perfect body, perfect home, finances for anything her heart desires, even a full-time maid.  However, as life always shows: no one is immune to illness.
Pia, in her own way, wants to make amends with Muriel.  However, Murial uses this time to uncover family secrets and face the family, she has worked hard at avoiding.  Muriel is the girl, most will relate to.  Why? Because she opens the most vulnerable part of herself, as she shares different experiences that caused her pain, rejection, humiliation, and sorrow.
It was also interesting to see that regardless of how unemotionally connected Muriel's mother is, Muriel works in a profession that reminds her most of the times she shared with her mom (even if she was simply used).  It was also quite interesting to see how Lydia and Owen stay together, despite their lack of love, simply because it was expected of them with their respective families.  Lydia is in love with someone else, who is married to his job (so to speak), and had they married would have been shunned from their communities.  Owen, while he is the most quiet in this story, has the greatest heartache.  He doesn't marry a woman that did love him, he loses his relationship with his children, and he never fully comes full circle in his life.
Two Sisters is a window into one family, where two adults married for different reasons: none of which was for true love.  Sadly, it is their children who may the price for that and it impacts the relationships they have as adults.  Even Muriel's brother, who doesn't appear until the very end of the book, has his own reasons for shunning the family.
This is a powerful read.  I imagine many readers will experience disgust, sadness, and anger as each character unfolds in each chapter.  However, Mary Hogan does a remarkable job of bringing her readers to the brink with Muriel, only to give a ray of hope and some happiness for Muriel's future.
If you love women's fiction, contemporary literature (although the time period is questionable), relationships about families, love books about the underdog finding his/her voice, then you will love this book!
Also, did I mention the cover?  The cover is gorgeous, although it doesn't really go with the storyline.  Maybe if it had been the suit, Pia picks out for herself, it would have fit.  Regardless, it is still a great book!
*This book was provided by TLC & the publisher, in exchange for an honest review. No forms of compensation were given.
About the Author:
Mary Hogan is the NAPPA Award-winning author of seven young-adult books. Two Sisters is her first novel for adults. She lives in New York City with her husband, Bob, and their dog, Lucy.
Follow the Author:
Tour Stops
Tuesday, March 4th: BoundbyWords
Wednesday, March 5th: cupcake's book cupboard
Thursday, March 6th: Chronicles …
Monday, March 10th: Kritters Ramblings
Monday, March 10th: Sweet Southern Home
Tuesday, March 11th: No More Grumpy Bookseller
Wednesday, March 12th: BookNAround
Monday, March 17th: Drey's Library
Tuesday, March 18th: Snowdrop Dreams of Books
Wednesday, March 19th: Kahakai Kitchen
Thursday, March 20th: The Well-Read Redhead
Monday, March 24th: Books in the Burbs