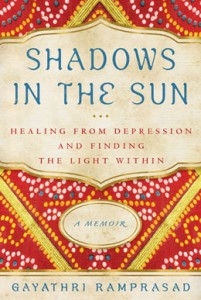 Publication Date: March 4th 2014
Publisher: Hazelden
Source: Publisher/ TLC Book Tours
Format: E-book
Pages:  240
Genre:  Memoir
Synopsis:
"Everyone who struggles with a mental illness, or who knows anyone with depression, anxiety, or any other mental illness, must read this engrossing true story of courage in the face of heartbreaking adversity."
—Dilip V. Jeste, MD, president, American Psychiatric Association

As a young girl in Bangalore, Gayathri was surrounded by the fragrance of jasmine and flickering oil lamps, her family protected by Hindu gods and goddesses. But as she grew older, demons came forth from the dark corners of her idyllic kingdom—with the scariest creatures lurking within her.

The daughter of a respected Brahmin family, Gayathri began to feel different. "I can hardly eat, sleep, or think straight. The only thing I can do is cry unending tears." Her parents insisted it was all in her head. Because traditional Indian culture had no concept of depression as an illness, no doctor could diagnose and no medicine could heal her mysterious malady.

This memoir traces Gayathri's courageous battle with the depression that consumed her from adolescence through marriage and a move to the United States. It was only after the birth of her first child, when her husband discovered her in the backyard "clawing the earth furiously with my bare hands, intent on digging a grave so that I could bury myself alive" that she finally found help. After a stay in a psych ward she eventually found "the light within," an emotional and spiritual awakening from the darkness of her tortured mind.

Gayathri's inspiring story provides a first-of-its-kind cross-cultural view of mental illness—how it is regarded in India and in America, and how she drew on both her rich Hindu heritage and Western medicine to find healing.
My Review:
This was an interesting read, as Gayathri writes about the challenges of acclimating to America, from India, where her faith, family, and teachings are deeply rooted.  It is learning opportunity for those not familiar with the Hindu faith and for those who are familiar, it's a great homage. With a glossary at the end of the book, any reader will be able to understand the terminology used throughout the book.
I was most interested in the Indian culture and how the arranged marriage impacted Gayathri.  It was also quite shocking that in a country where women dress so beautifully and are educated, men still have an upper hand, as one man actually paid the college professor for Gayathri to fail-which was her first remembered descent into a deep depression.  Using their Hindu faith and traditional medicines, Gayathri's parents try different ways to help her escape the traps of her mind.  However, she is unable to and hides her illness from everyone, feeling even more isolated.  In the midst of it all, Gayathri is at the expected age of arranged marriage, and she does her best to hide the depression that has truly affected every part of her life.
The most interesting part of the story is reading how Gayathri moves to America and the cultural differences she experiences and the ways she tries to integrate her faith and beliefs into an American lifestyle.  Married to a supportive husband, Gayathri continues to feel isolated, becomes quite thin (not by choice or anorexia), and describes the post-partum depression she experiences, the treatments she receives and how she not only improves, but vows to help others, too.
I would have liked the book to have focused more on the cultural assimilation to America, and to have had more pages to truly feel the author's struggles.  However, it was also understandable there were times she was writing from second hand knowledge, as she had memory gaps-so there were times the writing did seem to gloss over  the demise she experienced.  Nonetheless, it is a great book to help break the silence people experience and the stigma depression has.  She breaks down many myths about depression: isn't because one is weak minded (she is very educated), without family support (she has tremendous family support), isn't because one is "wanting" attention (she would have done anything to remove depression from her life), and especially that depression isn't a death sentence (she overcomes her mental illness, has a beautiful family, and is the founder of a wonderful organization).  This book provides hope to many and is a great tool for helping others understand the impact of depression.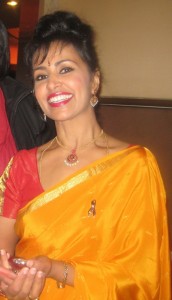 About the Author:
Gayathri Ramprasad is the founder and president of ASHA International (
myasha.org
), a nonprofit organization promoting personal, organizational, and community wellness. Gayathri received her first undergraduate degree in science from Bangalore University in India. At George Fox University in Newberg, Oregon, she earned a second undergraduate degree in management and information systems and a master's in business administration. She is a member of the Global Speakers Federation and winner of the prestigious Eli Lilly Welcome Back Award for Lifetime Achievement and the Voice Award for Consumer Leadership sponsored by the Substance Abuse and Mental Health Services Administration.
For more information, visit the website for ASHA International, Gayathri's nonprofit organization promoting personal, organizational, and community wellness HERE.

Gayathri Ramprasad's TLC Book Tours TOUR STOPS:
Monday, March 3rd:  Svetlana's Reads and Views
Tuesday, March 4th:  Bookfoolery
Tuesday, March 11th:  A Bookish Affair
Wednesday, March 12th:  The Whimsical Cottage
Thursday, March 13th:  Patricia's Wisdom
Tuesday, March 18th:  Lavish Bookshelf
Wednesday, March 19th:  Sarah's Book Shelves
Monday, March 24th:  The Best Books Ever
Monday, March 24th:  Literally Jen
Tuesday, March 25th:  Bookish Ardour
Thursday, March 27th:  Books in the Burbs 
Friday, March 28th:  Good Girl Gone Redneck
TBD:  Booksellers Without Borders
Win a copy of the book, courtesy of the publisher and TLC Book Tours!
One random winner will be selected on April 10, 2014.
Open to US/Canada.
In the comments section:
Name
Email
Answer Question:  What most interests you about this book?