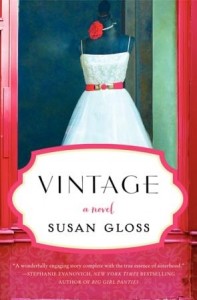 Publisher:  William Morrow
Publication Date:  March 25, 2014
Pages:  320
Format:  Paperback
ISBN-10: 006227032X
Source:  TLC & Publisher
Synopsis:
At Hourglass Vintage in Madison, Wisconsin, every item in the boutique has a story to tell . . . and so do the women whose lives the store touches.
Yellow Samsonite suitcase with ivory, quilted lining, 1950s
A small-town girl with a flair for fashion, Violet Turner had always dreamed of owning a shop like Hourglass Vintage. But while she values the personal history behind each beautiful item she sells, Violet is running from her own past. Faced with the possibility of losing the store to an unscrupulous developer, she realizes that despite her usual self-reliance she cannot save it alone.
Taffeta tea-length wedding gown with scooped neckline and cap sleeves, 1952
Eighteen-year-old April Morgan is nearly five months along in an unplanned pregnancy when her hasty engagement is broken. When she returns the perfect vintage wedding dress to Violet's shop, she discovers a world of new possibilities, and an unexpected sisterhood with women who won't let her give up on her dreams.
Orange silk sari with gold paisley design, 1968
Betrayed by her husband, Amithi Singh begins selling off her vibrant Indian dresses, remnants of a life she's determined to leave behind her. After decades of housekeeping and parenting a daughter who rejects her traditional ways, she fears her best days are behind her . . . until she discovers an outlet for her creativity and skills with a needle and thread.
An engaging story that beautifully captures the essence of friendship and style,Vintage is a charming tale of possibility, of finding renewal, love, and hope when we least expect it.
 Buy/Borrow/Bargain:  The cover is so gorgeous! If it's a bargain, snag it!
Themes:  Love lost, friendships, loss/disappointment, loneliness, new beginnings, stories told through items
Quick or Long Read:  Quick
The Cover:  Gorgeous!!  The dress is everything vintage-lace, style of dress, with peek-a-boo red on the rose and belt.
The Title:  Love the name!! It is definitely a great fit for the book!
Overall Thoughts:  Violet is the owner of Hourglass Vintage, and she is faced with the possibility of losing her store.  At that time, 3 customers, who soon become close friends, start this adventure with Violet.  Vintage is everything a light read should have: adventure, love lost, friendships gained, and a little something special along the way.
Audience:  Anyone that loves vintage items, is a boutique shopper, women, women's fiction readers, and those who want a great weekend read!
Rating:  A Great Cupcake
I remember attending university, in a small town, and there was a street of little antique shops.  I've always loved books, and remember walking into a vintage shop with rare copies of books.  Of course, I couldn't afford them, but I did find a book I could afford.  I had no idea what it was about, but I was drawn to the book cover.  It was dark brown with a gold emblem on top. It turned out to be an etiquette book from the 1920's.  Being the non-hoarder that I am, I think I donated it to some place and wish I had kept it.
This book reminds me of that.  Well, the characters do.  Violet is a store owner of vintage items.  She is faced with the prospect of having to sell her store, and doesn't know what to do.  Violet is running from her past, and the store is a great diversion for that.  She meets 3 women, who each have their own share of issues and together, the 4 of them become great friends-who overcome obstacles, experience new beginnings, dream bigger, and become their own little support system.
I love how Susan starts each chapter with a vintage item that somehow weaves itself into the storyline.  It was a great way to begin each chapter and had me wondering which item would be introduced next.  While Violet is the main character, Susan highlights each character's story in different chapters, so that readers can learn more about the background to each woman.  It is such a heartwarming book, one that many will love, and gives people an appreciation for vintage!
*A huge thanks to TLC Book Tours for giving me an opportunity to be on this tour!
Tour Stops:
Tuesday, March 25th: BookNAround
Wednesday, March 26th: Book Hooked Blog
Thursday, March 27th: Book-alicious Mama
Monday, March 31st: Kritters Ramblings
Tuesday, April 1st: No More Grumpy Bookseller
Wednesday, April 2nd: Bibliotica
Thursday, April 3rd: A Bookish Way of Life
Tuesday, April 8th: Doing Dewey
Wednesday, April 9th: Suko's Notebook
Thursday, April 10th: Walking With Nora
TBD: Books in the Burbs
About Susan Gloss
Susan Gloss is a graduate of the University of Notre Dame and the University of Wisconsin Law School. When she's not writing fiction, Susan can be found working as an attorney, blogging at GlossingOverIt.com, or hunting for vintage treasures for her Etsy shop, Cleverly Curated. She lives with her family in Madison, Wisconsin.
Find out more about Susan at her website, connect with her on Facebook, follow her on Twitter, and see what she's pinning on Pinterest.