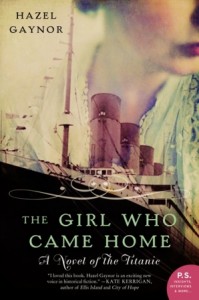 Publisher:  William Morrow
Publication Date:  April 1, 2014
Genre:  Historical Fiction
Source:  TLC Book Tours
Format:  Paperback
Pages:  384
Synopsis:
a lifetime for a young Irish woman. . . .
Ireland, 1912 . . .
Fourteen members of a small village set sail on RMS Titanic, hoping to find a better life in America. For seventeen-year-old Maggie Murphy, the journey is bittersweet. Though her future lies in an unknown new place, her heart remains in Ireland with Séamus, the sweetheart she left behind. When disaster strikes, Maggie is one of the few passengers in steerage to survive. Waking up alone in a New York hospital, she vows never to speak of the terror and panic of that fateful night again.
Chicago, 1982 . . .
Adrift after the death of her father, Grace Butler struggles to decide what comes next. When her great-grandmother Maggie shares the painful secret about Titanic that she's harbored for almost a lifetime, the revelation gives Grace new direction—and leads both her and Maggie to unexpected reunions with those they thought lost long ago.
Inspired by true events, The Girl Who Came Home poignantly blends fact and fiction to explore the Titanic tragedy's impact and its lasting repercussions on survivors and their descendants.
This is such a beautiful, yet tragic love story.  Hazel Gaynor is a gifted author, as she can weave fiction with fact, and even when we all know the outcome of the Titanic, she has us wanting to continue reading!  The Titanic has always had a mysterious, elegant, and somber beauty about it.  It's the ship that brought the world together, and still does to this day.  With so many books written about the Titanic, Hazel dives into a storyline that has not been told: those left behind.  This book is definitely character driven, and the storyline is like a delicious stew on a cold day!!  It takes time to develop, but to rush it, is to lose the magic that this book contains.
The story is told through different viewpoints, which adds dimension to the characters and makes the plot even more rich and complex.  Maggie and Seamus' love for one another, with love letters placed perfectly between the storyline, creates its own story-in a way.  While history shows that the Titanic did sink, Hazel is able to bring to life the beauty of the ship, the people onboard and the dreams they had, and the families and friends on land-left behind to figure out what happened and how to move on.
While I was given the paperback for review, I also purchased this book on my Nook.  It is not often that I buy a book I am already reviewing, but this one is a book that I want-for perhaps another day-when I want to revisit the wonderful tales and high hopes of Maggie, her friends, and those who embarked on an adventure, aboard the Titanic.  Buy the book!  It's a keeper!!
*A huge thank-you to TLC Book Tours, and the publisher, for giving me an opportunity to read and review this book!
Hazel's Tour Stops
Tuesday, April 1st: Reflections of a Bookaholic
Tuesday, April 1st: Historical Tapestry (guest post)
Thursday, April 3rd: Kritters Ramblings
Monday, April 7th: Ladybug Literature
Tuesday, April 8th: No More Grumpy Bookseller
Wednesday, April 9th: Tiffany's Bookshelf
Thursday, April 10th: Book-alicious Mama
Monday, April 14th: The Avid Reader
Tuesday, April 15th: Bibliophilia, Please
Wednesday, April 16th: Jenn's Bookshelves
Thursday, April 17th: Read. Write. Repeat.
Monday, April 21st: Svetlana's Reads and Views
Tuesday, April 29th: Mel's Shelves
Friday, May 2nd: Books in the Burbs
Thursday, May 8th: My Bookshelf
TBD: Little Lovely Books 
TBD: Peppermint PhD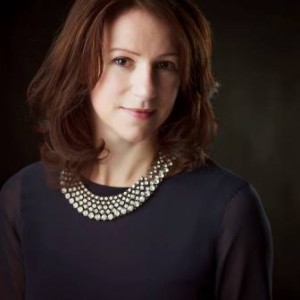 About the Author:
Hazel Gaynor is an author and freelance writer in Ireland and the U.K. and was the recipient of the Cecil Day Lewis Award for Emerging Writers in 2012. Originally from North Yorkshire, England, she now lives in Ireland with her husband, two young children, and an accident-prone cat.
Connect with Hazel on Facebook.