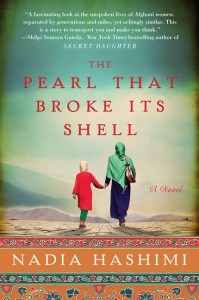 Hardcover: 464 pages
Publisher: William Morrow (May 6, 2014)
Language: English
ISBN-10: 0062244752
Genre:  Historical Fiction, Contemporary Literature
Source:  TLC Book Tours & Publisher
Format:  Paperback
Synopsis:
A luminous and unforgettable tale of two women, destiny, and identity in Afghanistan

Kabul, 2007: The Taliban rules the streets. With a drug-addicted father and no brothers, Rahima and her sisters can rarely leave the house or attend school. Their only hope lies in the ancient Afghan custom of bacha posh, which allows young Rahima to dress and be treated as a son until she is of marriageable age. As a boy, she has the kind of freedom that was previously unimaginable . . . freedom that will transform her forever.

But Rahima is not the first in her family to adopt this unusual custom. A century earlier, her great-great-grandmother Shekiba, left orphaned by an epidemic, saved herself and built a new life in the same way—the change took her on a journey from the deprivation of life in a rural village to the opulence of a king's palace in the bustling metropolis of Kabul.

Crisscrossing in time, The Pearl That Broke Its Shell interweaves the stories of these two remarkable women who are separated by a century but share the same courage and dreams. What will happen once Rahima is old enough to marry? How long can Shekiba pass as a man? And if Rahima cannot adapt to life as a bride, how will she survive?
The cover is stunning, absolutely beautiful!  I love the title and felt that it went well with the theme of the book.  If readers are aware of the traditional Muslim gender roles, in the Middle East, then this book shouldn't be too much of a shock.  There were many times that my heart ached over the way girls were treated vs. boys, the family expectations of women and multiple wives, the devaluation of a woman and the importance of birthing sons, and the inability to walk outside their home without men/boys attacking or harming them.  While the religious culture is vastly different from that promotes gender equality, it is a story that needs to be told and highlighted to understand the themes in the storyline.
Nadia writes so beautifully and shifts between the past and present flawlessly.   Shekiba's story is one that is filled with sorrow, sadness, but also has glimmers of hope and new beginnings.  Her story read almost like a folktale, that can be passed down from generation to generation for young girls to be inspired and create change.  I was so engrossed with Shekiba's tale that it was hard to switch mentally to Rahima's storyline.  However, both stories switched back and forth seamlessly.
Rahima is a little girl, who experiences both sides of the gender norms: as a boy and girl.  As a girl, she experiences being bullied by the boys her age, the inability to walk to school safely, having to wear her burqua, the disappointment she sees in her father's eyes, etc.  As a boy, she experiences many freedoms of going to school without harassment, going to the story and bargaining/buying goods, having the time to socialize and play after school and not prepare meals, and the approval she gets from her father.
Rahima lives in a household where the country is changing, having to see her father leave for bouts at a time, and have him return to a drunken/drugged stupor.  She also hears the talks amongst the family in her house and their thoughts on family, politics/country, and the "girl talk" women have.
This is a long book.  It took me awhile to read, simply because it was so mesmerizing to learn and read about the culture in Afghanistan, the changing country, and how two families are impacted with gender roles, religion, and political climate change.  It's a beautiful book and one that will easily be compared to Khaled Hosseini and his lyrical style of writing, in a practical format, that people of all backgrounds will enjoy, cry, rejoice, and remember for a long time.
About Nadia Hashimi
Nadia Hashimi's parents left Afghanistan in the 1970s, before the Soviet invasion. In 2002, Hashimi visited Afghanistan for the first time. She lives with her family in suburban Washington, D.C., where she works as a pediatrician.
Find out more about Nadia at her website, connect with her on Facebook, and follow her on Twitter.
Nadia's Tour Stops
Wednesday, May 7th: The Gilmore Guide to Books
Thursday, May 8th: Lit and Life
Friday, May 9th: Books in the Burbs
Monday, May 12th: Svetlana's Reads and Views
Monday, May 12th: A Bookish Affair
Tuesday, May 13th: Drey's Library
Wednesday, May 14th: Snowdrop Dreams of Books
Thursday, May 15th: West Metro Mommy
Wednesday, May 21st: Peeking Between the Pages
Thursday, May 22nd: Time 2 Read
Monday, May 26th: BoundbyWords