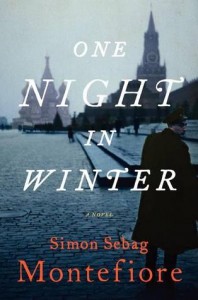 Publisher: HarperCollins
Publication Date:  May 6, 2014
Genre: Historical Fiction
Pages: 480
ISBN:  0062291882
Format:  Paperback
Source:  TLC Book Tours & Publisher
Synopsis:
The acclaimed novelist and prizewinning historian Simon Sebag Montefiore explores the consequences of forbidden love in this heartbreaking epic, inspired by a true story that unfolds in Stalin's Russia during the bleak days after World War II.
A jubilant Moscow is celebrating the Soviet Union's victory over Hitler when gunshots ring out though the city's crowded streets. In the shadow of the Kremlin, a teenage boy and girl are found dead. But this is no ordinary tragedy, because these are no ordinary teenagers. As the children of high-ranking Soviet officials, they inhabit a rarefied world that revolves around the exclusive Josef Stalin Commune School 801. The school, which Stalin's own children attended, is an enclave of privilege—but, as the deaths reveal, one that hides a wealth of secrets. Were these deaths an accident, a suicide pact . . . or murder?
Certain that a deeper conspiracy is afoot, Stalin launches a ruthless investigation. In what comes to be known as the Children's Case, youths from all over Moscow are arrested by state security services and brought to the infamous interrogation rooms of the Lubyanka, where they are forced to testify against their friends and their families. Among the casualties of these betrayals are two pairs of illicit lovers, who find themselves trapped at the center of Stalin's witch hunt. As the Children's Case follows its increasingly terrifying course, these couples discover that the decision to follow one's heart comes at a terrible price.
A haunting evocation of a time and place in which the state colluded to corrupt and destroy every dream, One Night in Winter is infused with the desperate intrigue of a political thriller. The eminent historian Simon Sebag Montefiore weaves fact and fiction into a richly compelling saga of sacrifice and survival, populated by real figures from the past. But within the darkness shines a deeply human love story, one that transcends its moment as it masterfully explores our capacity for loyalty and forgiveness.
I first have to mention, how fitting writing this review is, today.  Today, is Memorial Day, an important date that Americans celebrate and honor the American soldiers who have fought bravely and lost their lives doing so, for our freedom and those of others.
One Night in Winter is the sequel to Sashenka, however is a book that can stand on it's own.  The first scene that takes place, reminded me of a couple of fateful scenes in Romeo and Juliet, all rolled into one.  It's the end of World War II, Stalin is in control of his country, and like any narcisstic leader-still demands the loyalty of the people.
Centered around young teens, who many are children of leaders in the political party, movie stars/entertainers, and fierce supporters of Stalin's regime.  However, what became one tragic story, turns into a twisted and demented opportunity for Stalin to use this situation to his favor: put children against parents, parents against each other, and everyone's loyalty is questioned.
This is a profound book that will have many crying, angry, sad, and think of this book for many days and years to come.  Simon is a gifted and talented author, who can write something so tragic and yet in the midst of it, give the reader hope, show the beauty in a time when things were bleak, and teach people what can happen when too much control is given to one person.  This is a fantastic story that would be wonderful for any high school or college course studying history, world events, character analyses, and would certainly make for an awesome book club pick!! The discussions would be endless for sure!
It's a long read, but every page is worth it.  A great book to add to any TBR list for sure!
About Simon Sebag Montefiore
Simon Sebag Montefiore's bestselling books are published in more than forty languages. A fellow of the Royal Society of Literature, he is the author of the critically acclaimed novel Sashenka. As a historian, his works include Jerusalem: The Biography, Stalin: The Court of the Red Tsar, and Young Stalin, which was awarded the Los Angeles Times Book Prize for Biography, the Costa Biography Prize (UK), and Le Grand Prix de Biographie Politique (France).
Find out more about Simon at his website and connect with him on Facebook.
Simon's Tour Stops
Wednesday, May 7th: Man of La Book
Monday, May 12th: 5 Minutes For Books
Tuesday, May 13th: Ace and Hoser Blook
Wednesday, May 14th: Dwell in Possibility
Thursday, May 15th: No More Grumpy Bookseller
Tuesday, May 20th: More Than Just Magic
Wednesday, May 21st: Read Lately
Thursday, May 22nd: Svetlana's Reads and Views
Thursday, May 22nd: Walking With Nora
Monday, May 26th: Book-alicious Mama
Monday, May 26th: Books in the Burbs
Tuesday, May 27th: Bookfoolery and Babble
Wednesday, May 28th: The House of the Seven Tails
Monday, June 2nd: The Written World
Tuesday, June 3rd: Ageless Pages Reviews
Thursday, June 5th: Read. Write. Repeat.
TBD: Bibliophilia, Please