Author:
Books in the Burbs
My Review:
This is a psychological thriller, that is definitely a mystery and can drive the protagonist mad! Will and Hannah are married, and have been unable to have a baby.  After countless IVF's and other fertility treatments, they decide adoption is their best option to expanding their family.  What is typical for couples: rather than grieve their inability to have a biological child, they immediately venture into the world of adoption, without even talking about where they are as a couple.  As a result, Will is a bit put off by the huge move they make into the country, which will make his commute 4 hours!!  I know….I wouldn't do it either!
However, after a failed adoption attempt, Hannah is determined to make sure everything is perfect and feels having a house (rather their apartment) will increase their chances to having a child.  Sadly, Will is really distant (literally), upset about the move, and missed the "old" Hannah.  Hannah is hyper-focused on fixing up their new home, which needs a lot of work.  Due to heavy snows (think "The Shining"), Hannah is left alone in a desolate area, where she has to fix the house and repair many things, too! Will, on the other hand, is stranded at work.  Really, though, he is connecting with an office mate, and making great music.
With lots of strange happenings, and people who reminded me of the town in "Children of the Corn", Hannah has to solve the mysteries happening in and around her home.  She has strange neighbors, who all have their own agenda, and a "ghost" who has an agenda, too.
I enjoyed the book and storyline, but found myself so frustrated for Hannah.  I always tell people that if an author can make me detest an unlikeable character, then she did her job…and Louise Millar certainly nails this one! I found Will to be uncaring, very self-centered, and selfish.  Understanding he was dealing with the failed adoption in his own way, he still made me so angry! I really wanted a different ending for Hannah because of how brave and strong she is.  However, it is their dream to have a family and their relationship can overcome.  I would have liked the book to have been longer, so that we could see how Hannah and Will deal with their relationship and come together to decide how to move forward.  Nonetheless, it's a fast past paced novel, lots of mysteries to uncover, and a great book that kept me up late at night because I was determined to know how it all ends!
*This book was provided by the publisher and NetGalley.  No forms of compensation were given.
This is the first time I've been invite to participated in Bloggiesta!! I am so excited, because it's about bloggers getting together, supporting one another, and getting some work done on our blogs that we've put on the back burner for awhile.
Bloggiesta will actually run from September 18-21, so that means that I will be doing lots of blogging, working, and reading!
My List of Things to Complete:
1.  Create a couple more Memes for my blog.
2.  Clean out my emails of past book tours I've already completed.
3.  Visit more blogs and comment on their fantastic posts!
4.  Add on my Review page, why I don't link books to retailer sites.
5.  Add any reviews I haven't already listed on Goodreads and LibraryThing
6.  Read more!
So, that's my HUGE to-do list!  But, I'm ready for my challenges up ahead!  I hope you will stop by and visit often, encourage me, and join in on the conversations happening here and at the other participating blogs!!
I'm ready for Bloggiesta! Ole'!!
How is your Monday so far? If you are like me, it's usually my busiest day, with errands and to-do lists to complete.  This is why I love Monday Madness.  It's a place to check in and pause for a moment.  Below, I have links to blogs hosting giveaways!  I know I am not alone in thinking this, but as a blogger, the best part of blogging is giving away free books! Book bloggers tend to be the most giving and most helpful community I've belonged to, and the friendliest!
I currently have 2 book giveaways happening right now!!  So, be sure and check these out!
Other Giveaways:
http://girlslovetoread.com/2014/09/win-the-lost-boys-the-lost-girl-by-lilian-carmine/
http://www.bibliophiliaplease.com/2014/09/blog-tour-review-giveaway-dark-aemilia.html?utm_source=feedburner&utm_medium=feed&utm_campaign=Feed%3A+BibliophiliaPlease+%28Bibliophilia%2C+Please%29
http://melissaseclecticbookshelf.com/3rd-blogoversary-extravaganza-giveaways-including-boxes-of-books-signed-arcs-and-gift-cards/
http://whatsarahread.com/2014/09/10/mini-review-giveaway-fangirl-by-rainbow-rowell/
http://www.iamareader.com/2014/08/queen-someday-stolen-empire-novel-sherry-d-ficklin-trailer-giveaway.html?utm_source=feedburner&utm_medium=feed&utm_campaign=Feed%3A+IAmAReaderNotAWriter+%28I+Am+A+Reader%2C+Not+A+Writer%29
*Bloggers: Is your giveaway not posted? Please send me the link to your giveaway and I will post it on Monday Madness Meme each week!  Please email me at: booksintheburbs(at)gmail(dot)com.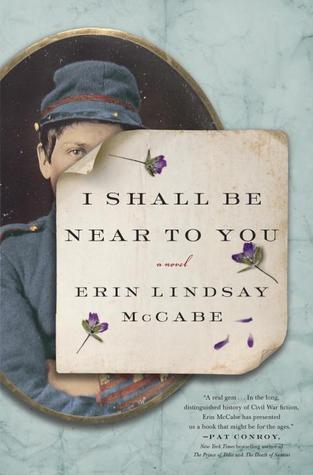 My Review:
First, I absolutely love the title and book cover.  I understand there is another book cover, but the one I have is the cover I have posted up top.  The title sends chills down my spine, now as I reflect back on the love between Rosetta and her husband, Jeremiah.  The cover is a depiction of Rosetta (and any other female solider disguised as a man).  I have to admit, I don't really enjoy reading about war.  I already know that there will be blood, gore, death, and family separation…and it all just makes me sad.  However, when I read the synopsis, I knew this book was an exception.  I'm so glad that I did read this book!
Based on a compilation of true stories, Erin brings to life the characters of Rosetta (Ross), Jeremiah, and the troops they fight with.  During the Civil War, I was shocked that there were many soliders (disguised as men), who fought in the war.  I realize I may be in the minority, but again-I'm not a war book reader, however it wasn't until this book that I learned about the brave women-who fought alongside brave, young men, too.  Back then, physicals weren't given and it was just your word and a signature that allowed you to join up for war.  Before the era of social media and internet, soldiers didn't have ways of delivering and receiving mail often from their loved ones.  So, there were months before a letter was received.  Erin is so detailed in sharing more about the life of a solider, during a time when communication was limited, resources were scarce, and the unknown was their greatest challenge.
Despite all the war details in the book, Erin weaves a beautiful love story, in the midst of a very brutal, bloody, and horrific war.  These were soldiers on the battle front, who had to walk into the line of fire and see their comrades blown to bits, injured, and even had to bury those who were killed.  I can't imagine the PTSD all these soldiers experienced!!!
I love the character: Will!!  He is also a solider, who has a "secret", and shares it with Ross.  I love their relationship as friends, and the way they treated each other as equals.  Ross is one tough woman and I love the way her character is portrayed.  She is tough on the battlefield, is a loyal friend to her comrades, and is a devoted wife to her husband.
There are so many layers to this book: the role of women, the issues of battle, family issues, death, and friendships.  It's an excellent book to read!  While there is some subject matter that readers may be concerned about (the details of a horrific war, homosexuality (only lightly discussed), some sexual implied scenes), it is relevant to the storyline, and is not graphic (besides the war).  None of those issues should dissuade a reader from buying and reading this book. I absolutely loved this book!  If you do read it, grab some tissue…there are some tearjerker moments!
*This book was provided by Blogging for Books, in exchange for an honest review.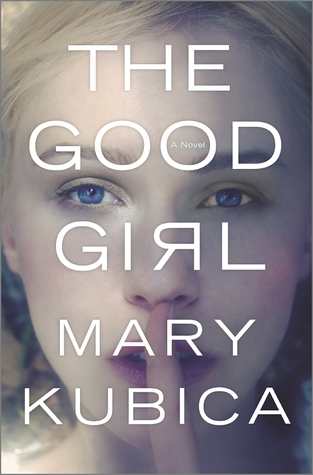 The cover and book title are genius!!  Wow, I was thrown for one huge loop, when I reached the end of the book!  Mia is a socialite, who doesn't follow the norms within her family.  Her father, a prominent attorney, turned judge, is very much into appearances and will stop at nothing to make sure the family name stays untainted.  Mia's mom is the perfect wife, albeit on the outside, as she does her best to keep up appearances, too.  Mia has a sister, who follows the family rules and becomes an attorney herself.  Mia, on the other hand, struggles as a teenager and soon cuts herself off from the family, as she pursues art and becomes a teacher for the inner-city kids.
The story is told through flashbacks and present time, with the book addressing many issues: family secrets, why Mia is kidnapped, the relationship between Mia and her captor, Mia's relationships with her family, the relationship between Mia's parents, the justice system, and so much more.  It's a book that held my attention the whole time.  Mia tries to escape her captor, but overtime, experiences the Stockholm Syndrome.  What happens to Mia? What happens to the family and their public image? Who wanted Mia kidnapped? Those are just a few of the questions that will addressed in the book.  It's a book that will certainly engage the reader and offer some huge surprises along the way!
*This book was provided through the publisher and NetGalley, in exchange for an honest review.
Sadly, I never read the book. The book was released in 2009, and I know during  that time, I was very busy with the arrival of our little baby girl.  However, I am really glad that a movie has been made about this book!
It's not very often that book bloggers rally around a movie, that is based on a book. However, this is one of those exceptions.  The author, Jonathan Tropper, actually wrote the screenplay!  So, it's his vision, his story, his duty to make sure the movie is authentic to the book…which I absolutely love!
The all-start cast alone, is what will have people wanting to watch this movie!
All-Star Cast:
Jason Bateman, Tina Fey, Rose Byrne, Adam Driver, Corey Stoll, Kathryn Hahn, Connie Britton, Timothy Olyphant, Dax Shepard, Jane Fonda
Genre: Dramatic Comedy
Rated: R
Studio: Warner Bros. Pictures
Directed By: Shawn Levy
Screenplay By: Screenplay by Jonathan Tropper, Based on the novel "This Is Where I Leave You" by Jonathan Tropper
Produced By: Paula Weinstein, Shawn Levy, Jeffrey Levine; Executive Producers Mary McLaglen, Jonathan Tropper
Synopsis:
When their father passes away, four grown siblings, bruised and banged up by their respective adult lives, are forced to return to their childhood home and live under the same roof together for a week, along with their over-sharing mother and an assortment of spouses, exes and might-have-beens. Confronting their history and the frayed states of their relationships among the people who know and love them best, they ultimately reconnect in hysterical and emotionally affecting ways amid the chaos, humor, heartache and redemption that only families can provide—driving us insane even as they remind us of our truest, and often best, selves.
http://www.youtube.com/watch?v=fH0cEP0mvlU
What I love most about this trailer is that Jonathan Tropper said that he "opened the book and found the movie".  He knows there is a challenge with translating a book to a movie, but he was up to the challenge and as the writer, he is the best one to do that!
Book to Screen Featurette:
http://www.youtube.com/watch?v=nkULOXG84_c
Visit all TIWILY websites – #TIWIL
Visit the official website
Like This is Where I Leave You on Facebook
Follow @wbpictures on Twitter
Follow on Google+ and Instagram
The Giveaway Details:
Win a copy of the book (that has the movie cover on it)
AND
$25 Visa card for tickets to the movie!
Giveaway ends September 17, 2014.
Prizing provided by Warner Bros. Pictures
Giveaway open to US addresses only
* Please note: 1 random winner will be selected to win the prize pack.  The winner's information will be sent to the representative at Warner Bros., so that the prizes can be mailed.  No other information will be disclosed to any other parties.  Also, any information filled out in the Contact Form is not publicly visible.
This is a new post I plan to do each Monday! It's Monday Madness!!  So, what is that? 
Every Monday, I will post books I'm reading and books I am giving away.  I will also post other blog links, where book giveaways are being held, so that you can also enter them. I know, I am :D
Book Giveaways:
Because we all love a great mystery in October, I'm giving away a mystery this month! That way, whoever wins will have a great mystery to read, the following month!
  One random winner will be selected.  Because I have a lot of readers from all over, this will be open to international readers, too. 
Fill out the information in the Contact Form, along with a comment below. 
In the comment below, answer this question, " What do you most enjoy about the Fall?
Giveaway ends September 30, 2014.
Please Note:  Your information in the contact form is not visible, when you fill it out.  Also, none of your information is ever shared privately or publicly with anyone.  Only I am privy to your information for the sake of mailing out the book to winners.
**The Contact Form & question in the comment section below must both be filled out to be eligible for this giveaway.
http://guiltlessreading.blogspot.ca/2014/09/sunday-post-14-sunday-salon.html
http://www.joyweesemoll.com/2014/08/31/fall-in-love-author-tour-sundaysalon-giveaway/
http://jerasjamboree.weebly.com/blog/jeras-jamboree-author-interview-penny-hancock-a-trick-of-the-mind-plus-signed-giveaway
Okay, those are 4 giveaways you can now apply for! I hope you win a book!!
Enjoy your Monday!
*Bloggers: Is your giveaway not posted? Please send me the link to your giveaway and I will post it on Monday Madness Meme each week!  Please email me at: booksintheburbs(at)gmail(dot)com.
My Review:
First, of all-I absolutely loved the title and cover of this book!  I'm a huge fan of artwork, and when it represents the storyline so perfectly-it immediately grabs my interest!
In the beginning, Betsy is just a "typewriter girl".  Typing away, with all the other women in a factory.  It reminded me of the stories my MIL has told me, when she lived in Mexico and trained as a receptionist.  Every day, she had to wear heels, a little hat, black skirt with a white blouse, and gloves…just like Betsy (minus the hat).  It was all about appearance, as much as it was work ethic, so I was instantly able to picture the factory that Betsy worked in- long hours, little pay, and no recognition.  To this day, she still remembers how to write short hand!
I loved the book from the start.  The setting is during a time when women were working, but really just "staying busy", until they are married and have children.  Betsy Dobson is the girl that breaks all the rules, finds her way amongst a male dominated world, and rises to the top because of hard work and sheer determination.  Betsy had a canary, that she takes with her everywhere. I cringed every time she called his name, "Thief", but in some way it seemed quite fitting.  While Betsy isn't a thief, she definitely changes her life, her story, to get a job that will hopefully change her future because her past is a place she doesn't want to revisit again.  In her past, she had to give so much of herself, that in her future- she is not willing to give any of herself that she doesn't want to.  It's on her terms, this time.
What was most interesting, is that Alison Atlee writes this story from the Victorian era, but aside from the dresses and formal wear- Alison peels away the curtain and shows the gritty side to that time period with the language, the complex characters who are trying to make a better life, and fit in during a time when appearances were everything.
An interesting note, is that Alison creates a new place: Idensea (although I kept reading it as Indonesia), reminded me of the Grand Hotel (from the movie, Somewhere in Time).  The magical feel of the place, the different activities, and big events…just made me want to go there!
An excellent book with complex characters, who are misfits, trying to find their place and move up in their world!
*Thank you to HFVBT for providing me the opportunity to read this book, in exchange for an honest review.
About the Author
Alison Atlee spent her childhood re-enacting Little Women and trying to fashion nineteenth century wardrobes for her Barbie dolls. Happily, these activities turned out to be good preparation for writing historical novels. She now lives in Kentucky.
For more information please visit Alison Atlee's website. You can also connect with her on Facebook, Twitter, Google+, Goodreads and Pinterest.
The Typewriter Girl Blog Tour & Book Blast Schedule
Monday, August 4
Review at Peeking Between the Pages (Audio Book)
Book Blast at Mina's Bookshelf
Book Blast at Princess of Eboli
Book Blast at Literary Chanteuse
Book Blast at What Is That Book About
Tuesday, August 5
Review at A Bibliotaph's Reviews (Print)
Book Blast at So Many Books, So Little Time
Wednesday, August 6
Book Blast at Let Them Read Books
Thursday, August 7
Book Blast at Mari Reads
Book Blast at Book Lovers Paradise
Friday, August 8
Book Blast at Book Blast Central
Saturday, August 9
Book Blast at Caroline Wilson Writes
Sunday, August 10
Book Blast at Book Nerd
Monday, August 11
Review at Just One More Chapter (Audio Book)
Book Blast at Gobs and Gobs of Books
Tuesday, August 12
Book Blast at Queen of All She Reads
Wednesday, August 13
Review at Historical Tapestry (Audio Book)
Book Blast at The Lit Bitch
Book Blast at CelticLady's Reviews
Thursday, August 14
Review at A Bookish Affair (Print)
Guest Post at Historical Tapestry
Friday, August 15
Review at Brooke Blogs (Audio Book)
Guest Post at A Bookish Affair
Saturday, August 16
Book Blast at Broken Teepee
Sunday, August 17
Interview at Closed the Cover
Monday, August 18
Review at The Maiden's Court (Audio Book)
Tuesday, August 19
Book Blast at Layered Pages
Book Blast at Always with a Book
Wednesday, August 20
Book Blast at Literary, Etc.
Thursday, August 21
Book Blast at Bibliotica
Friday, August 22
Review at Bibliophilia, Please (Audio Book)
Saturday, August 23
Book Blast at Reading Lark
Book Blast at Ageless Pages Reviews
Sunday, August 24
Book Blast at Passages to the Past
Monday, August 25
Review at Flashlight Commentary (Audio Book)
Book Blast at Historical Fiction Connection
Tuesday, August 26
Interview at Flashlight Commentary
Wednesday, August 27
Book Blast at Susan Heim on Writing
Thursday, August 28
Review at Luxury Reading (Print)
Review at The True Book Addict (Audio Book)
Review at Jorie Loves a Story (Print)
Friday, August 29
Interview at Jorie Loves a Story
Review at Books in the Burbs (Print)
The Typewriter Girl Swag Giveaway
One copy of The Typewriter Girl (Audio Book or Print)
Set of earbuds in a cute typewriter print pouch
A Typewriter Girl Happily-Ever-After t-shirt (features last lines from famous novels)
A vintage style postcard "from" Idensea, the setting of The Typewriter Girl
A "dream wildly" ribbon bookmark with typewriter key charms
To enter, please click on this link.
Giveaway is open to residents in the US, Canada, and the UK.
Giveaway ends at 11:59pm on August 29th. You must be 18 or older to enter.
Winner will be chosen via Rafflecopter on August 30th and notified via email.
Winner has 48 hours to claim prize or new winner is chosen.
My Review:
This book is celebrating it's 10th anniversary!  For a book to be 10 years old and to still be ever so funny and relevant, says a lot about Plum Sykes quality of writing.
the perfect book to read between some serious reads!  I loved this book, as it reminded me so much of one of my all time favorite books: Valley of the Dolls by Jacqueline Susann.  It's a book about the kind of people that "people like us" are sickened by because of how fake they are, but yet we still watch those reality shows about them and read the tabloids. Told with wonderful 1990's detail, readers will love the way Plum Sykes brings a modern twist to living in New York.  I couldn't help but think of the NY heiresses, Paris and Nicky Hilton, Aly Hilfiger, the Clarin sisters, etc.
The storyline is funny-trading a handbag for a PH (potential husband), and trading crystal facials for a fiancé to get that "glow".  I love how quickly the storyline moves, the characters are really interesting, which makes for a fun read, and it's a book that many will love who enjoy the Chick-lit genre and love books told in a comedic way about the tales of the "oh-so glamorous", who are really just girls with lots of money trying to have it all.
The only issue is the overuse of acronyms.  It's was hard to understand initially, but after awhile, it was easy to figure out.  Just stay with it, it is worth the light read!
*This book was provided through TLC Book Tours and its publisher, in exchange for an honest review.
About Plum Sykes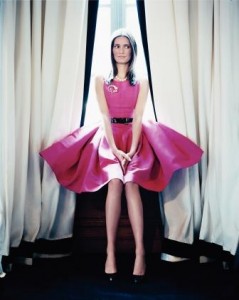 Plum Sykes was born in London and educated at Oxford. The author of the novels Bergdorf Blondes and The Debutante Divorcée and the Kindle Single memoir Oxford Girl, she is a contributing editor at American Vogue, where she writes about fashion, society, and Hollywood. She has also written for Vanity Fair. She lives in the English countryside with her husband and two daughters.
Plum's Tour Stops
Tuesday, August 19th: A Bookish Way of Life – Bergdorf Blondes
Thursday, August 21st: booknerd – Bergdorf Blondes
Friday, August 22nd: Drey's Library – The Debutante Divorcee
Monday, August 25th: Carpe Libros – The Debutante Divorcee
Tuesday, August 26th: Books in the Burbs – Bergdorf Blondes
Wednesday, August 27th: Book by Book – Bergdorf Blondes
Thursday, August 28th: Reading in Black & White – Bergdorf Blondes
Thursday, August 28th: From the TBR Pile – Bergdorf Blondes
Monday, September 1st: A Bookish Way of Life – The Debutante Divorcee
Tuesday, September 2nd: Drey's Library – Bergdorf Blondes
Wednesday, September 3rd: Reading in Black & White – The Debutante Divorcee
Thursday, September 4th: booknerd – The Debutante Divorcee
Monday, September 8th: Mom in Love With Fiction – Bergdorf Blondes
Tuesday, September 9th: Staircase Wit – Bergdorf Blondes
Wednesday, September 10th: Reads for Pleasure – Bergdorf Blondes
Thursday, September 11th: BookNAround – Bergdorf Blondes
Tuesday, September 16th: Cruising Susan Reviews – Bergdorf Blondes
Wednesday, September 17th: A Book Geek – Bergdorf Blondes
Thursday, September 18th: Books à la Mode – Bergdorf Blondes
Thursday, September 18th: Book by Book – The Debutante Divorcee
TBD: Books in the Burbs – The Debutante Divorcee
TBD: Cruising Susan Reviews – The Debutante Divorcee