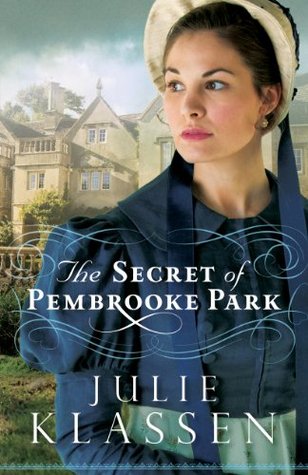 Publication Date: December 2014
Publisher:  Bethany House
Pages:  460
Synopsis from Goodreads:
Julie Klassen Is the Top Name in Inspirational regency Romance
Abigail Foster fears she will end up a spinster, especially as she has little dowry to improve her charms and the one man she thought might marry her–a longtime friend–has fallen for her younger, prettier sister.
When financial problems force her family to sell their London home, a strange solicitor arrives with an astounding offer: the use of a distant manor house abandoned for eighteen years. The Fosters journey to imposing Pembrooke Park and are startled to find it entombed as it was abruptly left: tea cups encrusted with dry tea, moth-eaten clothes in wardrobes, a doll's house left mid-play . . .
The handsome local curate welcomes them, but though he and his family seem to know something about the manor's past, the only information they offer Abigail is a warning: Beware trespassers who may be drawn by rumors that Pembrooke contains a secret room filled with treasure.
Hoping to improve her family's financial situation, Abigail surreptitiously searches for the hidden room, but the arrival of anonymous letters addressed to her, with clues about the room and the past, bring discoveries even more startling. As secrets come to light, will Abigail find the treasure and love she seeks…or very real danger?
My Review:
This book is so reminiscent to the great writings of Jane Austen!  Abigail is the more mature daughter, helping her father make business decisions and worrying with him about the lifestyle that her mother and younger sister are accustomed to.  Due to some financial ventures gone wrong, the family must move to meager accommodations.  Thankfully, they receive a letter from a family member, allowing the family to move into the house at Pembrooke Park.  However, the house has not been lived in for 18 years and Abigail has agreed to oversee the cleaning, before her family moves in.
Abigail willingly goes to help clean the house, while her younger sister stays behind to prepare for her season.  Sadly, Abigail finds out that the young man she had hoped to one day marry has eyes set on her younger sister.  Brokenhearted, Abigail heads over to the new property, where her own adventures begin.
This book has mystery, charm, secrets, friendships forged with some renewed, and love.  There are so many layers to this book, with the reader not knowing what is happening alongside Abigail.  Who can she trust? Who is the man with the green cloak walking in the middle of the night? What are those noises she keeps hearing at night? Is there a treasure hidden within the home or on the property? Will Abigail find true love?
True to form, Julie Klassen shares Biblical truths sprinkled throughout the book, which was quite relevant to the storyline.  However, those truths can be applied to those today.  I loved the storyline and found myself quite immersed in what was happening.  I didn't try to guess who had bad intentions and who was really trying to be helpful.  It helped me to just enjoy the story without trying to get ahead of myself.  Every mystery will be solved (or at least addressed), so sit back and just enjoy the way the story unfolds.  It's definitely one of my favorite books from Julie Klassen, with The Apothecary's Daughter being my absolute favorite!
This book won't be available in print until December 2, 2015.   However, it is available in e-format today! This is the perfect read during the Thanksgiving break.  After all, wouldn't you rather curl up with a great book instead of being pounced on during Black Friday?
*A huge thanks to Bethany House and NetGalley for giving me the opportunity to read and review this book.  No forms of compensation were given.
Want to win the book, plus a couple of other great historical fiction stories?  Author, Julie Klassen and a couple of other authors are hosting a giveaway!  Click here for details.