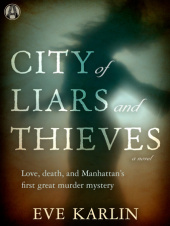 About City of Liars and Thieves
On Sale: January 13, 2015
Pages: 266
Published by : Alibi
A crime that rocked a city. A case that stunned a nation. Based on the United States' first recorded murder trial, Eve Karlin's spellbinding debut novel re-creates early nineteenth-century New York City, where a love affair ends in a brutal murder and a conspiracy involving Alexander Hamilton and Aaron Burr erupts in shattering violence.
It is high time to tell the truth. Time for justice. . . . How she was murdered and why she haunts me. It is not only Elma's story, it's mine.
On the bustling docks of the Hudson River, Catherine Ring waits with her husband and children for the ship carrying her cousin, Elma Sands. Their Greenwich Street boardinghouse becomes a haven for Elma, who has at last escaped the stifling confines of her small hometown and the shameful circumstances of her birth. But in the summer of 1799, Manhattan remains a teeming cesspool of stagnant swamps and polluted rivers. The city is desperate for clean water as fires wreak devastation and the death toll from yellow fever surges.
Political tensions are rising, too. It's an election year, and Alexander Hamilton is hungry for power. So is his rival, Aaron Burr, who has announced the formation of the Manhattan Water Company. But their private struggle becomes very public when the body of Elma Sands is found at the bottom of a city well built by Burr's company.
Resolved to see justice done, Catherine becomes both witness and avenger. She soon finds, however, that the shocking truth behind this trial has nothing to do with guilt or innocence.
My Review:
The title itself truly depicts what this novel is about.  With so much corruption, lies, and scandal, this novel is wrapped in historical truths about the unsolved murder of a woman, Elma Sands, who is found at the bottom of a well.  What is most interesting about the book is the politics and maneuvering big business and prominent leaders will do for money and power.  While Elma Sands story is not truly known, Eve Karlin shines light on who she was and the possibilities of what happened, through the voice and lens of Elma's cousin, Catherine (Caty).
Caty is a fascinating character to me.  She is Quaker and struggles to find her identity, adjusting to a large city, while trying to hold onto the values of her faith.  Her journey was most interesting to me and her determination to find out what happens to her cousin.  I found Caty to be a wonderful character in the story and her struggles and challenges is what made this book stand out for me.
The story doesn't truly pick up speed until Elma's disappearance.  Keeping in mind that this story is based on some historical fact, it was intriguing to learn how the judicial system worked back then.  All of this happened during a time when there wasn't mass communication, social media, cellphones, etc.  So, I was simply fascinated with the way the investigation (albeit-it's not told in very much detail), happens.  I was also fascinated with the way the court system worked back then, too!  Jurors actually had to sleep on the floor, at the courthouse…imagine that!  One thing is for certain, Eve Karlin shows how corruption infiltrates businesses, courthouses, families, and friends.  Sadly, finding justice for the death of one woman is simply part of what happens when someone gets in the way of business deals.
Overall, it was a good book!
About Eve Karlin
Eve Karlin was born and raised in New York City. She is a graduate of Colgate University, where she studied literature and creative writing with Frederick Busch. Karlin worked in publishing for more than a decade in marketing, at Random House, Newsweek, and, later, as a foreign book scout with clients in the United Kingdom, Italy, Holland, Brazil, and Japan. She has had several short stories published in The East Hampton Star and has been a contributing writer for Patch.com. She lives in East Hampton, New York, with her husband and their sixteen-year-old triplets. City of Liars and Thieves is her first book.
Eve Karlin's TLC Book Tours TOUR STOPS:
Tuesday, January 6th: Mystery Playground
Wednesday, January 7th: Bibliophilia, Please
Friday, January 9th: Fiction Zeal
Monday, January 12th: Omnimystery News – author guest post
Tuesday, January 13th: Dwell in Possibility
Tuessday, January 13th: Kritter's Ramblings
Wednesday, January 14th: No More Grumpy Bookseller
Friday, January 16th: Reading Reality
Monday, January 19th: From the TBR Pile
Tuesday, January 20th: Sarah's Book Shelves
Wednesday, January 21st: A Fantastical Librarian
Thursday, January 22nd: Chew & Digest Books
Monday, January 26th: History from a Woman's Perspective
Tuesday, January 27th: Tales of a Book Addict
Wednesday, January 28th: Staircase Wit
Thursday, January 29th: 100 Pages a Day… Stephanie's Book Reviews
Friday, January 30th: Books in the Burbs
TBD: Back Porchervations