Non-Fiction
Book Information:
Genre: Non-fiction (murder mystery)
Source:  Edelweiss & Publisher
Pages: 416 pages
Publisher: Harper Collins Publishers (July 9, 2013)
Cupcake Scale Rating: An excellent cupcake with sprinkles AND a cherry on top! (click here to find out what that means)
Synopsis:
Award-winning investigative reporter Robert Kolker delivers a haunting and humanizing account of the true-life search for a serial killer still at large on Long Island, in a compelling tale of unsolved murder and Internet prostitution.
One late spring evening in 2010, Shannan Gilbert, after running through the oceanfront community of Oak Beach screaming for her life, went missing. No one who had heard of her disappearance thought much about what had happened to the twenty-four-year-old: she was a Craigslist prostitute who had been fleeing a scene—of what, no one could be sure. The Suffolk County Police, too, seemed to have paid little attention—until seven months later, when an unexpected discovery in a bramble alongside a nearby highway turned up four bodies, all evenly spaced, all wrapped in burlap. But none of them Shannan's.
There was Maureen Brainard-Barnes, last seen at Penn Station in Manhattan three years earlier, and Melissa Barthelemy, last seen in the Bronx in 2009. There was Megan Waterman, last seen leaving a hotel in Hauppage, Long Island, just a month after Shannan's disappearance in 2010, and Amber Lynn Costello, last seen leaving a house in West Babylon a few months later that same year. Like Shannan, all four women were petite and in their twenties, they all came from out of town to work as escorts, and they all advertised on Craigslist and its competitor, Backpage.
In a triumph of reporting—and in a riveting narrative—Robert Kolker presents the first detailed look at the shadow world of escorts in the Internet age, where making a living is easier than ever and the dangers remain all too real. He has talked exhaustively with the friends and family of each woman to reveal the three-dimensional truths about their lives, the struggling towns they came from, and the dreams they chased. And he has gained unique access to the Oak Beach neighborhood that has found itself the focus of national media scrutiny—where the police have flailed, the body count has risen, and the neighbors have begun pointing fingers at one another. There, in a remote community, out of sight of the beaches and marinas scattered along the South Shore barrier islands, the women's stories come together in death and dark mystery. Lost Girls is a portrait not just of five women, but of unsolved murder in an idyllic part of America, of the underside of the Internet, and of the secrets we keep without admitting to ourselves that we keep them.
My Review:
It's hard to understand how a book filled with horrific detail about murders that happened to young girls can be an excellent, must read.  Trust me, this is!  Robert Kolker does not add fiction, because this book needs none.  This book is filled with only factual information, told to Robert by the many people he interviewed….and he went everywhere to talk to those who knew the "lost girls".   He went to the girl's hometowns, tracked down friends, associates, pimps, other escort girls, families, and boyfriends.  He did countless hours on research, talking with police, detectives, and people who could shed light on finding the killer(s). The amount of research was astounding and truly shows with all the detail Robert covers in the book.
This book does not read like a police report or transcript.  Robert Kolker takes the reader into the dark world of drugs and prostitution, detailing the events leading up the murders of the girls on Long Island, NY.  Each chapter focuses on 1 lost girl, and details what drew her into the life of prostitution, using drugs, and eventually meeting clients through Craigslist.  Before people judge these young girls, it is important to understand what led them to that lifestyle.  No girl-who is someone's sister, daughter, niece, granddaughter-wishes to be a prostitute, wishes to be a drug user, and wishes to sell herself online to make money.  While each girl's life is different, it is apparent what having an absent mother and father does to these young girls, as they raise themselves in a poverty stricken household.  While not every girl is poverty stricken, something compels each of them to go into that lifestyle, with most being led into it by a friend or family member.
Robert doesn't sway the reader to form an opinion of the girls and their lifestyle.  He simply lays the information, as he describes the events leading up to each girl's disappearance.  Just when the murders can't get any more horrific, Shannan Gilbert is introduced.  Unusual and crazy circumstances surrounding the timeline leading up to her death and will have readers wanting to figure out who did it, too.  Is her death linked to the Long Island serial killer?  Was her death a botched one because she did have her cellphone and driver?  Did the killer get frustrated with her and kill her differently?  Was it a truly fluke accidental drowning caused by drug infused psychosis?  Robert even adds a section on "theories" and actually interviews the people suspected of killing Shannan, aiming to leave no stone unturned.
This book will haunt readers, unlike any other book!  This is true-crime murder mystery, that leads up to the possibility of having a serial killer on a secluded little area: Oak Beach.  Sadly, more bodies were found (a total of 12), and many are Jane Doe's.  It is so sad and tragic that people can disappear with no one asking for them, wondering where they went, and having these victims remain nameless.  It will make the reader angry, scared, sad, and in the end-the reader will want to see justice served, too.
This book is a necessary read.  Why? Because it shows how important it is that we take care of our daughters, encourage self-esteem, be a support to single mothers, help out our neighbors, be vigilant in our communities, and cause people to change laws, create new ones, and hold men accountable for soliciting services.  Craigslist should be held accountable, too.  Our sons need to be taught how to respect themselves, practice self-control, and they need positive male role models.  Schools needs to be invested in their students, regardless of socio-economic status.  As a community, we need to help train up our daughters and sons-help them with resources, and be vigilant in combatting drug abuse, sexual solicitation, and human trafficking.  Sexual human trafficking girls and boys are everywhere-in our neighborhoods, in our stores, in our community.  We as a nation need to be more present and know what's going on in our neighborhoods.
There are few changes/additions that I would have preferred: pictures of the victims-to put a name with a face.  The timeline at the end of the book would have been better for me to have been placed at the beginning of the book, so that I wouldn't have been so confused at the beginning with the names of the girls and who they were.  Lastly, to have had the bullet points on each girl's info (displayed at the end of the book), placed at the beginning of each chapter with the corresponding girl.
Nonetheless, this is a fantastic read and will not only be a true murder mystery that will keep the reader engaged the whole time, but it will certainly move readers to be more vigilant at home, with loved ones, and hopefully create some change.
*This book was provided through Edelweiss, in exchange for an honest review.
Connect with the Author:
More Information on the Lost Girls:
48 Hours Episode (new episode)
( has some new interviews, but basically same video as the 1st episode.)
48 Hours, Erin Moriarty's Blog on LISK
Everything you need to read from Huffington Post on LISK info.
Related articles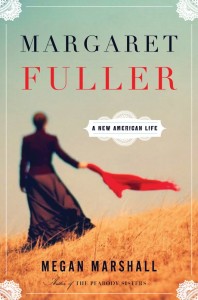 Synopsis:
From an early age, Margaret Fuller dazzled New England's intelligent elite. Her famous Conversations changed women's sense of how they could think and live; her editorship of the Dial shaped American Romanticism. Now, Megan Marshall, whose acclaimed The Peabody Sisters "discovered" three fascinating women, has done it again: no biography of Fuller has made her ideas so alive or her life so moving.
Marshall tells the story of how Fuller, tired of Boston, accepted Horace Greeley's offer to be the New York Tribune's front-page columnist. The move unleashed a crusading concern for the urban poor and the plight of prostitutes, and a hunger for passionate experience. In Italy as a foreign correspondent, Fuller took a secret lover; wrote dispatches on the brutal 1849 Siege of Rome; and gave birth to a son.
When all three died in a shipwreck off Fire Island shortly after Fuller's 40th birthday, the sense and passion of her life's work were eclipsed by tragedy and scandal. Marshall's inspired account brings an American heroine back to indelible life.
My Review:
I think I started reading this book with a different idea as to how the book would unfold.  It reads more like a factual document (with lots of quotation marks throughout), rather than a story.  Because of this, I found it hard to stay engaged.  Again, I went into reading this book with false pretenses, so I think that may be a reason why I didn't enjoy this book as much as others have.  However, once I got into the book, I found Margaret Fuller's life quite interesting. Having never studied her before, she was quite fascinating, a crusader in a man's world, and certainly paved a way for other women, who could continue in her footsteps.  Nonetheless, the author, Megan Marshall, did extensive research and it shows!!! There is just a plethora of information and would actually be a great book requirement for high school students!! We need more women role models and need to study more heroines that are brave, in the face of adversity!
*This book was provided through TLC Book Tours.
Related articles
Synopsis:
Adelia has no one to blame for her heartache. She'd been cautioned, many times and by many people. Everyone except her mother had told her it was folly to marry an elf, citing a host of reasons. Adelia knew their warnings were not unfounded. She knew he was very different from her and her kind, he was much older, and he'd had five other wives before her. She didn't care. She had chosen her path.
The Sixth Wife is a novella of approximately 7,300 words (35 pages).
Review:
This is a short story that took me about 2 hours to read. It was a rather interesting storyline and one that I think many can relate to….aging and loving someone.  I would have loved for the story to have been longer because the author would have had more time to explain some of the history behind the elves and humans, how they live, and how their worlds merge.  Nonetheless, it was a good story.
*This book was provided for free through Library Thing by author, Laura Lond, in exchange for an honest review.  To purchase the book for your Kindle, please click on the picture and you will be directed to the purchase link.
*************************************************
Synopsis:
A CASE FOR SOLOMON: BOBBY DUNBAR AND THE KIDNAPPING THAT HAUNTED A NATION
chronicles one of the most celebrated—and most misunderstood—kidnapping cases in American history. In 1912, four-year-old Bobby Dunbar, the son of an upper-middle-class Louisiana family, went missing in the swamps. After an eight-month search that electrified the country and destroyed Bobby's parents, the boy was found, filthy and hardly recognizable, in the pinewoods of southern Mississippi. A wandering piano tuner who had been shuttling the child throughout the region by wagon for months was arrested and charged with kidnapping—a crime that was punishable by death at the time. But when a destitute single mother came forward from North Carolina to claim the boy as
her
son, not Bobby Dunbar, the case became a high-pitched battle over custody—and identity—that divided the South.Amid an ever-thickening tangle of suspicion and doubt, two mothers and a father struggled to assert their rightful parenthood over the child, both to the public and to themselves. For two years, lawyers dissected and newspapers sensationalized every aspect of the story. Psychiatrists, physicians, criminologists, and private detectives debated the piano tuner's guilt and the boy's identity. And all the while the boy himself remained peculiarly guarded on the question of who he was. It took nearly a century, a curiosity that had been passed down through generations, and the science of DNA to discover the truth.
A Case for Solomon
is a gripping historical mystery, distilled from a trove of personal and archival research. The story of Bobby Dunbar, fought over by competing New Orleans tabloids, the courts, and the citizenry of two states, offers a case study in yellow journalism, emergent forensic science, and criminal justice in the turn-of-the-century American South. It is a drama of raw poverty and power and an exposÉ of how that era defined and defended motherhood, childhood, and community. First told in a stunning episode of National Public Radio's
This American Life, A Case for Solomon
chronicles the epic struggle to determine one child's identity, along the way probing unsettling questions about the formation of memory, family, and self.
Review:
I received this book to read and review by Simon & Schuster.  I felt like a reporter reading this book, because at times it read like a report or case study.  I had to actually remind myself that it read that way because it is a real story that happened in America!!  I was amazed at how many people were willing to lie to themselves because the alternative was too painful. As a family therapist, I was mesmerized and would have loved to have met the family.  There were so many family patterns and issues that weren't dealt with, but with anything, a lie will slowly rip apart the seams of a very intact family.  It was a great book that I enjoyed reading.
*This book was provided for by Simon & Schuster for an honest review.  To purchase the book for your Kindle, please click on the picture and to be directed to the book.
*************************************************
  Synopsis:
When Christine Blacksworth's larger-than-life father is killed on an icy road in Magdalena, New York, a hundred miles from the 'getaway' cabin he visited every month, she discovers a secret that threatens everything she's always held to be true. Her father has another family which includes a mistress and a daughter. Determined to uncover the truth behind her father's secret life, Christine heads to Magdalena, prepared to hate the people who have caused her to question everything she thought she knew about her father. But what she finds is a woman who understands her, a half sister who cherishes her, and a man who could love her if she'll let him. The longer she's around them, the more she questions which family is the real one. . .
Included in the Kindle edition are 2 Chapters of PULLING HOME – She'll risk anything to save her child…even the truth.
Review:
This was a great book!  This is the first book I've read from the author, and I love her writing. The characters are developed very well and it was interesting to read how Mary balances the characters with the plot, without making the book too bogged down with details.  While there are moments where the storyline is unrealistic, the issues of family secrets, alliances, and expectations, readers will certainly understand those family dynamics.  The story is about 500+ pages, but it sure does go fast!
Related articles
Product Details
Print Length: 385 pages
Publisher: Kensington Books; 1 edition (February 28, 2012)
Genre:  Non-Fiction
Synopsis:
An affluent community of high-achievers, the Houston suburb of Clear Lake, Texas, is home to oil company execs and NASA employees. But in the summer of 2003, a life of good fortune came to a violent end for some of its most promising residents. In this gripping true story of betrayal and murder, national bestselling author M. William Phelps, star of the hit TV series Dark Minds, delves into the heart of a baffling mystery to get to the truth of an act so brutal it could not be understood—until now.
The heat was oppressive on July 18, 2003, with the threat of a torrential downpour. Mild gusts were whipping around the yellow police tape that surrounded a well-tended contemporary home. Something so horrific had taken place inside that house, no one, it seemed, could come to terms with just how bad the scene truly was.
What lay beyond the front-door threshold was a shocking sight—the bodies of four young people, viciously slain: eighteen-year-olds Rachael Koloroutis and Tiffany Rowell, along with Marcus Precella and his cousin, Adelbert Sanchez. The social bar at Clear Lake High School was set high, and Rachael and Tiffany had stood at the top, beautiful, intelligent, and beloved. But tragically, their kindness ultimately made them targets—because when a killer came knocking that lazy afternoon, it turned out to be someone they knew all too well…
Seventeen-year-old Christine Paolilla was a shy, awkward girl who endured cruel taunts throughout her youth—until Rachael and Tiffany befriended her. With their guidance, Christine blossomed. It was no wonder it took police three interminable years to discover she was behind the cruel murder of the girls she called her best friends. What had gone so terribly wrong? And how had a teenager managed to elude police for so long?
Drawing on nearly 100 hours of interviews he conducted with scores of sources, and thousands of pages of documentation, Phelps unravels the mystery of this unlikely killer's troubled mind. And as only he can, Phelps delivers a heart-pounding narrative and brilliantly insightful account of parents crazed with grief, puzzled law enforcement, and the soul of a shattered community.
My Review:
Although a Houstonian and the amount of press this case received, I had not heard of this quadruple murder that took place in the heart of Clear Lake City.  It was the year that I graduated from the University of Houston-Clear Lake with masters in Family Therapy and watching television was not a luxury I could afford as I prepared for my state licensing exams.
However, one of the greatest benefits of belonging to a book club, is learning what my fellow members are reading.  My curiosity peaked when a friend in the book club mentioned this book she had just checked out from the library.  Being quite familiar with the area and neighborhood, I couldn't wait to borrow it from the library and purchased it onto my Nook reader immediately!
William Phelps, author of this book, has a true gift for writing.  Staying true to the events and reviewing every report, watching all the interviews and providing his own research and interviews, William brings together this sadistic and horrendous crime to life.  There were quite a few times I had to put the book down and just process what I had read.  Where there were moments of joy as family member recounted good memories of their children, whose lives were tragically ended in a violent and sadistic manner.  William also brings to light the depression, mental illness, and other issues that could have contributed to the reasons behind those who murdered friends.  There are quite a few dark moments in this books and as a reader, I could sense the darkness that enveloped the murderers as they were tortured and continued to self-inflict through drug use.  However, William doesn't make excuses nor does he try to reason why they murdered their friends. Rather, he simply lays out all the pieces of the puzzle and helps bring closure to the family members left behind.
This is an excellent book that every parent should read.  As a parent, it just solidifies my stance on the importance of being actively involved in knowing who our children are friends with and being proactive in teaching our children about drugs/alcohol.  That is not to say that the parents of those murdered didn't do that, however it is a reminder of how vigilant we need to be for our children.
Follow the Author
Shoulder Surgery Update:
I went to my doctor for a pre-op appointment today.  I was given a cold water therapy unit that is supposed to run ice cold water through this pack that I will need to use for 2 weeks.  I was also given a sling that is not traditional by any means.  I don't look forward to wearing it for 24/7 and it somehow makes me feel claustrophobic.  However, I am ready to move forward and can't wait to get this whole surgery past me.  I can't sleep from the shoulder pain and am ready to get back to my "normal" life without having to deal with constant shoulder pain and be limited with my daily activities.
Synopsis:
An explosive, heartbreaking memoir from the widow of Mark Madoff and daughter-in-law of Bernard Madoff, the first genuine inside story from a family member who has lived through- and survived-both the public crisis and her own deeply personal tragedy.
When the news of Bernard Madoff 's Ponzi scheme broke, Americans were shocked and outraged, perhaps none more so than the unsuspecting members of his own family. After learning that their father's legendarily successful wealth management company was "all just one big lie," Mark and Andrew Madoff turned their father in and cut off all communication with both parents. Mark and his wife, Stephanie, strove to make a fresh start for the sake of their two young children, but Mark could not overcome his sense of betrayal and shame-he and other family members were sued for $200 million in October of 2009. He hung himself on the two-year anniversary of his father's arrest. Left to raise her children as a single mother, Stephanie wrote this memoir to give them a sense of who their father really was, defend his innocence, and put her personal statement on record once and for all. In this candid insider account, she talks about her idyllic wedding to Mark on Nantucket, what it was really like to be a part of the Madoff family, the build-up to Bernard's confession, and the media frenzy that followed. It is about the loss of the fairytale life she knew, adjusting to life with a man she hardly recognized anymore, and the tragic and final loss of her husband.
My Review:
I am probably the only person in the world who did not know the details regarding the Madoff ponzi scheme before reading this book.  Because of this, reading Stephanie's book came from a place of getting to know her and how she coped with the loss of her husband.  As a family therapist, I have worked with families who have been affected by suicide.  So, this was really my interest and intrigue in reading this book.  What I got, was so much more.
Stephanie Madoff Mack doesn't hold back her thoughts, emotions, and shares private moments in her family and the Madoff family.  I read online that Stephanie was often asked by interviewers why she chose to write a book 6 months after the death of her husband….almost as if it wasn't appropriate because not enough time had passed.  In my opinion, Stephanie choosing to write this book during that time was actually quite cathartic for her, helped her share her most intimate thoughts without holding back, and gave her a platform to show to the world who her husband really was.  In doing this, she was also able to reveal the inner struggles Mark ( her husband) experienced as a result of his father's crime and the devastation it caused to her, Mark, and his children.
No longer the protector, the buffer, the one Stephanie could turn to who also shared in her grief and anger over Bernie Madoff's crime, she is left alone to pick up the pieces and continue the fight for justice as she works to clear Mark's name against any wrongdoing the media tried pinning on him and his brother, Andrew.  As Stephanie Madoff Mack shares her story, she unknowingly gives a voice to those left behind from suicide. She shares the pain she experienced, where she was when "it" happened, and the struggles and challenges she experienced with the Madoff family.  Stephanie is very raw and open as she describes the anguish, anger, betrayal, and loneliness of being a widow and mother to two small children.
I loved that she consulted with a therapist during the aftermath of the suicide and how she helped her children cope with their Daddy dying and what they do as a family to talk with him and share their joys with him in the sky.  At the time of Mark's suicide, Stephanie was in graduate school studying to be a Child Life Specialist.  I found it rather interesting that she helped families of children with cancer cope, and unknowingly had the tools needed to help her own children cope with such a devastating tragedy.
I was amazed and saddened by the way Mark and his wife, Stephanie were treated simply because they were Madoff's and the stigma that followed them to the point of causing Mark and Stephanie to agree that she and the children should change their last name.  For those who want to vilify this family, this is not the story for you.  For those who want to catch a glimpse into the Madoff's history from a woman married into the family, this may intrigue you.  However, if you are wanting to read the true story of one woman who has dealt with a huge scandal, the death of her husband, the betrayal and humiliation of in-laws, then this story will shake you to your core.  In preserving her husband's legacy, she ultimately finds her voice, learns to find a new normal, and shows that despite losing everything, you don't have to lose yourself.
I loved this book and appreciated Stephanie's candor.  Stephanie includes emails, letters, and intimate photos of her and Mark, as well as other family members.  My heart goes out to her and her children and I admire her strength and courage.
Related articles
Synopsis:
Nava Atlas is a popular author who has more than 500,000 copies of her books in print. In this beautifully designed and illustrated book, Nava explores what it is like to live the writing life through the journals, letters, and diaries of twelve celebrated women writers, including such renowned authors as Jane Austen, Charlotte Bronte, Madeleine LEngle, Anais Nin, George Sand, Edith Wharton, and Virginia Woolf. Navas own insightful commentary lifts the curtain on these womens lives and provides reassuring tips and advice on such subjects as dealing with rejection, money matters, and balancing family with the solitary writing process that will resonate with women writers in todays world. With 100+ vintage photos, illustrations, and ephemera, this book is a splendid gift book for writers.
My Review:
My first thoughts when I received this book is that it's absolutely stunning!  This is a beautifully bound book and has wonderful pictures and quotations throughout.  Nava Atlas spent a lot of time researching the authors in her book and went to great lengths to put each author's words and ideas in a way that makes sense to the reader.  For those of you who own an e-reader, like me, I would highly suggest you purchase the hardcover book! It 's gorgeous, so inspiring to read about early female writers and what they did to become writers, their wishes/dreams, and other interesting tidbits about who they were.  This is the kind of book that every book collector, new writer, bibliophile that has everything, and those who love history should own.
I cannot give enough praise for this book!
*This book was provided for an honest review by Sellers Publishing.  No monetary or other forms of compensation were given.
Related articles