Paperback: 592 pages
Publisher: William Morrow Paperbacks (October 28, 2014)
Synopsis:
What do you do when the man you pledged your life to breaks your heart and shatters your dreams? You pack your bags and travel the big, wide world to find your destiny—and your true love . . .
Ten years ago, a young and naïve Cassie married her first serious boyfriend, believing he would be with her forever. Now her marriage is in tatters and Cassie has no career or home of her own. Though she feels betrayed and confused, Cassie isn't giving up. She's going to take control of her life. But first she has to find out where she belongs . . . and who she wants to be.
Over the course of one year, Cassie leaves her sheltered life in rural Scotland to stay with her best friends living in the most glamorous cities in the world: New York, Paris, and London. Exchanging comfort food and mousy hair for a low-carb diet and a gorgeous new look, Cassie tries each city on for size as she searches for the life she's meant to have . . . and the man she's meant to love.
My Review:
I think this is possibly the largest chick-lit book I have ever read!  It is a little under 600 pages, but it is worth every page!  Cassie is on an adventure, scheduled by her 3 closest friends:  Kelly, Suzy, and Anouk, who happen to be living in the most gorgeous places on earth-New York, Paris, and London!  It's very Bridget Jones-esque in that while Cassie is nursing a broken heart and marriage, she has plenty of adventures to help her along the way!  Personally, I would love to drop everything and move away to let the adventures carry me (pre-marriage, of course!).
It's a big book, but well worth it, because each place that Cassie visits is full of it's own adventures.  In a way, it's like having 3 books combined because of the very different, yet fun places Cassie visits.  In the end, Cassie walks away with some great nuggets of truth, some special memories (and crazy ones, too), and with a great sense of who she is!
Disclaimer:  Don't let the name box you in.   It's a book that can be read any time of the year, but as well know…anything with Christmas in the title has to mean that there is some magic sprinkled within the pages!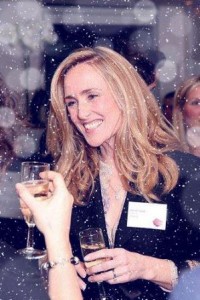 About Karen Swan: 
Karen Swan began her career in fashion journalism before giving it all up to raise her three children and an ADHD puppy, and to pursue her ambition of becoming a writer. She lives in the forest in Sussex, writing her books in a treehouse overlooking the Downs. Her first novel, Players, was published in 2010, followed by Prima Donna and Christmas at Tiffany's in 2011.
Karen's Tour Stops
Wednesday, October 29th: No More Grumpy Bookseller
Friday, October 31st: Seaside Book Nook
Monday, November 3rd: Words by Webb
Wednesday, November 5th: Becca Rowan
Tuesday, November 11th: Tina Says …
Wednesday, November 12th: Spices Latte Reads
Thursday, November 13th: A Chick Who Reads
Monday, November 17th: A Bookish Way of Life
Wednesday, November 19th: My Bookshelf
Thursday, November 20th: Books in the Burbs
Thursday, November 20th: For the Love of Words
Friday, November 21st: Svetlana's Reads and Views
TBD: BoundbyWords