A Good Cupcake:
Synopsis:
Elizabeth Zurlo is lost. She's a wife, a mother, a teacher, a PTA volunteer—but somewhere along the way, she's lost herself. Depression and despair can lead to desperate measures and when she is pulled back from the brink of suicide, Elizabeth slowly tries to rebuild her marriage and reclaim her life. Just as she has finally started to put herself back together, a scandalous novel rocks her small town … and costs Elizabeth her social standing, friendships and ultimately, her marriage. However, the man who seemingly destroyed Elizabeth's life, helps her realize who she is and what she needs to do to become the woman she's not only capable of being, but the woman she used to be.
I was drawn to this book because anything that has to do with mental illness, I naturally gravitate towards.  Being a family therapist, that always piques my interest.  However, this isn't a book that dives too deep into that aspect and doesn't go into much detail about her suicide attempt.  Kathryn Biel's writing reminded me a lot of the movie, "Desperate Housewives", all rolled into one book.
There is suspense, intrigue, love lost/regained, self empowerment, and the storylines flows well.  While this book could have easily dived into a darker side, Kathryn keeps this book to true "Chick-lit", which balanced well.
I love the title, the storyline is really good, but I didn't care much for the book cover.  It's a "pre" Elizabeth, and not who she eventually becomes.  Otherwise, a good read!
Kathryn Biel's Blog Tour:
May 19 – Tabby's Tantalizing Reviews – Review
May 21 – Chick Lit Goddess – Guest Post
May 22 – Authors to Watch – Review
May 26 – The East Village – Review
May 28 – Every Free Chance Book Reviews –  Excerpt
May 30 – Storm Goddess Book Reviews –  Guest Post
May 30 – Books in the Burbs – Review
June 2 – Jersey Girl Book Reviews – Review, Guest Post & Excerpt
June 3 – Cupcake's Book Cupboard – Review, Guest Post Q&A & Excerpt
June 4 – Two Children and a Migraine – Review, Guest Post & Excerpt
June 5 – Every Free Chance Book Reviews – Review
June 6 – Book Reviews and More by Kathy – Guest Post
June 9 – Chick Lit Plus – Review
**Everyone who leaves a comment at CLP Blog Tours will be entered to win a print copy of the book! Please note this is open to US residents only.**
Author Bio:
Kathryn Biel hails from Upstate New York and is a spouse and mother of two wonderful and energetic kids. In between being Chief Home Officer and Director of Child Development of the Biel household, she works as a school-based physical therapist. She attended Boston University and received her Doctorate in Physical Therapy from The Sage Colleges. After years of writing countless letters of medical necessity for wheelchairs, finding increasingly creative ways to encourage the government and insurance companies to fund her clients' needs and writing entertaining annual Christmas letters, she decided to take a shot at writing the kind of novel that she likes to read. Her debut novel, GOOD INTENTIONS, was released in 2013, and her second novel, HOLD HER DOWN was released in 2014. Her musings and rants can also be found on her personal blog, Biel Blather.
Connect with Kathryn!
Blog: http://kathrynbiel.blogspot.com
Synopsis:
On a cold night in 1692, two young girls are caught up in the divining games of a slave woman-and then begin to act very strangely when the game goes wrong. Suddenly, Salem Village is turned upside down as everyone fears that witches may be involved. Six months later, as news of the girls' strange behavior becomes known, fear and suspicion overwhelm a nearby farming community, pitting neighbors against neighbors and turning friends into enemies. When Rebecca Eames makes one careless utterance during a verbal attack on her family, she is falsely accused of witchcraft. After her fate is decided by three magistrates, Rebecca must endure a prison sentence during which she and her fellow captives have no choice but to valiantly struggle to find humanity and camaraderie among dire conditions. In this novel based on a true story, a woman wrongly imprisoned during the seventeenth-century witchcraft trials comes full circle where she must determine if she can somehow resume her life, despite all she has endured.
I have always been fascinated with the Salem Witch Trials, because there is a plethora of information out there about the different areas, the way in which the trials occurred, and how out of control the whole issue became.  I read a book about the trials in high school, saw the movie, The Crucibles (remember Winona?), and read a lot about it in history class, while in college.
I was intrigued by the book, because it is based on the story of Rebecca Eames, written from her granddaughter (9th generation).  While there is not a lot of new information gathered from the trials, Penni Jo does a fantastic job of sharing the story of her grandmother, while also bringing in what happened to the townspeople, those in prison, and the family.  It's a quick read, but does give a great glimpse into the life of Rebecca Eames and how incredibly courageous and strong she was, in spite of the accusations and shunning.  She is a remarkable woman and it is wonderful that Penni Jo shared this story with her readers.
Overall, it's a good book that will certainly be a read for those who love the history of the trials and wants a deeper insight into the Eames family and those also accused.
*A huge thanks to HFVBT for giving me the opportunity to read this book for review.  No forms of compensation were given.
About the Author
Peni Renner is the author of "Puritan Witch: The Redemption of Rebecca Eames", an award-winning historical novel based on the true-life account of Peni's 9th great
grandmother. The book is Renner's first published work, and follows Eames' life and struggles in 1692 Massachussetts during the Salem Witchcraft Trials.
Writing historical fiction has always been a lifelong dream of mine. I was discouraged for many years after receiving multiple rejection slips, and turned to other creative outlets like crocheting, quilting and cross-stitch for many years. Then I met a 3rd cousin of mine online who is also into geneology and history. She told me we shared a common ancestor who was involved in the Salem Witchcraft Hysteria of 1692, and her story had never been told. My love of writing was rekindled and I began to research this ancestor, Rebecca Blake Eames. In August of 2012 I had the privilege of visiting her grave in Boxford, Massachusetts.
After months and months of research, writing, rewriting and revising, Puritan Witch came into being, featuring a lovely sketch done by my sister-in-law, Jane Sisk.
I have several other story ideas I am working on at the moment, all pertaining to interesting ancestors my 3rd cousin has introduced me to.
For more information please visit the Puritan Witch Facebook Page. You can also follow Peni Jo Renner on Twitter.
Virtual Tour & Book Blast Schedule
Monday, April 28
Book Blast at Broken Teepee
Book Blast at Our Wolves Den
Tuesday, April 29
Book Blast at The Lit Bitch
Book Blast at A Book Geek
Book Blast at The Musings of ALMYBNENR
Book Blast at Literary Chanteuse
Wednesday, April 30
Review & Giveaway at Closed the Cover
Thursday, May 1
Book Blast at Historical Fiction Obsession
Friday, May 2
Book Blast at Caroline Wilson Writes
Saturday, May 3
Book Blast at Griperang's Bookmarks
Sunday, May 4
Book Blast at I'd Rather Be Reading
Monday, May 5
Book Blast at Kincavel Korner
Tuesday, May 6
Review at Just One More Chapter
Wednesday, May 7
Review at Books in the Burbs
Book Blast at Kelsey's Book Corner
Thursday, May 8
Book Blast at Curling Up with a Good Book
Friday, May 9
Spotlight & Giveaway at Passages to the Past
Book Blast at Carpe Diem
Monday, May 12
Interview at Flashlight Commentary
Book Blast at West Metro Mommy
Tuesday, May 13
Review at Oh, For the Hook of a Book
Book Blast at Let Them Read Books
Wednesday, May 14
Interview at Oh, For the Hook of a Book
Book Blast at Historical Tapestry
Thursday, May 15
Review at A Bibliotaph's Reviews
Review at Impressions in Ink
Friday, May 16
Book Blast at Historical Fiction Connection
Monday, May 19
Review at Book Lovers Paradise
Tuesday, May 20
Review at 100 Pages a Day
Book Blast at The Maiden's Court
Wednesday, May 21
Book Blast at So Many Books, So Little Time
Thursday, May 22
Guest Post at Bibliophilic Book Blog
Friday, May 23
Review at Svetlana's Reads and Views
Book Blast at The Mad Reviewer
Book Blast at Reviews by Molly
Saturday, May 24
Book Blast at Book Nerd
Monday, May 26
Review at History From a Woman's Perspective
Tuesday, May 27
Review at WTF Are You Reading?
Guest Post at Layered Pages
Wednesday, May 28
Book Blast at CelticLady's Reviews
Friday, May 30
Review & Giveaway at The True Book Addict
Monday, June 2
Review & Giveaway at Peeking Between the Pages
Book Blast at To Read or Not to Read
Publisher: William Morrow
Publication Date:   April 8/2014
Pages:  336
Genre: Women's Fiction
Source:  TLC Book Tours
Synopsis:
Sometimes life's most fulfilling journeys begin without a map.
An executive at a New York cosmetics firm, Sarah has had her fill of the interminable hustle of the big city. When her husband, Josh, is offered a new job in suburban Virginia, it feels like the perfect chance to shift gears.
While Josh quickly adapts to their new life, Sarah discovers that having time on her hands is a mixed blessing. Without her everyday urban struggles, who is she? And how can she explain to Josh, who assumes they are on the same page, her ambivalence about starting a family?
It doesn't help that the idea of getting behind the wheel—an absolute necessity of her new life—makes it hard for Sarah to breathe. It's been almost twenty years since she's driven, and just the thought of merging is enough to make her teeth chatter with anxiety. When she signs up for lessons, she begins to feel a bit more like her old self again, but she's still unsure of where she wants to go.
Then a crisis involving her best friend lands Sarah back in New York—a trip to the past filled with unexpected truths about herself, her dear friend, and her seemingly perfect sister-in-law…and an astonishing surprise that will help her see the way ahead.
Buy/Borrow/Bargain:  Library Loaner
Quick or Long Read: Even thought it's not a big book, it was a loooong read!
The Cover: Absolutely stunning!  However, I didn't feel that it truly represented the storyline.  Perhaps, the cover is trying to encompass the life of a small town with hope in a jar, but that's me stretching it.
The Title: I love the title.  The title is truly a reflection of what the book is about: learning a new life.
Audience:  Those like enjoy Women's fiction!
Overall Thoughts: I really struggled with this book.  I loved the beginning of the book, but the storyline moved so slowly that I found myself daydreaming…and reading is my escape.  So, if I'm daydreaming, while reading, well- that's just not a good sign.  The characters were likeable, the plot was quite realistic and ordinary to me, you, your neighbor.  I wanted a little bit more pizzazz, some bigger issues to show the strength and transformation of the characters, since the book was more character driver and not plot driven.  Overall, it was a good book.  It's a cozy read that people will enjoy reading as a break from more heavier topic books.
About Zoe Fishman
Zoe Fishman is the author of Balancing Acts and Saving Ruth. She lives in Atlanta, Georgia, with her husband and son.
Find out more about Zoe at her website, follow her on Twitter, and connect with her on Facebook.
Tour Stops
Tuesday, April 8th: BoundbyWords
Wednesday, April 9th: Bibliotica
Thursday, April 10th: cupcake's book cupboard
Monday, April 14th: missris
Tuesday, April 15th: Books in the Burbs
Wednesday, April 16th: Tiffany's Bookshelf
Thursday, April 17th: Seaside Book Nook
Monday, April 21st: Write Meg
Tuesday, April 22nd: Luxury Reading
Wednesday, April 23rd: A Bookish Way of Life
Thursday, April 24th: From L.A. to LA
Monday, April 28th: The Well-Read Redhead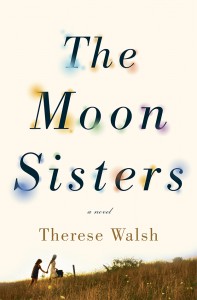 Title: The Moon Sisters
Author: Therese Walsh
ISBN: 9780307461605
Pages: 336
Release Date: March 4, 2014
Publisher: Crown
Genre: Literary Fiction
Source: TLC Book Tours & Publisher

Synopsis from TLC Book Tours:
This mesmerizing coming-of-age novel, with its sheen of near-magical realism, is a moving tale of family and the power of stories.
After their mother's probable suicide, sisters Olivia and Jazz take steps to move on with their lives. Jazz, logical and forward-thinking, decides to get a new job, but spirited, strong-willed Olivia—who can see sounds, taste words, and smell sights—is determined to travel to the remote setting of their mother's unfinished novel to lay her spirit properly to rest.
Already resentful of Olivia's foolish quest and her family's insistence upon her involvement, Jazz is further aggravated when they run into trouble along the way and Olivia latches to a worldly train-hopper who warns he shouldn't be trusted. As they near their destination, the tension builds between the two sisters, each hiding something from the other, until they are finally forced to face everything between them and decide what is really important.
My Review:
The story starts with a mother's suicide and one daughter's quest to find the place her mother always wanted to visit.  Having an aloof, drunken father, and a grandmother that encourages this journey, Jazz goes after Olivia to help her reach the destination.  Told with such vivid detail, it was quite interesting to read Olivia's take on foods, emotions, objects, etc.  Having synesthesia, Olivia's point of view was quite interesting.  Jazz is the level headed sister, who felt most disconnected from her mother and sees her dysfunctional family as it is…nothing flowery…just insane.  Both embark on a journey that deals with train hoppers, getting sidetracked on their journey.
It was interesting for the author to break the book into the different stages of grief, based on Elizabeth Kubler-Ross's model.  Each section also had a letter that the sisters' mother wrote her own father (their grandfather, respectively).  Even though I couldn't make the connection with the stages of grief and the issues the sisters were faced in those particular sections of the book, it did remind the reader that the sisters were grieving and both had their ways of coping with this loss and finding meaning in that tragic circumstance.
It's a story of sisterly love, sometimes hate or resentment, and how one can move on when someone they love lets go.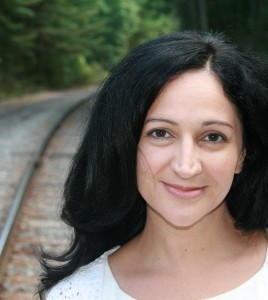 About Therese Walsh
THERESE WALSH is the author of The Last Will of Moira Leahy and the cofounder of Writer Unboxed. She lives in upstate New York with her husband and two children.
Follow Therese on Twitter and Facebook.
Therese Walsh's TLC Book Tours TOUR STOPS:
Monday, March 3rd:  Lit and Life
Tuesday, March 4th:  Beth Fish Reads – "Today's Read" guest post
Tuesday, March 4th:  Book Club Classics!
Wednesday, March 5th:  Book-a-licious Mama
Thursday, March 6th:  girlichef
Friday, March 7th:  Books in the Burbs
Monday, March 10th:  Bookchickdi
Tuesday, March 11th:  Traveling with T
Wednesday, March 12th:  Patricia's Wisdom
Thursday, March 13th:  Book Snob
Friday, March 14th:  The Book Barn
Tuesday, March 18th:  Fiction Addict
Tuesday, March 18th:  5 Minutes for Moms
Wednesday, March 19th:  Time 2 Read
Thursday, March 20th:  Bibliotica
Monday, March 24th:  Mockingbird Hill Cottage
Wednesday, March 26th:  A Novel Review
Thursday, March 27th:  A Bookish Affair
Tuesday, April 1st:  Suko's Notebook
Wednesday, April 2nd:  A Reader of Fictions
Tuesday, April 8th:  Books a la Mode
A huge thanks to TLC Book Tours!!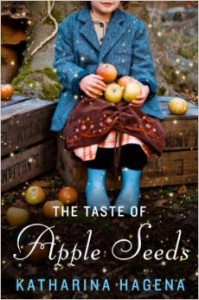 Publisher: William Morrow and Company
Publish Date: February 4, 2014
Pages:  256
Genre:  Women's Fiction, Contemporary Literature
Source: TLC Book Tours
Synopsis from TLC:
The internationally bestselling tale of love, loss, and memories that run deep
When Iris unexpectedly inherits her grandmother's house in the country, she also inherits the painful memories that live there. Iris gives herself a one-week stay at the old house, after which she'll make a decision: keep it or sell it. The choice is not so simple, though, for her grandmother's cottage is an enchanting place, where currant jam tastes of tears, sparks fly from fingertips, love's embrace makes apple trees blossom, and the darkest family secrets never stay buried.
My Review:
As I first started to read this story, I was reminded of my own childhood at my great-grandmother's house.  She had this huge tree, where I would eat the pomegranates, it would produce in the Spring.  This story has a touch of whimsy, beautiful descriptions, all mixed in with a crazy family.  I found the stories of  Iris's family quite interesting and there were many times I wanted the storyline to go deeper in the descriptions.  At 256 pages, the book had so many interesting characters, that the author could have easily added another 100 pages to help make the storyline more seamless.  The story read more like someone laying on the couch in a Freudian like setting, and just telling whatever stories come to mind, like someone's stream of consciousness: a bit disjointed, skips a little bit, but ultimately goes back to the magic in this small town,  connected by shared memories, and the different seeds the apple tree produces.  It would make for a great discussion in a literary class, because of the symbolism and literary style of the book.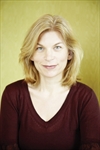 About Katharina Hagena
Katharina Hagena is the author of On Sleep and Disappearing. She lives in Hamburg, Germany.
Katharina's Tour Stops
Tuesday, February 4th: A Bookish Affair
Wednesday, February 5th: She's Got Books On Her Mind
Thursday, February 6th: Broken Teepee
Monday, February 10th: cupcake's book cupboard
Tuesday, February 11th: Bibliotica
Thursday, February 13th: From L.A. to LA
Monday, February 17th: Book-alicious Mama
Tuesday, February 18th: No More Grumpy Bookseller
Wednesday, February 19th: BookNAround
Thursday, February 20th: Kritters Ramblings
Monday, February 24th: BoundbyWords
Wednesday, February 26th: Books in the Burbs
Publisher:  Gallery Books (January 14, 2014)
Pages:  352
Genre:  Contemporary Fiction
Source:  She Reads
Synopsis:
If you could do it all over again, would you still choose him?
At age thirty-nine, Lucie Walker has no choice but to start her life over when she comes to, up to her knees in the chilly San Francisco Bay, with no idea how she got there or who she is. Her memory loss is caused by an emotional trauma she knows nothing about, and only when handsome, quiet Grady Goodall arrives at the hospital does she learn she has a home, a career, and a wedding just two months away. What went wrong? Grady seems to care for her, but Lucie is no more sure of him than she is of anything. As she collects the clues of her past self, she unlocks the mystery of what happened to her. The painful secrets she uncovers could hold the key to her future—if she trusts her heart enough to guide her.
My Review:
This story is one huge twist!!  Lucie is engaged and finds herself staring into the ocean, far away from her life in Seattle.  Suffering from amnesia, she struggles to come to terms with who she was and who she is now.  With flashbacks to a childhood she has no understanding of, she begins a relationship with her estranged Aunt Helen.  Together, she and Helen will face the harsh reality of their younger lives and help them to forge ahead with forgiveness and understanding.  Through it all, Grady is also coming to terms with his engagement to a Lucie he doesn't know anymore and figure out his future with or without her.
While Lucie reconciles with her past, she realizes that she doesn't have to let go of any part of her, rather it completes her.  As I finished the reading the story, I realized that her amnesia really was an enlightenment to her whole life as she comes to grips with the realities of her childhood.  While I would have liked the story to delve further into her recovery and therapy, it was still a great read!
*A HUGE thanks to She Reads for providing this book to me, in exchange for an honest review.
Enter for your chance to win 1 copy of  Love Water Memory
Follow Jennie Shortridge
I can't believe that 2013 has come to an end.  It's been a hectic year, a year full of wonderful beginnings and endings, and some great books that have made this year even better!
My daughter started prek this year, my oldest son is in his last year of high school, my husband had sinus surgery-turned hospitalization from anesthesia, remodeled our home, younger son took drivers ed, we adopted 2 brother pups, and I started on a road to healthier living-down 25 pounds so far!
So, that's a very quick, very simplistic narrowing down of my year for 2013.  Now, let's talk books!
This is a story that is riveting, as it will keep you engaged the whole time and you will not want to put the book down, until you turn the last page.  Even then, you will wonder about the characters in the book.  It's a story that easily could have turned a bit paranormal, a bit scary, even a bit too predicatable.  However, Kristina McMorris takes you to the very edge of the cliff, only to bring you back in for more.
It's told through the alternating voices and time periods.  One is a widowed mother of a young son, the other is a the grieving, heartsick young lover of a solider.  Both of their stories will intersect at one point in the story, but not until you've truly become immersed in their stories.  While both stories have a sense of urgency, the story doesn't feel rushed, or drawn out.  Rather, it has a very beautiful balance of expectation and being in the present.
I loved this story and appreciated the way a story in history was recreated in a way that shows the vulnerability and endurance that true love has: one for a man, the other for a son.
*This book was provided by the author in exchange for an honest review.
***************************************
I absolutely loved this story!! It had me from page 1, literally.  First of all, I want to live on a house boat, or at least stay in one for a week.  Secondly, the mystery and love story is absolutely beautiful.  Sarah Jio does not disappoint her readers, new and established fans of her work.
Sarah has a gift of storytelling, and this is one of her best ones by far.  Told in alternating voices and timelines, the reader will be introduced to Ada ( a widow, who also loses her daughter), and Penny ( a lonely wife of an artist).  It is a story of love, loss, feelings of inadequacy and self-doubt.  However, as the flower itself: morning glory, the spirit cannot be truly broken and new life always springs up.
It's such a beautiful and tragic tale, that it left me truly missing the characters of the story at the end.  Sarah Jio is a talented writer, who can write a character that readers will recognize, sympathize with, and feel connected to.  This is a must read and should be on everyone's TBR list for 2014!
 *This book was provided by the publisher, through NetGalley, in exchange for an honest review.
***************************************
This is a sweet story, about love and new beginnings.  It is during a time when women had to do as they were told, with the exception of this one great heroine: Cora Kensington.  Because this is the 3rd book in the series, I had a very difficult time truly appreciating the characters and their stories.  It's not a stand alone book, in my opinion, and should only be read after reading the first 2 books in the series.  It will be easier to understand Cora's decision to return to the US and her decision to stray from what is expected of her with marriage and business.  It is a good story and I am sure readers following the series will absolutely love Cora's journey to the States.
*This book was provided by the publisher, through NetGalley, in exchange for an honest review.
***************************************
I'm always leery to read books that everyone has read and raved about.  I know….I'm weird that way.  It's just that I don't starting a book with high expectations, that I am just so disappointed and wished I had just not opened the book.  However, this is one that will not disappoint!! I loved every bit of this story, cried, laughed, and as a mom of 2 teenagers, I could completely relate with the parents and hear my kids saying some of the things Hazel, Gus, and Ozzie say.  The story is so realistic, the emotions are so raw and revealing, and it's a story that needed to be told in a way that readers can resonate with the characters and perhaps, be a little kinder and befriend someone battling an illness.  Because, if anything can be learned from this story, it is that "cancer" doesn't define the person.  I read this book in 2 evenings, and researched Esther Earl, too.  While the story isn't about her, John Green was inspired by her outlook on life, as she fought cancer and lived her life as best as she could.  I don't know how a movie will be able to recreate the magic in the story, so that is a huge feat the director is taking on.  Nonetheless, read this book!
*I purchased this book, because it was a really great deal for $2.99.  P.S. Don't let the cover dissuade you from buying the book.  The cover doesn't do the story justice!
***************************************
Book Winner for Someone Else's Love Story by Joshilyn Jackson is:
Angela J.
End of Year Reflection:
It has been a very challenging, but blessed week for us. My husband was hospitalized from a severe reaction to anesthesia and it was very emotional, very difficult to watch him in pain, and a lot of balancing the home, helping keep our children at peace, and relying on family.  I write that it was a blessing, because out of the worst case scenario for an outpatient procedure my husband had, something beautiful happened.  His family came together and they all reconnected in a way that has been truly missed.  It was wonderful to see my children with their uncles and grandparents, and it was wonderful to know that we weren't alone in this minute by minute, day by day, stand-by. 
We also met some fantastic people, who are just so inspirational and full of love for Christ.  Christmas was spent in the hospital, but we all learned that it isn't where you are, or what you do, it is who you are with that matters most.  Our children spent Christmas with me and their daddy at the hospital, and we were so thankful for the precious nurses and hospital staff, who worked that day with a cheerfulness that helps patients feel calmer.  Carolers came by the unit, a mom with her children handed out stuffed animals, and my husband was surrounded by his brothers and parents, too. 
Family.  It's important that we make time for another.  Friends.  It is so important to not be afraid to reach out and ask for help.  Health.  Wow.  Never take anything for granted.  In the end, God granted our Christmas wish.  My husband was sent home without further surgery a couple of days ago and we get to spend the New Years together, at home. 
I hope everyone has a safe New Year's Eve and that you are surrounded by family, friends, and much love.  Most importantly, that you are surrounded by a great book, or two!
P.S. My top books for 2013 will be posted soon.  Stay tuned, as there will a book giveaway, too!
 Wishing you a wonderful new year,
Lisa
Related articles