An Excellent Cupcake: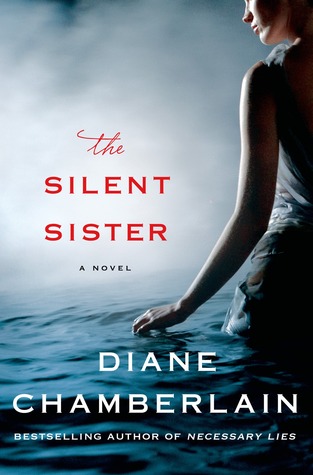 I loved this book! There was so much mystery surrounding the truths behind the "suicide" of Riley's sister, Lisa.  It was a novel that definitely kept me turning each page, with increasing curiosity, as I learn the truth behind Lisa's suicide and fatal accident, Riley's mom, and the many secrets that the MacPherson parents died with.
It's definitely a page turner and will keep everyone on their toes, trying to connect to the missing pieces as Diane Chamberlain slowly reveals little hidden truths along the way.  I read this book in about a couple of days and loved that the ending didn't end so nicely.  Rather, there are some loose ends and I do hope that Diane Chamberlain will consider writing a sequel.
The only thing I didn't like too much was the title.  I didn't feel the title reflected the storyline because both sisters were not very quiet, rather the opposite.  Although, one sister was more hidden.  Nonetheless, it's a fantastic book!
Publication Date: June 17, 2014
Publisher: St. Martin's Press
Pages: 384
Genre:  Mystery, Thriller
Synopsis:
They said she was a murderer.
They said she killed her sister.
But they lied.
As a teenager, Toni Murphy had a life full of typical adolescent complications: a boyfriend she adored, a younger sister she couldn't relate to, a strained relationship with her parents, and classmates who seemed hell-bent on making her life miserable. Things weren't easy, but Toni could never have predicted how horrific they would become until her younger sister was brutally murdered one summer night.
Toni and her boyfriend, Ryan, were convicted of the murder and sent to prison.
Now thirty-four, Toni is out on parole and back in her hometown, struggling to adjust to a new life on the outside. Prison changed her, hardened her, and she's doing everything in her power to avoid violating her parole and going back. This means having absolutely no contact with Ryan, avoiding fellow parolees looking to pick fights, and steering clear of trouble in all its forms. But nothing is making that easy—not Ryan, who is convinced he can figure out the truth; not her mother, who doubts Toni's innocence; and certainly not the group of women who made Toni's life hell in high school and may have darker secrets than anyone realizes. No matter how hard she tries, ignoring her old life to start a new one is impossible. Before Toni can truly move on, she must risk everything to find out what really happened that night.
But the truth might be the most terrifying thing of all.
Have you ever read a book that was from a genre you don't typically read, and when you do, it's the book that busts wide open your interest in that genre??  Well, this book absolutely did!  I do read Mystery Thriller books, but it's not often, so I was amazingly surprised at how incredible this book was.  Chevy Stevens delivers a brilliant book to readers, who will be on the edge of their seat the whole time!
The storyline is real, raw, and the character development is detailed.  While each character is developed, the action and drama is what drives this book home.  It's a book that will definitely deals with complex issues of: family, parenting, perfect child vs. troublemaker, mean girls, social injustice, abuse of power, sexual abuse, and murder.
Tori is the "troublemaker" daughter, who has been recently released from prison.  She and her boyfriend, charged with the murder of her younger sister, and is shunned by her community and family.  While Toni just wants to move on with her life and forget about the past, Ryan wants to know who framed them and why.  The secrets that are unveiled are unexpected, sad, horrific, and in the end…the readers are left with a little hope.
Brilliantly written, it's a book that deserves to be a "Summer Must Read!" I would love to share more about Tori's family, but doing so, would give too much away to the storyline.  This is the book your book club needs to read, because the discussions will be endless!!!
*A huge thanks to the publisher and She Reads for allowing me the opportunity review this book!
CHEVY STEVENS grew up on a ranch on Vancouver Island and still calls the island home. For most of her adult life she worked in sales, first as a rep for a giftware company and then as a Realtor. While holding an open house one afternoon, she had a terrifying idea that became the inspiration for Still Missing.Chevy eventually sold her house and left real estate so she could finish the book. Still Missing went on to become a New York Times bestseller and win the International Thriller Writers Award for Best First Novel.  Chevy's books have been optioned for movies and are published in more than thirty countries.
Chevy enjoys writing thrillers that allow her to blend her interest in family dynamics with her love of the west coast lifestyle. When she's not working on her next book, she's camping and canoeing with her husband and daughter in the local mountains.
It doesn't always happen, but with the recent health issues I've had, being homebound has allowed me the opportunity to read more than I have in a long time.  Reading has been the silver lining, this summer.  Usually, summer is the time when I read from my TBR list, which I have yet to touch! I think most readers can relate-but it seems my TBR list is always expanding!!!  With new releases each week, it can be overwhelming to keep up with!
Below are some books I've read-so far!  If you click on the picture of each book, it will take you book page, so that you can read the synopsis.
**************************************************************************************************
This is a story that reads almost like a mystery, because Olivia has to piece together the events that happened before the fatal death of her estranged friend, Sally.  I enjoyed reading about the relationship between Sally and Olivia (before they became adults), and could certainly relate to having that "crazy friend"-who goes off the edge.  Eleanor Moran doesn't give all the details in order, with the story changing from past to present, which made the book even more fascinating to read!  I love a great mystery, wrapped up in a novel that has a little bit of everything: widowhood, survivor's guilt, infidelity, friendships, lies and betrayal, and a little romance.  The reader is given one piece of the puzzle, in random order, as each piece slowly takes shape to reveal the hidden truths that were there the whole time.
I loved Madeline and felt her emotions were true to that of a child, who deals with the loss of her parent.  She is angry, distant, reluctant, and slowly opens her heart to the possibilities of loving and honoring her mother, while also accepting a new beginning.  My heart ached for her, as she struggles to balance her faithfulness to her mom, while also learning to accept someone else in her life.  It isn't until the very end that Moran reveals to the reader and Sally's family-the reason for Sally's demise and "crazy behavior", which came as a shock but then made sense!  Eleanor Moran nails the psychological issues Sally faces and the internal struggles she dealt with and the demons that she faced.
While there were times that it seemed Olivia was in a trance and did whatever William wanted, it seemed that in some cosmic weird way that Sally wanted things to evolve as they do and that in the end, she could rest in peace knowing those she loved were all together.
It's an excellent read!  I read this one quite quickly because  I wanted to know what happens!  Most of all, I love the style of writing Eleanor Manor has in this book-as it was a puzzle that slowly connects and reveals all the hidden secrets that the characters have.  Those who love books about mental illness, family secrets/relationships, and friendships, will certainly love this book!
  *A huge thank you to the publisher for giving me the opportunity to review this book.
************************************************************************************************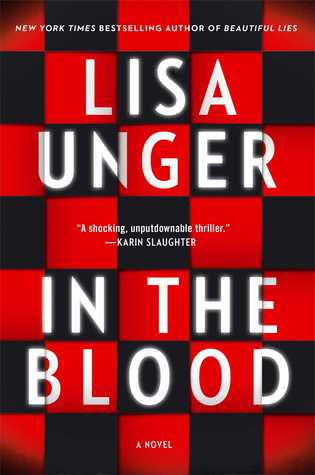 Let's face it.  The book cover doesn't scream, "READ ME!".  But….don't let that deter you from reading it!  Once you've read it, you will completely understand the cover and appreciate it that much more.  This book is a traditional thriller book.  It has mystery, electric energy that intensifies as each chapter is read, murder, possible suspects and motives, and psychological drama that will have your head spinning!  It's definitely one of my best picks for 2014, because it the kind of book that any reader will enjoy.
You love history? Check.
You love murder mystery? Check.
You love reading about an underdog protagonist that has a secret? Check.
You want to read a book that you won't be able to put down? Check.
You want a book that has to deal with sociopaths, psychological issues? Check.
You want a book that intensifies as each chapter is read? Check.
This book has it all.  There is so much detail, that Lisa Unger leaves no stone uncovered.  She weaves this incredible story, with two alternating voices.  Whose voice is the second? That 's one of the mysteries!  I absolutely loved this book, couldn't put it down, and read this book in 1 day.  That is really unheard for me, and being sick, I actually read this book with a migraine.  I literally read with one eye closed at times because my head hurt….but I needed to know what happened! Yeah, this book is that fantastic.  Add it to your TBR list, or better yet, just stop what you are reading and grab this book!  It's that good.
*This book was provided for review, courtesy of the publisher.
**************************************************************************************************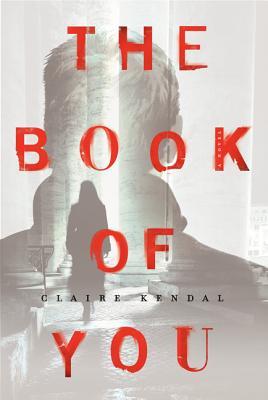 This is a book that starts out quite intense.  Clarissa is a girl that people either can relate to because they see parts of themselves in her, or know someone who is like her.  Either way, Clarissa will be someone that will bring out strong emotions in the reader.  Clarissa is the typical victim: she is isolated, wants to have a relationship but doesn't know how to set boundaries because she has self-esteem issues, and doesn't know who to trust.  There are so many issues Clarissa is challenged with, because of the torment she endures from her predator (Rafe).  The reader is taken on a journey of the psychological trauma and prison a person can get entrapped in, and how it slowly strips everything from the victim, to a point of panic.  It's an incredible book that shows that cycles repeat, until the victim takes control and makes a shift mentally.
If you or someone you know is feeling threatened, in an unsafe situation, or needs to talk to someone, please call the Crisis Hotline!
1.800.273.8255
24/7, anytime, anywhere.
  *This book was provided through TLC Book Tours, in exchange for an honest review.
Synopsis:
Rose Parker's husband has been lying. About everything.
When a conversation with her husband triggers questions, Rose Parker uncovers alarming answers that shatter her perfect life. But it is only when she shoves her belongings in her SUV and drives off that Rose realizes just how far from perfect her life actually was. She has nowhere to turn.
While debating between distressing sleeping arrangements–her mother's house full of questions or a hotel room with too much solitude–Rose bumps into an acquaintance from her gardening class and allows bubbly, exuberant Becky to indulge her in a wild night full of whiskey, weeping, and whispered confidences. Suddenly, Rose has a new friend, a roof over her head, and two gorgeous men moving her out of her marital home.
As Rose struggles to settle into her new life, she remains determined to comprehend her past. And with time and distance and especially wine, comes knowledge. Frank wasn't the only one lying to her. Rose was lying to herself.
I love the cover and title of this book, Lydia Laceby's debut novel.  This is the kind of book that chick-lit lovers will love immersing themselves in. Rose is ever the optimist, in love with her husband, and is thrown for a huge curve ball, upon finding out about her husband's unfaithfulness-in every way.
Rose leaves the comfort of her home, has a huge break down, and stays with a friend-who becomes her confidant, biggest supporter, and cheerleader through it all.  Rose has to figure out what to do with her life, as she picks up the pieces of her life and comes to the realization that her marriage was a sham.  While doing this, she becomes great friends with Becky, reconnects with her mother on a closer level, nurtures the hobby she had pushed aside (gardening), and befriends those in her life that she otherwise may  not have met through those connections with Becky and the gardening club.
It's a light read, that Lydia Laceby is able to share with readers, while covering serious issues of marriage, infidelity, mother/daughter relationships, and new beginnings.  It's a fantastic book that I loved reading and is one of my favorite books this year, in the chick-lit genre!
LYDIA LACEBY is a co-founder of the fiction book blog, Novel Escapes. Since 2009, she has read and reviewed as much women's fiction as humanly possible while designing, organizing and expanding the blog from two reviewers to seven.
In her spare time, she knits cute baby hats, would pick cheese over chocolate, and longs for the days she was able to cheat on her allergy free diet.
Lydia began her career writing a soap opera at the tender age of thirteen. It never aired. Redesigning Rose is her first novel.
Lydia Laceby Book Tour:
April 28 – Chick Lit Goddess – Q&A & Excerpt
April 30 – Change the Word – Q&A & Excerpt
May 2 – Storm Goddess Book Reviews – Review & Excerpt
May 6 – Chick Lit Plus – Novel Spotlight
May 8 – Crooks on Books – Review
May 9 – Karen's Korner – Review
May 14 – Sweets Books – Excerpt
May 14 – Eat Write Love – Novel Spotlight & Q&A
May 15 – Julie Valerie's Book Blog – Review & Q&A
May 16 – Jersey Girl Book Reviews – Review, Guest Post & Excerpt
May 19 – Fiction Dreams – Q&A
May 20 – Little Whimsy Books – Novel Spotlight &  Excerpt
May 21 – Book Reviews and More by Kathy – Review
May 21 – Books à la Mode – Excerpt & Giveaway
May 22 – Books in the Burbs – Review & Excerpt
May 23 – Sammy the Bookworm – Excerpt
May 26 – The Book Geek Wears Pajamas – Review & Excerpt
Genre: Contemporary Fiction, Women's Fiction
Pages:  334
Publisher:  St. Martin's Press (publication date: May 13 2014)
Source: TLC Book Tours
Synopsis:
One of the most anticipated debut novels of 2014, Cutting Teeth takes place one late-summer weekend as a group of thirty-something couples gather at a shabby beach house on Long Island, their young children in tow.
Nicole, the hostess, struggles to keep her OCD behaviors unnoticed. Stay-at-home dad Rip grapples with the reality that his careerist wife will likely deny him a second child, forcing him to disrupt the life he loves. Allie, one half of a two-mom family, can't stop imagining ditching her wife and kids in favor of her art. Tiffany, comfortable with her amazing body but not so comfortable in the upper-middle class world the other characters were born into, flirts dangerously, and spars with her best friend Leigh, a blue blood secretly facing financial ruin and dependent on the magical Tibetan nanny everyone else covets. Throughout the weekend, conflicts intensify and painful truths surface. Friendships and alliances crack, forcing the house party to confront a new order.
Cutting Teeth is about the complex dilemmas of early midlife—the vicissitudes of friendship, of romantic and familial love, and of sex. It's about class tension, status hunger, and the unease of being in possession of life's greatest bounty while still wondering, is this as good as it gets? And, perhaps most of all, Julia Fierro's warm and unpretentious debut explores the all-consuming love we feel for those we need most, and the sacrifice and compromise that underpins that love.
The title of the book was quite interesting and rather reflective to what each parent experiences, during their weekend away.  Like a toddler cutting teeth, these parents experience their share of pain, numbness, growth, and new beginnings.  The cover of the book is "meh".  I didn't feel the book cover reflected the storyline in the way I would have expected.  The house where the couples stayed in, or the beach, maybe even the NY city view.  However, once I got passed that, it was a great read!
I always shudder when a book is quoted as being "One of the most anticipated debut novels of 2014″, because it really sets the author up for either sheer success or fizzled failure.  However, this book does not fail.  It reminded me of a drama sitcom, even the one I absolutely loved, "Thirty-Something".  Remember that one? I absolutely loved it!!
This is a book filled with different scenarios, a variety of characters-who have their own set of issues, and how they all come together by being in a playgroup.  This a character driven book, with each character evolving over the course of the book (or do they?), and how each one faces challenges that cause each one to question their goals, their relationships, parenting, and how they adjust to change.  With a wide variety of couples (non-couples) and children, this is a book that deals with real issues of today.  It's not a warm, fuzzy book, although there are moments of that.  Rather, it's a glimpse into the real issues parents face and/or have wondered.
This is also a book that would make for a great character analysis in an English Comp or Sociology class, because of the different issues discussed in this book.  It's a story that doesn't have one main plot, but many sub-plots, and Julia is able to merge them all together into a book that reads seamlessly.
It's an excellent book and one I enjoyed reading.
*My thanks to Lisa for working with me on my schedule!!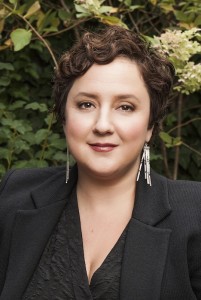 About Julia Fierro
Julia Fierro's debut novel, Cutting Teeth, was listed as one of the "Most Anticipated Books of 2014" by HuffPost Books, The Millions, Flavorwire, Brooklyn Magazine, and Marie Claire.  Her work has been published, or is forthcoming, in Guernica, Ploughshares, Poets & Writers, Glamour, and other publications, and she has been profiled in the L Magazine, The Observer, and The Economist.
Connect with Julia
Website | Facebook | Twitter | Pinterest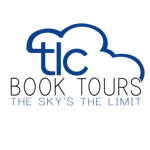 Julia Fierro's TLC Book Tours TOUR STOPS:
Monday, May 12th:  Books a la Mode – guest post
Monday, May 12th:  Ageless Pages
Tuesday, May 13th:  The Well Read Redhead
Friday, May 16th:  Books in the 'Burbs
Friday, May 16th:  BookNAround
Monday, May 19th:  Bookchickdi
Tuesday, May 20th:  Book Chatter
Thursday, May 22nd:  Must Read Faster
Friday, May 23rd:  Peeking Between the Pages
Tuesdya, May 27th:  Bibliophiliac
Wednesday, May 28th:  My Bookshelf
Wednesday, May 28th:  Snowdrop Dreams of Books
Thursday, May 29th:  Anita Loves Books
Monday, June 2nd:  Literally Jen
Tuesday, June 3rd:  Books in the City
Thursday, June 5th:  Bibliotica
Thursday, June 5th:  Kritter's Ramblings
Monday, June 9th:  A Lovely Bookshelf on the Wall
Wednesday, June 11th:  River City Reading
Thursday, June 12th:  Sidewalk Shoes
Friday, June 13th:  Luxury Reading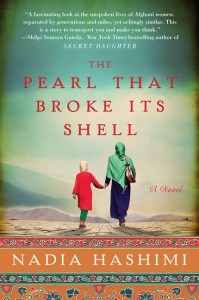 Hardcover: 464 pages
Publisher: William Morrow (May 6, 2014)
Language: English
ISBN-10: 0062244752
Genre:  Historical Fiction, Contemporary Literature
Source:  TLC Book Tours & Publisher
Format:  Paperback
Synopsis:
A luminous and unforgettable tale of two women, destiny, and identity in Afghanistan

Kabul, 2007: The Taliban rules the streets. With a drug-addicted father and no brothers, Rahima and her sisters can rarely leave the house or attend school. Their only hope lies in the ancient Afghan custom of bacha posh, which allows young Rahima to dress and be treated as a son until she is of marriageable age. As a boy, she has the kind of freedom that was previously unimaginable . . . freedom that will transform her forever.

But Rahima is not the first in her family to adopt this unusual custom. A century earlier, her great-great-grandmother Shekiba, left orphaned by an epidemic, saved herself and built a new life in the same way—the change took her on a journey from the deprivation of life in a rural village to the opulence of a king's palace in the bustling metropolis of Kabul.

Crisscrossing in time, The Pearl That Broke Its Shell interweaves the stories of these two remarkable women who are separated by a century but share the same courage and dreams. What will happen once Rahima is old enough to marry? How long can Shekiba pass as a man? And if Rahima cannot adapt to life as a bride, how will she survive?
The cover is stunning, absolutely beautiful!  I love the title and felt that it went well with the theme of the book.  If readers are aware of the traditional Muslim gender roles, in the Middle East, then this book shouldn't be too much of a shock.  There were many times that my heart ached over the way girls were treated vs. boys, the family expectations of women and multiple wives, the devaluation of a woman and the importance of birthing sons, and the inability to walk outside their home without men/boys attacking or harming them.  While the religious culture is vastly different from that promotes gender equality, it is a story that needs to be told and highlighted to understand the themes in the storyline.
Nadia writes so beautifully and shifts between the past and present flawlessly.   Shekiba's story is one that is filled with sorrow, sadness, but also has glimmers of hope and new beginnings.  Her story read almost like a folktale, that can be passed down from generation to generation for young girls to be inspired and create change.  I was so engrossed with Shekiba's tale that it was hard to switch mentally to Rahima's storyline.  However, both stories switched back and forth seamlessly.
Rahima is a little girl, who experiences both sides of the gender norms: as a boy and girl.  As a girl, she experiences being bullied by the boys her age, the inability to walk to school safely, having to wear her burqua, the disappointment she sees in her father's eyes, etc.  As a boy, she experiences many freedoms of going to school without harassment, going to the story and bargaining/buying goods, having the time to socialize and play after school and not prepare meals, and the approval she gets from her father.
Rahima lives in a household where the country is changing, having to see her father leave for bouts at a time, and have him return to a drunken/drugged stupor.  She also hears the talks amongst the family in her house and their thoughts on family, politics/country, and the "girl talk" women have.
This is a long book.  It took me awhile to read, simply because it was so mesmerizing to learn and read about the culture in Afghanistan, the changing country, and how two families are impacted with gender roles, religion, and political climate change.  It's a beautiful book and one that will easily be compared to Khaled Hosseini and his lyrical style of writing, in a practical format, that people of all backgrounds will enjoy, cry, rejoice, and remember for a long time.
About Nadia Hashimi
Nadia Hashimi's parents left Afghanistan in the 1970s, before the Soviet invasion. In 2002, Hashimi visited Afghanistan for the first time. She lives with her family in suburban Washington, D.C., where she works as a pediatrician.
Find out more about Nadia at her website, connect with her on Facebook, and follow her on Twitter.
Nadia's Tour Stops
Wednesday, May 7th: The Gilmore Guide to Books
Thursday, May 8th: Lit and Life
Friday, May 9th: Books in the Burbs
Monday, May 12th: Svetlana's Reads and Views
Monday, May 12th: A Bookish Affair
Tuesday, May 13th: Drey's Library
Wednesday, May 14th: Snowdrop Dreams of Books
Thursday, May 15th: West Metro Mommy
Wednesday, May 21st: Peeking Between the Pages
Thursday, May 22nd: Time 2 Read
Monday, May 26th: BoundbyWords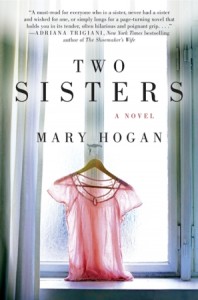 Genre: Women's Fiction
Publisher: William Morrow
Release Date: March 4/2014
Pages:  384
Source: TLC Book Tours & Publisher
Rating: An Excellent Cupcake
Synopsis:
One family, two sisters, a lifetime of secrets . . .
The third child in a family that wanted only two, Muriel Sullivant has always been an outsider. Short, dark-haired, and round, she worships her beautiful blond sister, Pia, and envies the close bond she shares with their mother, Lidia. Growing up in their shadow, Muriel believes that if she keeps all their secrets—and she knows plenty, outsiders always do—they will love her, too.
But that was a long time ago. Now an adult, Muriel has accepted the disappointments in her life. With her fourth-floor walk-up apartment and entry-level New York City job, she never will measure up to Pia and her wealthy husband, their daughter, and their suburban Connecticut dream home. Muriel would like nothing better than to avoid her judgmental family altogether. One thing she does quite well.
Until the day Pia shows up to visit and share devastating news that Muriel knows she cannot tell—a secret that will force her to come to terms with the past and help her see her life and her family in unexpected new ways.
Two Sisters is a powerful and poignant debut novel about two sisters—opposites in every way—as well as their mother and the secrets and lies that define them all.
My Review:
This book, on the surface, can seem quite simple.  Two sisters, both treated differently by their parents, living separate lives, have different relationships with their parents (as adults), and how an illness can bring a family together or separate them further.  However, there were so many layers to this book, that it made it quite interesting all the way through.
What I believe the author, Mary Hogan, truly shows is how hurt people marry other hurt people, and how those hurts can turn to rejection experienced by their children.  It's a cycle, it's a family pattern, and it's sadly one that happens all the time.
Through Muriel's pain, readers are introduced to the relationship she has with her mother, father, and siblings.  Pia is the woman, every woman wants to be on the outside.  Perfect relationship with her mother, husband, and the mom of a beautiful child.  She has the perfect body, perfect home, finances for anything her heart desires, even a full-time maid.  However, as life always shows: no one is immune to illness.
Pia, in her own way, wants to make amends with Muriel.  However, Murial uses this time to uncover family secrets and face the family, she has worked hard at avoiding.  Muriel is the girl, most will relate to.  Why? Because she opens the most vulnerable part of herself, as she shares different experiences that caused her pain, rejection, humiliation, and sorrow.
It was also interesting to see that regardless of how unemotionally connected Muriel's mother is, Muriel works in a profession that reminds her most of the times she shared with her mom (even if she was simply used).  It was also quite interesting to see how Lydia and Owen stay together, despite their lack of love, simply because it was expected of them with their respective families.  Lydia is in love with someone else, who is married to his job (so to speak), and had they married would have been shunned from their communities.  Owen, while he is the most quiet in this story, has the greatest heartache.  He doesn't marry a woman that did love him, he loses his relationship with his children, and he never fully comes full circle in his life.
Two Sisters is a window into one family, where two adults married for different reasons: none of which was for true love.  Sadly, it is their children who may the price for that and it impacts the relationships they have as adults.  Even Muriel's brother, who doesn't appear until the very end of the book, has his own reasons for shunning the family.
This is a powerful read.  I imagine many readers will experience disgust, sadness, and anger as each character unfolds in each chapter.  However, Mary Hogan does a remarkable job of bringing her readers to the brink with Muriel, only to give a ray of hope and some happiness for Muriel's future.
If you love women's fiction, contemporary literature (although the time period is questionable), relationships about families, love books about the underdog finding his/her voice, then you will love this book!
Also, did I mention the cover?  The cover is gorgeous, although it doesn't really go with the storyline.  Maybe if it had been the suit, Pia picks out for herself, it would have fit.  Regardless, it is still a great book!
*This book was provided by TLC & the publisher, in exchange for an honest review. No forms of compensation were given.
About the Author:
Mary Hogan is the NAPPA Award-winning author of seven young-adult books. Two Sisters is her first novel for adults. She lives in New York City with her husband, Bob, and their dog, Lucy.
Follow the Author:
Tour Stops
Tuesday, March 4th: BoundbyWords
Wednesday, March 5th: cupcake's book cupboard
Thursday, March 6th: Chronicles …
Monday, March 10th: Kritters Ramblings
Monday, March 10th: Sweet Southern Home
Tuesday, March 11th: No More Grumpy Bookseller
Wednesday, March 12th: BookNAround
Monday, March 17th: Drey's Library
Tuesday, March 18th: Snowdrop Dreams of Books
Wednesday, March 19th: Kahakai Kitchen
Thursday, March 20th: The Well-Read Redhead
Monday, March 24th: Books in the Burbs
ISBN: 9780399166235
Pages: 432
Release Date: February 20, 2014
Publisher: Amy Einhorn Books / Putnam
Genre: Historical Fiction
Source: NetGalley& Publisher
Synopsis:
A beautiful princess lies in a sleep so deep it is close to death. Was Sleeping Beauty revived by a prince's kiss? What really happened in that tower so long ago?
While Beauty Slept re-imagines the legend through the lens of historical fiction, telling the story as if it really happened. A Gothic tale of suspense and ambition, love and loss, it interweaves the story of a royal family and the servants who see behind the glamorous facade, following the journey of a young woman as she lives out a destiny that leads her to the brink of death.
My Review:
Out of all the Disney princess movies, Sleeping Beauty, was one of my least favorites.  So, I really had no idea what to expect from this book, but I am glad did read it!
I love the way Elizabeth Blackwell takes a treasured children's story, and expands on it in such a creative and genius way!  Even if you have not read Sleeping Beauty or seen the movie, like me, you will understand this story and appreciate the direction that Elizabeth takes this book.
With Elise's point of view, readers gain an insider's view to the Queen, Maleficent, and even Princess Aurora.  The story truly reads as if it is based on an actual historical event, or at least a real place, which is what makes this book so special.  Regardless of a "fantasy" place, readers will genuinely love the relationship Elise develops with different palace workers, the Queen, and her own love story, that is weaved in.  Overall, a beautiful story and one that will delight readers!
*This book was provided by NetGalley, in exchange for an honest review.
Genre: Historical Fiction, Mystery
Publisher/Publication Date: Doubleday (1/14/2014)
Source:  She Reads Book Club
Synopsis from Goodreads:
A tantalizing reimagining of a scandalous mystery that rocked the nation in 1930-Justice Joseph Crater's infamous disappearance-as seen through the eyes of the three women who knew him best.
They say behind every great man, there's a woman. In this case, there are three. Stella Crater, the judge's wife, is the picture of propriety draped in long pearls and the latest Chanel. Ritzi, a leggy showgirl with Broadway aspirations, thinks moonlighting in the judge's bed is the quickest way off the chorus line. Maria Simon, the dutiful maid, has the judge to thank for her husband's recent promotion to detective in the NYPD. Meanwhile, Crater is equally indebted to Tammany Hall leaders and the city's most notorious gangster, Owney "The Killer" Madden.
On a sultry summer night, as rumors circulate about the judge's involvement in wide-scale political corruption, the Honorable Joseph Crater steps into a cab and disappears without a trace. Or does he?
After 39 years of necessary duplicity, Stella Crater is finally ready to reveal what she knows. Sliding into a plush leather banquette at Club Abbey, the site of many absinthe-soaked affairs and the judge's favorite watering hole back in the day, Stella orders two whiskeys on the rocks-one for her and one in honor of her missing husband. Stirring the ice cubes in the lowball glass, Stella begins to tell a tale-of greed, lust, and deceit. As the novel unfolds and the women slyly break out of their prescribed roles, it becomes clear that each knows more than she has initially let on.
With a layered intensity and prose as effervescent as the bubbly that flows every night, The Wife, the Maid, and the Mistress is a wickedly entertaining historical mystery that will transport readers to a bygone era with tipsy spins through subterranean jazz clubs and backstage dressing rooms. But beneath the Art Deco skyline and amid the intoxicating smell of smoke and whiskey, the question of why Judge Crater disappeared lingers seductively until a twist in the very last pages.
My Review:
One word: WOW!  This novel has so many twists and turns, debauchery, infidelity, infertility, mistresses, maids with a little too much information, and a corrupt system.  I love books that mix fact with fiction, weaved together by one creative mind: Ariel Lawhon's!
This is not a quick read, by any means, as there are a lot of characters important to the storyline-that you will want to know.  I did find myself getting confused with the year/dates, as the story does jump back to before Crater's disappearance, to after his disappearance, and then later in life.  Based on the real life mystery surrounding Joseph Crater's disappearance, there are 3 women, who Ariel shines light on.  While there are creative liberties used to fill in the gap of information not know, Ariel's writing is seamless and the story flows like a true crime novel should.
I absolutely loved the characters Ariel creates to help make the story well rounded (won't reveal who…you have to read it!), and the characters she expounds on-who were quite interesting and fascinating to read about.  This is a fantastic story, with everyone being a suspect…even the police. Set in the 1930's, Ariel captures the glamour, the seediness of the club-limited to showgirls, corrupt politicians, and mobsters, corrupt political systems and the impact it has on an affluent family, murder suspicion, three women who are connected in one way or another, which just kept me fully engaged the whole time.
I am blown away by this fantastic historical fiction novel, written by a first time author, who read a lot of conspiracy theories, novels, newspaper clippings, and somewhere in all of that research material-she brings forth this incredible novel!! An excellent novel for book club discussions, for anyone that loves political/true unsolved crime novels, and historical fiction.
*Thanks to She Reads Book Club for providing this book as our February Book Club Pick!
ABOUT THE AUTHOR
Ariel Lawhon is the co-founder of the popular online book club She Reads (www.shereads.org). A novelist, blogger, and life-long reader, she lives in Nashville, Tennessee, with her husband and four young sons (aka The Wild Rumpus). Ariel believes that Story is the shortest distance to the human heart. THE WIFE, THE MAID, AND THE MISTRESS, just released this month from Doubleday.
Follow Ariel Lawhon!
 Facebook |  Twitter | Pinterest | Instagram | Tumblr | Goodreads