At the beginning of the year, I was reading so much that I simply didn't want to stop and write about them. Before I knew it, they had accumulated and I wanted to share them with you here.  I plan to write more "Short Stack Reviews", where you can gleam what I've read, add them to your TBR list (if you see any that you might like), and also to help me keep track of my reading.  Be sure and click on each book picture to read the synopsis!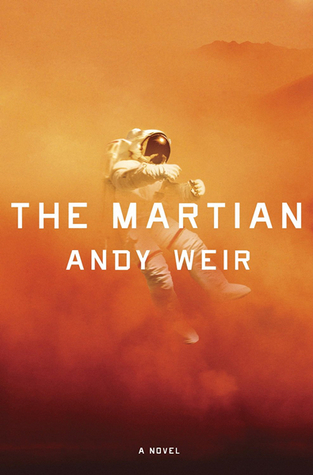 This is my first DNF, this year.  I don't typically include books I haven't read because I certainly am in no position to rate them.  However, I am including this one.  From the first chapter, I was hooked into the storyline.  It was intense, an "edge of your seat" kind of book, that I just couldn't continue reading.  I had so much anxiety worrying if Mark, the astronaut left behind, was going to die.  I didn't watch Gravity, the movie with Sandra Bullock and George Clooney, because I didn't want to see him die.  I'm a wimp when it comes to movies and books.  Because I didn't finish this book, I have no idea if Mark survives, but my heart couldn't continue.  It is a book for sci-fi fans, those who want a narrative story (as Mark is the only one on Mars…and his potatoes), and for those who love intense books. So, what did I do with this book? I gave it to my son, who loves sci-fi, is fascinated with Mars, and loves an intense storyline.  He also saw Gravity and loved it, so there you go!
*This book was provided by the publisher and Blogging for Books, in exchange for an honest opinion.  No forms of compensation were given.
I am a HUGE Jane Austen fan.  So, when Cyndi from "A Utah Mom's Life", suggested this book, I downloaded it.  I loved this book and the adventures Jane (Jane in the book, not The Jane) has in Austenland.  I don't know if there is such a place, but wouldn't it be amazing to jump back in time and meet people that are from Pride and Prejudice? Jane has a great sense of humor and does admit the corsets get old, not being able to be alone with a male is stifling, and lack of cellphones can be a bit hard.  However, she has her own adventure, has some love challenges, and finds her happily ever after…or so I hope.  The ending did seem a bit rushed, but it was in perfect Austen form-love always prevails!
 I must admit, before reading While Beauty Slept, I just didn't have an appreciation for Princess Aurora.  This book is another twist on  Sleeping Beauty, where Princess Aurora wakes up but doesn't have her happily ever after.  She isn't in love with her prince, the kingdom is in disarray, and she learns that all is not as it seems.  This novel is the first to a trilogy, which I am excited about and is a great YA book for those who love stories about fairy tales with twists.  There are definitely some cliffhangers, which I am sure the other 2 novels will address, and can't wait to read them!  This is definitely a book that different from Elizabeth Blackwell's book, so don't compare them because you will be disappointed.  They are vastly different and equally good in their own right.  I enjoyed this book very much!
 *This book was provided by the publisher, in exchange for an honest opinion.  No forms of compensation were given.