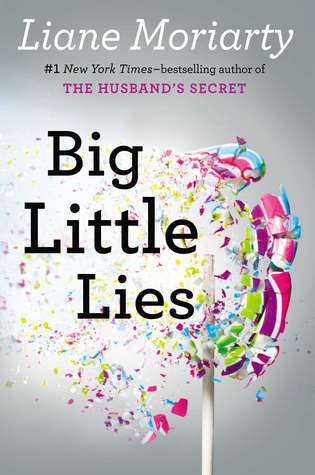 Synopsis:
Sometimes it's the little lies that turn out to be the most lethal. . . .
A murder… . . . a tragic accident… . . . or just parents behaving badly?
What's indisputable is that someone is dead.   But who did what?
Big Little Lies follows three women, each at a crossroads:   Madeline is a force to be reckoned with. She's funny and biting, passionate, she remembers everything and forgives no one. Her ex-husband and his yogi new wife have moved into her beloved beachside community, and their daughter is in the same kindergarten class as Madeline's youngest (how is this possible?). And to top it all off, Madeline's teenage daughter seems to be choosing Madeline's ex-husband over her. (How. Is. This. Possible?).
Celeste is the kind of beautiful woman who makes the world stop and stare. While she may seem a bit flustered at times, who wouldn't be, with those rambunctious twin boys? Now that the boys are starting school, Celeste and her husband look set to become the king and queen of the school parent body. But royalty often comes at a price, and Celeste is grappling with how much more she is willing to pay.   New to town, single mom Jane is so young that another mother mistakes her for the nanny. Jane is sad beyond her years and harbors secret doubts about her son. But why? While Madeline and Celeste soon take Jane under their wing, none of them realizes how the arrival of Jane and her inscrutable little boy will affect them all.
Big Little Lies is a brilliant take on ex-husbands and second wives, mothers and daughters, schoolyard scandal, and the dangerous little lies we tell ourselves just to survive.

My Review:
I read Liane Moriarty's book, The Husband's Secret, which I absolutely loved and listed as one of my Best Books of 2013.  I purchased Big Little Lies last year, but only recently was able to read it.  That is the benefit of not having so many scheduled book tours!
It reminded me of a modern time Agatha Christie murder mystery, with the dissection of the events dispersed throughout the book, and different people interjecting what they saw and know.  I love that from the very beginning, the reader knows there is a murder, there is some bullying going on, and there are lots of secrets, however the pieces of the puzzle don't come together until the very end!
As in Liane's last book, she is able to seamlessly and flawlessly weave different stories, characters who at times seem to only 1 thing in common, and bring them all back together in the end.  In the beginning of the novel, most of the story revolves around bullying occurring at school.  Oh, how I can relate!  I am the mom of 3 children, one being in kindergarten (age 5), right now!  So, I can understand the dynamics, school structure, peer relationships, and school politics that a parent and child has to experience.  There are also many different kinds of moms: the single mom, the active mom, the rich mom that is very quiet and flawless, the divorced mom, the step-mom, and the list continues.  Each of them have two things in common: they love their child and their child attends the same school.
While there is a huge issue of bullying in the school and trying to figure out what is going on with that, Liane raises a huge issue: do children act out what they have learned or do they act out simply because that's in their nature?  She also shows how intelligent children are (regardless of age), how in tune they are to what is happening around them, and how they act out what they don't always understand but feel (rage).
While there is a murder and an investigation, Liane also shows the dynamics between step families, the importance of having good relationships with ex-spouses for the sake of their children, the importance of having a support group, the need for therapy when it's necessary, and most of all-that not all battered women live in the ghetto and are uneducated and in a dead end relationship.
Domestic violence awareness is such an important topic for me, as I have worked with families impacted by abuse-especially the children who do hide, keep secrets, clean the blood soaked floors, and learn unhealthy ways to be in a relationship.  If there is anything I hope anyone walks away with: aside from this being a brilliantly written book, is that as culture-we need to stand up for those who don't have a voice, have lost their voice, and/or don't know what to do.
If you or someone you know is in a violent relationship, please contact the number below.