The Ultimate Supreme Cupcake:
I am, as usual, late to the party.  However, I always make it; albeit fashionably late. Being an avid reader of historical fiction, and loving the great works of Ernest Hemingway and F. Scott Fitzgerald, I had read about Zelda and the tumultuous relationship between her and Scott.  However, it wasn't until I read, The Paris Wife by Paula McLain that my interest truly peaked. While Paula McLain's book is primarily about Hadley and her love: Ernest Hemingway, there was just enough of a snipped of Zelda and her husband, that I was instantly intrigued to learn more.
It seems that in recent years authors are looking beyond the writer, and wanting to look at their most intimate relationship: the women who stood by these amazing authors.  So, I was quite excited to see that 2 books, which peaked my interest came out around the same time.  While I was looking through my blog, I noticed that I had not written my book reviews for these two amazing books!  While both books are about Zelda Fitzgerald, make no mistake about it….they are vastly different, and exception in their own right.  So, don't choose between the two.  Buy them both!
My Review:
One word:  Co-dependent.  Yes, as much as Zelda and Scott are crazy in love, they are even more crazy with out one another.  They need each other, thrive off one another, and seem to feed off one another the more "crazy" one is.  The story starts with Zelda as a teenager, a vibrant 17 year old, who has many suitors at her feet.  However, she zones in one handsome solider: F. Scott Fitzgerald, who also only has eyes for her.  It's rather sweet to read about their courtship, leading up to marriage, and readers can't help but root for them.
While we all know the ending, it's what happens in between that makes the story worthwhile.  Theresa Ann Fowler, is a great storyteller, who gives readers a glimpse into the world of the Fitzgerald's.  Zelda is given a voice, that goes beyond just being "crazy, neurotic, unstable".  She is clear headed, strong willed, and sets trends despite her desire to do so.  She is simply herself, and that is what makes us all fall in love with her.
Zelda, never meant to be in Scott's shadow, follows her own dreams of writing, dancing, and making being who she wants to be, all while being with an erratic husband, dealing with the media and what they chose to portray her as, and trying to be the kind of mother she desires, all while also having a mental illness (that wasn't diagnosed until later in her life).
This is an excellent book that follows Zelda from her courtship through the Jazz age.  It ends with you wanting more Zelda! It's an excellent book, that is a must-read for anyone who loves historical fiction, wants to know who the woman is behind F. Scott Fitzgerald, and just loves a great love story (with a little bit of crazy).
************************************************
My Review:
While both books are independent and can be read in any order, it just made sense for me to read them in the order I have written the reviews.  I loved reading Erika Robuck's book.  She leaves no stone unturned, and explores her mental illness and the way Zelda navigates through it, while being a wife and mother.  Told through the viewpoint of Zelda's nurse, Ann, readers get an intimate glimpse into the struggles Zelda faces and how she tries to make sense of it all.
While in the hospital, Zelda writes a memoir that she lets Ann be privy to.  In those journals, Zelda shares the highlights and downfalls of her relationship with Scott, her life before and during her marriage, and how explosive it all was.  Ann also gives readers a glimpse into the relationship between Zelda and her daughter, Scotty, and how Zelda's erratic behavior impacted her relationship as  mom and wife.  Scott needs his muse, Zelda, and to the demise of Zelda, often brings her home.  However, Ann is never far away and is the calming, strong force that helps them both through that tough period.
As a family therapist, I was absolutely intrigued to read about the way mental health was addressed, the therapies given in the psychiatric hospital, and they way Zelda flourished/caved in, different points of her treatment.  This is a book that will stay with readers for a long time, and is as heartbreaking and courageous as Zelda, herself.  I loved the balance between Ann's story and Zelda's and the look inside a psychiatric hospital, while also giving readers much to appreciate and adore in the person Zelda was.
After I finished this book, I downloaded most of the books about Zelda, which I hope to read at one point.   Truthfully, before these books came out: Z is for Zelda and Call Me Zelda, I had no idea how dynamic Zelda was.  She is an intriguing woman, who was more than just F. Scott Fitzgerald's wife, she was a trendsetter, a fashionista, an artist, a mother, daughter, and simply a brilliant woman!  This is an excellent read and anyone who loves anything to do with "The Jazz Age", F. Scott Fitzgerald, curious about mental illness and the impact it has on families, and Zelda Fitzgerald, will easily want to add this book to their bookshelf.
My Review:
This is by far the best Historical fiction novel I have read this year! Anne Girard is a masterful storyteller, weaving in a beautiful storyline where there are blanks in history about the relationship between Eva Gouel and Pablo Picasso.  We all know who Pablo Picasso is, his many relationships with women (who often became his muse), and the incredible artwork he created.  However, not much is known about the one woman who helped shaped his career, taught him love and forgiveness, and who he never painted a complete portrait of.  Even that portrait was never shown to the public, until after his death, which was found amongst many of his own personal belongings.
In the early 1900's, Picasso was working his way up the ladder to become one of the world's best artists.  However, during that time, he was really just starting out and with a few a paintings and a huge dream, he sets off to Paris.  Eva is a young girl, pushed by her parents to marry the fellow neighbor.  Determined to have a better life and make something of herself, she also sets off to Paris.  Eva starts out as a seamstress at the famous Moulin Rouge, where anyone that is important, will show up to see the performances.  It is there that Eva meets Picasso.
Through a test of their relationship and devotion, both Eva and Picasso set out to create their "Eden".  Anne Girard introduces us to other fantastic artists and poets, who all seem to conjugate at Gertrude Steins home for exquisite parties.  It the place to be for artists to talk, debate, and reignite fires for their works.  While Eva wasn't the first Madame Picasso, nor the last, she certainly is the one who left the biggest imprint on his life and art.
For the first half of the book, readers will catch a glimpse of their own personal challenges, the start of their relationship, and how they soon become partners, in every way.  The second half of the book goes very fast.  I kept sensing this impending doom, almost like a Romeo and Juliet sequence of sorts, and I kept finding myself holding my breath! I stayed up well past 3 am, because I had to know the fate of their relationship, and wept at the end of the book.  Then, like any other historical fiction fan, I googled Eva Gouel and was shocked to see that so little is known about her, which makes Anne Girard even that much more of a genius and incredible writer!
This is a phenomenal book, one that history buffs will devour in a day or two.  It's a book that will stay with you for days afterward, and deserves the attention and merit that books like, Call Me Zelda, Z is for Zelda, and The Paris Wife received.  My only request is that someone now write a book about Gertrude Stein and her beloved partner, Alice!
If you have time, I highly recommend you visit Anne's page.  She has an excerpt of the book, some background information on an interview she did with a friend of Pablo's, and other interesting information! This is such an incredible book, that I even bought my own copy!

*This book was provided by the author and HFVBT for review, in exchange for an honest review.
About the Author
Anne Girard was born with writing in her blood. The daughter of a hard-driving Chicago newsman, she has always had the same passion for storytelling that fueled his lifelong career. She hand-wrote her first novel (admittedly, not a very good one) at the age of fourteen, and never stopped imagining characters and their stories. Writing only ever took a backseat to her love of reading.
After earning a bachelor's degree in English literature from UCLA and a Master's degree in psychology from Pepperdine University, a chance meeting with the acclaimed author, Irving Stone, sharply focused her ambition onto telling great stories from history with detailed research. "Live where your characters lived, see the things they saw," he said, "only then can you truly bring them to life for your readers." Anne took that advice to heart. After Stone's encouragement twenty years ago, she sold her first novel. When she is not traveling the world researching her stories, Anne and her family make their home in Southern California. When she is not traveling or writing, she is reading fiction.
Anne also writes historical fiction under the name Diane Haeger. For more information, visit www.dianehaeger.com. You can also find her on Facebook, Twitter, and Goodreads.
Madame Picasso Blog Tour Schedule
Monday, August 25
Review at Flashlight Commentary
Tuesday, August 26
Interview & Giveaway at Flashlight Commentary
Wednesday, August 27
Review & Giveaway at Peeking Between the Pages
Thursday, August 28
Review & Giveaway at Words and Peace
Review & Giveaway at Kinx's Book Nook
Friday, August 29
Review at Scandalous Women
Review at Curling Up by the Fire
Monday, September 1
Review at A Bookish Affair
Spotlight & Giveaway at Passages to the Past
Tuesday, September 2
Review & Giveaway at Luxury Reading
Interview & Giveaway at A Bookish Affair
Wednesday, September 3
Spotlight at Gobs and Gobs of Books
Spotlight & Giveaway at Susan Heim on Writing
Thursday, September 4
Review & Giveaway at The Maiden's Court
Friday, September 5
Review at To Read or Not to Read
Monday, September 8
Review at Book of Secrets
Review & Giveaway at Mina's Bookshelf
Tuesday, September 9
Review at A Chick Who Reads
Thursday, September 11
Review at Ageless Pages Reviews
Friday, September 12
Review at Caroline Wilson Writes
Review at The Book Binder's Daughter
Monday, September 15
Review at Layered Pages
Review at Carole's Ramblings
Tuesday, September 16
Review at She is Too Fond of Books
Wednesday, September 17
Interview & Giveaway at Let Them Read Books
Thursday, September 18
Review at One Book of a Time
Friday, September 19
Spotlight & Giveaway at So Many Precious Books, So Little Time
Monday, September 22
Review & Giveaway at Broken Teepee
Tuesday, September 23
Review at Books in the Burbs
Review at The Librarian Fatale
Wednesday, September 24
Review at CelticLady's Reviews
Review at WTF Are You Reading?
Thursday, September 25
Review at Kincavel Korner
Friday, September 26
Interview at Kincavel Korner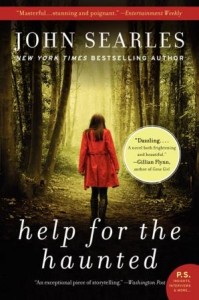 Paperback: 400 pages
  Publisher: William Morrow Paperbacks; Reprint edition (7/15/2014)
A Boston Globe Best Crime Novel of the Year
An Entertainment Weekly Top Ten "Must List"
Winner of the American Library Association's Alex Award
Publishers Weekly, Library Journal, and Booklist starred reviews
Synopsis:
Sylvie Mason's parents have an unusual occupation: helping "haunted souls" find peace. After receiving a phone call late one snowy night, they are lured to an old church on the outskirts of town, where Sylvie falls asleep in the car and is awoken by the sound of gunshots.
Orphaned on that night, Sylvie comes under the care of her reckless, distant older sister, still living in the rambling Tudor house that guards the relics of her parents' past. As she pursues the mystery of their deaths, Sylvie's story weaves back and forth between the time leading up to the murders and the months following, uncovering the truth of what happened that night—and the secrets that have haunted her family for years.
Wow!  That is the one word that I would use to define this incredible, fantastic story.  It is easily the Best Book of 2014 for Books in the Burbs, and will definitely be one of my all time favorite books for many years to come.
From the very first page, there is an eerie, Gothic approach, which makes the book even more creepy to read.  It's a perfect mystery thriller for anyone that loves this genre, but even those who love books about relationships, family secrets, religious fanaticism, too.  I was determined to find out the ending as soon as possible, so I actually took this book with me everywhere to sneak in as much reading as I could.  I ended up reading this book in about 2 days, and in the end, I just cried.  My heart broke for Sylvie and I wanted to process this book with someone, who had also read it.  It's a book that you can't just read and move on from.  You will need to talk to someone, who has read it, just to get some closure and talk through some of the scenarios that occur in the book.
Sylvie is a young girl, still grappling with the loss of her parents and adjusting to living with her sister, Rose.  The story is told through present and past flashbacks from Sylvie's perspective.  She is the only witness to who she says murdered her parents, and as she slowly retraces her steps and those of her family's, the truth reveals itself to Sylvie and the reader at the same time.  So, as Sylvie is shocked…you will be, too!
Religion fanaticism, healings, demon possession…those are some of the topics that will be brought up in the book, albeit a murder mystery.  John Searles raises incredible points: How far will a family go to finding peace?  At what point does the preacher/healer use his influence and plays "God"?  How can family secrets destroy a family and keep them from truly being happy? Do you do what is right, even if it means that you lose everything? Or do you hold a secret and tell a lie to maintain the status quo?
I absolutely loved the topics John brings up and weaves it into a fantastic storyline.  This book shows how something that starts out with good intentions can go wrong, and go off course because of different factors, such as : greed, selfishness, fear of realizing everything was an illusion, and the way that one lie has the domino effect of building upon other lies that eventually tear up a family.
This would make a great book club pick, because the discussions would be endless!  I would love to hear people's own personal stories about healing services, tent revivals, and their own personal experiences.  I would equally love to know what people think of this particular family, the lengths one person goes to shield the truth, and what happens when secrets have a stronghold on a person.  Sylvie is a beautiful, remarkable, and brave little girl, who I am sure many will love and cry for, too.  Get the book and move it to the top of your TBR pile, because it's that good!
*This book was provided through TLC Book Tours and the publisher! Many thanks to both of them!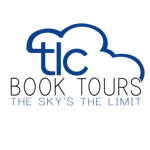 Special offer for book clubs:
Book clubs that sign up to chat with John Searles about Help for the Haunted could win a tote bag of books for each member of their book club! Find out more details about John Searles' goal to speak to a book club in each state of the United States over at Book Club Girl!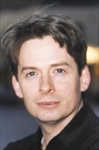 About John Searles:
John Searles is the author of the national bestsellers Boy Still Missing and Strange but True. He frequently appears as a book critic on NBC's Today show and CBS's The Early Show. He is the Editor-at-Large of Cosmopolitan. His essays have been published in the New York Times, the Washington Post, and other national newspapers and magazines. He lives in New York City and can be found on Facebook and also on Twitter: @searlesbooks.
John's Tour Stops
Thursday, July 17th: Bibliophilia, Please
Monday, July 21st: Great Imaginations
Tuesday, July 22nd: Sara's Organized Chaos
Wednesday, July 23rd: Satisfaction for Insatiable Readers
Monday, July 28th: missris
Tuesday, July 29th: Books in the Burbs
Wednesday, July 30th: Excellent Library
Friday, August 1st: Sweet Southern Home
Monday, August 4th: Books in the City
Wednesday, August 6th: Kahakai Kitchen
It doesn't always happen, but with the recent health issues I've had, being homebound has allowed me the opportunity to read more than I have in a long time.  Reading has been the silver lining, this summer.  Usually, summer is the time when I read from my TBR list, which I have yet to touch! I think most readers can relate-but it seems my TBR list is always expanding!!!  With new releases each week, it can be overwhelming to keep up with!
Below are some books I've read-so far!  If you click on the picture of each book, it will take you book page, so that you can read the synopsis.
**************************************************************************************************
This is a story that reads almost like a mystery, because Olivia has to piece together the events that happened before the fatal death of her estranged friend, Sally.  I enjoyed reading about the relationship between Sally and Olivia (before they became adults), and could certainly relate to having that "crazy friend"-who goes off the edge.  Eleanor Moran doesn't give all the details in order, with the story changing from past to present, which made the book even more fascinating to read!  I love a great mystery, wrapped up in a novel that has a little bit of everything: widowhood, survivor's guilt, infidelity, friendships, lies and betrayal, and a little romance.  The reader is given one piece of the puzzle, in random order, as each piece slowly takes shape to reveal the hidden truths that were there the whole time.
I loved Madeline and felt her emotions were true to that of a child, who deals with the loss of her parent.  She is angry, distant, reluctant, and slowly opens her heart to the possibilities of loving and honoring her mother, while also accepting a new beginning.  My heart ached for her, as she struggles to balance her faithfulness to her mom, while also learning to accept someone else in her life.  It isn't until the very end that Moran reveals to the reader and Sally's family-the reason for Sally's demise and "crazy behavior", which came as a shock but then made sense!  Eleanor Moran nails the psychological issues Sally faces and the internal struggles she dealt with and the demons that she faced.
While there were times that it seemed Olivia was in a trance and did whatever William wanted, it seemed that in some cosmic weird way that Sally wanted things to evolve as they do and that in the end, she could rest in peace knowing those she loved were all together.
It's an excellent read!  I read this one quite quickly because  I wanted to know what happens!  Most of all, I love the style of writing Eleanor Manor has in this book-as it was a puzzle that slowly connects and reveals all the hidden secrets that the characters have.  Those who love books about mental illness, family secrets/relationships, and friendships, will certainly love this book!
  *A huge thank you to the publisher for giving me the opportunity to review this book.
************************************************************************************************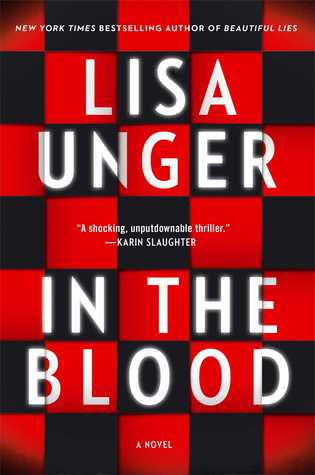 Let's face it.  The book cover doesn't scream, "READ ME!".  But….don't let that deter you from reading it!  Once you've read it, you will completely understand the cover and appreciate it that much more.  This book is a traditional thriller book.  It has mystery, electric energy that intensifies as each chapter is read, murder, possible suspects and motives, and psychological drama that will have your head spinning!  It's definitely one of my best picks for 2014, because it the kind of book that any reader will enjoy.
You love history? Check.
You love murder mystery? Check.
You love reading about an underdog protagonist that has a secret? Check.
You want to read a book that you won't be able to put down? Check.
You want a book that has to deal with sociopaths, psychological issues? Check.
You want a book that intensifies as each chapter is read? Check.
This book has it all.  There is so much detail, that Lisa Unger leaves no stone uncovered.  She weaves this incredible story, with two alternating voices.  Whose voice is the second? That 's one of the mysteries!  I absolutely loved this book, couldn't put it down, and read this book in 1 day.  That is really unheard for me, and being sick, I actually read this book with a migraine.  I literally read with one eye closed at times because my head hurt….but I needed to know what happened! Yeah, this book is that fantastic.  Add it to your TBR list, or better yet, just stop what you are reading and grab this book!  It's that good.
*This book was provided for review, courtesy of the publisher.
**************************************************************************************************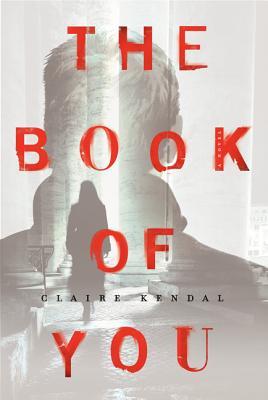 This is a book that starts out quite intense.  Clarissa is a girl that people either can relate to because they see parts of themselves in her, or know someone who is like her.  Either way, Clarissa will be someone that will bring out strong emotions in the reader.  Clarissa is the typical victim: she is isolated, wants to have a relationship but doesn't know how to set boundaries because she has self-esteem issues, and doesn't know who to trust.  There are so many issues Clarissa is challenged with, because of the torment she endures from her predator (Rafe).  The reader is taken on a journey of the psychological trauma and prison a person can get entrapped in, and how it slowly strips everything from the victim, to a point of panic.  It's an incredible book that shows that cycles repeat, until the victim takes control and makes a shift mentally.
If you or someone you know is feeling threatened, in an unsafe situation, or needs to talk to someone, please call the Crisis Hotline!
1.800.273.8255
24/7, anytime, anywhere.
  *This book was provided through TLC Book Tours, in exchange for an honest review.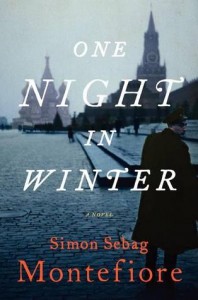 Publisher: HarperCollins
Publication Date:  May 6, 2014
Genre: Historical Fiction
Pages: 480
ISBN:  0062291882
Format:  Paperback
Source:  TLC Book Tours & Publisher
Synopsis:
The acclaimed novelist and prizewinning historian Simon Sebag Montefiore explores the consequences of forbidden love in this heartbreaking epic, inspired by a true story that unfolds in Stalin's Russia during the bleak days after World War II.
A jubilant Moscow is celebrating the Soviet Union's victory over Hitler when gunshots ring out though the city's crowded streets. In the shadow of the Kremlin, a teenage boy and girl are found dead. But this is no ordinary tragedy, because these are no ordinary teenagers. As the children of high-ranking Soviet officials, they inhabit a rarefied world that revolves around the exclusive Josef Stalin Commune School 801. The school, which Stalin's own children attended, is an enclave of privilege—but, as the deaths reveal, one that hides a wealth of secrets. Were these deaths an accident, a suicide pact . . . or murder?
Certain that a deeper conspiracy is afoot, Stalin launches a ruthless investigation. In what comes to be known as the Children's Case, youths from all over Moscow are arrested by state security services and brought to the infamous interrogation rooms of the Lubyanka, where they are forced to testify against their friends and their families. Among the casualties of these betrayals are two pairs of illicit lovers, who find themselves trapped at the center of Stalin's witch hunt. As the Children's Case follows its increasingly terrifying course, these couples discover that the decision to follow one's heart comes at a terrible price.
A haunting evocation of a time and place in which the state colluded to corrupt and destroy every dream, One Night in Winter is infused with the desperate intrigue of a political thriller. The eminent historian Simon Sebag Montefiore weaves fact and fiction into a richly compelling saga of sacrifice and survival, populated by real figures from the past. But within the darkness shines a deeply human love story, one that transcends its moment as it masterfully explores our capacity for loyalty and forgiveness.
I first have to mention, how fitting writing this review is, today.  Today, is Memorial Day, an important date that Americans celebrate and honor the American soldiers who have fought bravely and lost their lives doing so, for our freedom and those of others.
One Night in Winter is the sequel to Sashenka, however is a book that can stand on it's own.  The first scene that takes place, reminded me of a couple of fateful scenes in Romeo and Juliet, all rolled into one.  It's the end of World War II, Stalin is in control of his country, and like any narcisstic leader-still demands the loyalty of the people.
Centered around young teens, who many are children of leaders in the political party, movie stars/entertainers, and fierce supporters of Stalin's regime.  However, what became one tragic story, turns into a twisted and demented opportunity for Stalin to use this situation to his favor: put children against parents, parents against each other, and everyone's loyalty is questioned.
This is a profound book that will have many crying, angry, sad, and think of this book for many days and years to come.  Simon is a gifted and talented author, who can write something so tragic and yet in the midst of it, give the reader hope, show the beauty in a time when things were bleak, and teach people what can happen when too much control is given to one person.  This is a fantastic story that would be wonderful for any high school or college course studying history, world events, character analyses, and would certainly make for an awesome book club pick!! The discussions would be endless for sure!
It's a long read, but every page is worth it.  A great book to add to any TBR list for sure!
About Simon Sebag Montefiore
Simon Sebag Montefiore's bestselling books are published in more than forty languages. A fellow of the Royal Society of Literature, he is the author of the critically acclaimed novel Sashenka. As a historian, his works include Jerusalem: The Biography, Stalin: The Court of the Red Tsar, and Young Stalin, which was awarded the Los Angeles Times Book Prize for Biography, the Costa Biography Prize (UK), and Le Grand Prix de Biographie Politique (France).
Find out more about Simon at his website and connect with him on Facebook.
Simon's Tour Stops
Wednesday, May 7th: Man of La Book
Monday, May 12th: 5 Minutes For Books
Tuesday, May 13th: Ace and Hoser Blook
Wednesday, May 14th: Dwell in Possibility
Thursday, May 15th: No More Grumpy Bookseller
Tuesday, May 20th: More Than Just Magic
Wednesday, May 21st: Read Lately
Thursday, May 22nd: Svetlana's Reads and Views
Thursday, May 22nd: Walking With Nora
Monday, May 26th: Book-alicious Mama
Monday, May 26th: Books in the Burbs
Tuesday, May 27th: Bookfoolery and Babble
Wednesday, May 28th: The House of the Seven Tails
Monday, June 2nd: The Written World
Tuesday, June 3rd: Ageless Pages Reviews
Thursday, June 5th: Read. Write. Repeat.
TBD: Bibliophilia, Please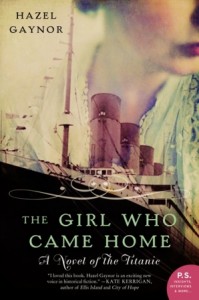 Publisher:  William Morrow
Publication Date:  April 1, 2014
Genre:  Historical Fiction
Source:  TLC Book Tours
Format:  Paperback
Pages:  384
Synopsis:
a lifetime for a young Irish woman. . . .
Ireland, 1912 . . .
Fourteen members of a small village set sail on RMS Titanic, hoping to find a better life in America. For seventeen-year-old Maggie Murphy, the journey is bittersweet. Though her future lies in an unknown new place, her heart remains in Ireland with Séamus, the sweetheart she left behind. When disaster strikes, Maggie is one of the few passengers in steerage to survive. Waking up alone in a New York hospital, she vows never to speak of the terror and panic of that fateful night again.
Chicago, 1982 . . .
Adrift after the death of her father, Grace Butler struggles to decide what comes next. When her great-grandmother Maggie shares the painful secret about Titanic that she's harbored for almost a lifetime, the revelation gives Grace new direction—and leads both her and Maggie to unexpected reunions with those they thought lost long ago.
Inspired by true events, The Girl Who Came Home poignantly blends fact and fiction to explore the Titanic tragedy's impact and its lasting repercussions on survivors and their descendants.
This is such a beautiful, yet tragic love story.  Hazel Gaynor is a gifted author, as she can weave fiction with fact, and even when we all know the outcome of the Titanic, she has us wanting to continue reading!  The Titanic has always had a mysterious, elegant, and somber beauty about it.  It's the ship that brought the world together, and still does to this day.  With so many books written about the Titanic, Hazel dives into a storyline that has not been told: those left behind.  This book is definitely character driven, and the storyline is like a delicious stew on a cold day!!  It takes time to develop, but to rush it, is to lose the magic that this book contains.
The story is told through different viewpoints, which adds dimension to the characters and makes the plot even more rich and complex.  Maggie and Seamus' love for one another, with love letters placed perfectly between the storyline, creates its own story-in a way.  While history shows that the Titanic did sink, Hazel is able to bring to life the beauty of the ship, the people onboard and the dreams they had, and the families and friends on land-left behind to figure out what happened and how to move on.
While I was given the paperback for review, I also purchased this book on my Nook.  It is not often that I buy a book I am already reviewing, but this one is a book that I want-for perhaps another day-when I want to revisit the wonderful tales and high hopes of Maggie, her friends, and those who embarked on an adventure, aboard the Titanic.  Buy the book!  It's a keeper!!
*A huge thank-you to TLC Book Tours, and the publisher, for giving me an opportunity to read and review this book!
Hazel's Tour Stops
Tuesday, April 1st: Reflections of a Bookaholic
Tuesday, April 1st: Historical Tapestry (guest post)
Thursday, April 3rd: Kritters Ramblings
Monday, April 7th: Ladybug Literature
Tuesday, April 8th: No More Grumpy Bookseller
Wednesday, April 9th: Tiffany's Bookshelf
Thursday, April 10th: Book-alicious Mama
Monday, April 14th: The Avid Reader
Tuesday, April 15th: Bibliophilia, Please
Wednesday, April 16th: Jenn's Bookshelves
Thursday, April 17th: Read. Write. Repeat.
Monday, April 21st: Svetlana's Reads and Views
Tuesday, April 29th: Mel's Shelves
Friday, May 2nd: Books in the Burbs
Thursday, May 8th: My Bookshelf
TBD: Little Lovely Books 
TBD: Peppermint PhD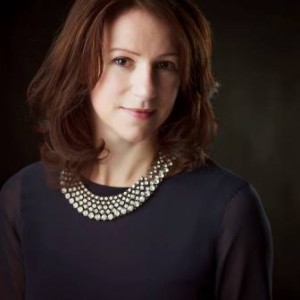 About the Author:
Hazel Gaynor is an author and freelance writer in Ireland and the U.K. and was the recipient of the Cecil Day Lewis Award for Emerging Writers in 2012. Originally from North Yorkshire, England, she now lives in Ireland with her husband, two young children, and an accident-prone cat.
Connect with Hazel on Facebook.
Genre:  Historical Fiction
Publisher: St. Martin's Griffin
Released: March 18, 2014
Format: Kindle
Pages:  320
Source:  HFVBT & Publisher
Synopsis:
Mistress Mary Shelton is Queen Elizabeth's favorite ward, enjoying every privilege the position affords. The queen loves Mary like a daughter, and, like any good mother, she wants her to make a powerful match. The most likely prospect: Edward de Vere, Earl of Oxford. But while Oxford seems to be everything the queen admires: clever, polished and wealthy, Mary knows him to be lecherous, cruel, and full of treachery. No matter how hard the queen tries to push her into his arms, Mary refuses.
Instead, Mary falls in love with a man who is completely unsuitable. Sir John Skydemore is a minor knight with little money, a widower with five children. Worst of all, he's a Catholic at a time when Catholic plots against Elizabeth are rampant. The queen forbids Mary to wed the man she loves. When the young woman, who is the queen's own flesh and blood, defies her, the couple finds their very lives in danger as Elizabeth's wrath knows no bounds.
My Review:
Two words: BLOWN AWAY!  First of all, I absolutely love the book cover.  It is the perfect illustration of Mary and Queen Elizabeth's relationship: Mary was often in her shadow, as she should be, however the heart always has another direction it wants to go!
Before I started the story, the author writes a little bit of a prologue. I am in awe of Anne's courage, fighting spirit as she battled cancer, and that she was able to write this book in the midst of her own struggle.  Also, she is a descendent from Queen Elizabeth's lineage, which makes this story even more fascinating for the readers, as I am sure it was for her when she researched the people in her book.
While I have read a lot of historical fiction novels about Queen Elizabeth I, and even saw the movies, this book sheds light on another side to the Queen.  In this book, readers will see a vulnerability that other books may not show.  While she is Queen of England and being courted by suitors, she manages to make time for her beloved Mary.  Queen Elizabeth also experiences the heartache of loving her "Sweet Robin", Robert Dudley, who she can never marry.  Robin is also like a father or dear uncle to Mary, who she looks to for guidance and favor with the Queen during a moment most needed.
Mary is a young woman, who is quite similar to Queen Elizabeth.  Unlike the other maidens, she maintains her "virtue" with the other courtiers and does believe in love, rather than fortune.  She has an opportunity to marry for fortune, but chooses not to marry the Earl of Oxford, which Queen Elizabeth supports.
Throughout the story, readers see what court is like, how Queen Elizabeth handles issues with other countries, Catholics vs. Protestants, as well as the Queen Mary of Scots and the Duke of Norfolk.  It was quite interesting to see how Queen Elizabeth handled all these pressures, dealt with the people in her court, and maintain the relationships she had with her maidens.
Mary has her own challenges of falling in love with a Catholic widowed father of 5 and pleasing the Queen.  I was stunned…just stunned with the way the events unfolded at the end and saddened by Mary's relationship with Sir John and how their story ends.
This is an incredible book, one that many will love! If you love historical fiction, Tudor history, interested in another aspect of Queen Elizabeth's history, young love, and just want a great read-then this book is it!  Anne does a remarkable job with keeping the book focused more on the characters and their struggles, rather than just get bogged down with historical facts.  It's a beautiful story and one that is now an absolute favorite of mine!
*A huge thanks to HFVBT for allowing me the opportunity to join this tour!
About the Author
Anne Clinard Barnhill has been writing or dreaming of writing for most of her life. For the past twenty years, she has published articles, book and theater reviews, poetry, and short stories. Her first book, AT HOME IN THE LAND OF OZ, recalls what it was like growing up with an autistic sister. Her work has won various awards and grants. Barnhill holds an M.F.A. in Creative Writing from the University of North Carolina at Wilmington. Besides writing, Barnhill also enjoys teaching, conducting writing workshops, and facilitating seminars to enhance creativity. She loves spending time with her three grown sons and their families. For fun, she and her husband of thirty years, Frank, take long walks and play bridge. In rare moments, they dance.
For more information, please visit Anne Clinard Barnhill's website. You can also find her on Facebook and Twitter.
Virtual Book Tour Schedule
Monday, March 10
Review at Words and Peace
Review & Giveaway at Peeking Between the Pages
Wednesday, March 12
Review at A Chick Who Reads
Review at CelticLady's Reviews
Thursday, March 13
Review at Book Lovers Paradise
Friday, March 14
Review at The Lit Bitch
Monday, March 17
Feature & Giveaway at Passages to the Past
Tuesday, March 18
Spotlight & Interview at Flashlight Commentary
Wednesday, March 19
Review at One Book at a Time
Thursday, March 20
Review at Book-alicious Mama
Friday, March 21
Review at So Many Books, So Little Time
Monday, March 24
Review at She is Too Fond of Books
Tuesday, March 25
Review at Oh, For the Hook of a Book
Wednesday, March 26
Interview at Oh, For the Hook of a Book
Thursday, March 27
Review at Book of Secrets
Friday, March 28
Review at Scandalous Women
Monday, March 31
Review at HF Book Muse – News
Review & Giveaway at WTF Are You Reading?
Tuesday, April 1
Interview at HF Book Muse – News
Thursday, April 3
Review at Books in the Burbs
Friday, April 4
Review at The True Book Addict
Review at Griperang's Bookmarks
Monday, April 7
Review at Sharon's Garden of Book Reviews
Tuesday, April 8
Review at A Bookish Affair
Wednesday, April 9
Interview & Giveaway at A Bookish Affair
Thursday, April 10
Review at The Most Happy Reader
Friday, April 11
Review at Silver's Reviews
Review at The Musings of ALMYBNENR
Publication Date: January 21, 2014
Publisher:  St. Martin's Press
Pages: 304
Obtained:  She Reads & Publisher
Genre: Contemporary Fiction
Synopsis:
From the New York Times bestselling author of Garden Spells comes a novel about heartbroken people finding hope at a magical place in Georgia called Lost Lake.
Suley, Georgia, is home to Lost Lake Cottages and not much else. Which is why it's the perfect place for newly-widowed Kate and her eccentric eight-year-old daughter Devin to heal. Kate spent one memorable childhood summer at Lost Lake, had her first almost-kiss at Lost Lake, and met a boy named Wes at Lost Lake. It was a place for dreaming. But Kate doesn't believe in dreams anymore, and her Aunt Eby, Lost Lake's owner, wants to sell the place and move on. Lost Lake's magic is gone. As Kate discovers that time has a way of standing still at Lost Lake can she bring the cottages—and her heart—back to life? Because sometimes the things you love have a funny way of turning up again. And sometimes you never even know they were lost . . . until they are found.
My Review:
Being a bit of a realist, this new kind of genre: whimsical fiction, is new for me.  I don't even know if it is really a legitimate, certifiable, been approved by the book readers and writers of the world-kind of genre.  But, it fits for this book.
Kate is a recent widow, and having basically given her life over to her mother-in-law, to manage and control, Kate one day snaps out of it.  Going through boxes, her daughter comes across a post card from Lost Lake and both decide to venture over there as a one last thing to do, before living with Cricket (the mother-in-law).  Eby is Kate's aunt and has made the decision to close Lost Lake and sell it to a big time developer.
Throughout the story, readers will become more acquainted with the visitors of Lost Lake, as will Kate and her daughter Devin.  Devin notices the magical qualities of Lost Lake, talks with an alligator (telepathically), and both help Kate, Eby, and others from Lost Lake make peace with their past and embrace their future.
I loved the storyline, the way Kate and Jack reconnect, and the interesting story of the alligator.  I loved the quirky characters in the book, such as Lisette and Selma.  The story weaves together so well, and even had me wishing I was there with them!
I loved the book and would highly recommend this to those who love a great story, enjoy fairytales, love women's literature, and just want a great read.  I am also most amazed by the author.  As she was fighting her diagnosis of cancer, she created such a beautiful place with a storyline that deals with real issues, and characters we've all met or have in our life.  I am truly in awe of Sarah's work and am glad she wrote a book with happy sprinkles to share with everyone!
Click here for book giveaways!
New Cover Reveal & Book Giveaway: The House at the End of Hope Street by Menna van Praag
Early LibraryThing Book Review & Giveaway: Starter House by Sonja Condit
Publisher:  William Morrow
Release Date:  December 31, 2013
Pages:  384
ISBN: 0062283057
Source: Publisher & LibraryThing
Genre:  Mystery
Summary:
Promising talent Sonja Condit makes her debut with Starter House, an eerie and mesmerizing tale about a young couple whose new house holds deadly secrets from the past, sure to appeal to fans of Heart-Shaped Box and The Thirteenth Tale.
From the moment Lacey sees the house with the beautiful wood staircase, she knows she's found her dream home. Growing up rootless with her flighty mother, Ella Dane, a self-proclaimed psychic, Lacey is determined to give her unborn baby the stability she never had.
But shortly after she and her husband, Eric, move in, the warm and welcoming house becomes cold and dark. There is something malevolent within these walls that wants to hurt her unborn child—a terrifying presence that only she can sense. And there is Drew, a demanding and temperamental little boy who mysteriously appears when Lacey is alone.
To protect her unborn child and save her family, Lacy must discover the truth about her dream house and the troubled Drew—a decades-old mystery involving secrets, violence, and guilt—and confront an evil that has lingered in wait for years.
My Review:
I loved the cover! It's the window of the "starter house", and gives the impression that someone is looking out the window…guarding the house.  In order to give my review, I need to include 2 disclosures.
First, I absolutely HATE, yes, hate, when books are compared to other masterpieces.  I can understand there are books that may be similar, evoke the same emotions, and possibly have a similar storyline….but unless the book is a rewrite-it should be a stand-alone and not compared to other books. Period.
Secondly, when I read a book, I don't like to guess what will come next or poke holes in a storyline.  Sure, some books may be a little obvious, while others may be a little too hokey and simply unrealistic.  However, that is the beauty of books: they are a great escape.  It's not 48 Hours, the TV show.
With my two disclosures not shared: I can honestly say that I LOVED this book!  I'm a big scaredy cat and definitely will not read any demonic stories.  While it's not a demonic storyline, it's definitely creepy and kept me reading through the very last page.
If you've read my posts about e-readers, then you know that I prefer any kind of e-reader device over a paperback.  I typically read at bedtime, so finding the "perfect" book light hasn't happened for me yet.  However, I managed to read this book at night, took it everywhere with me, and enjoyed the book to the very end!
It has all the elements of a great mystery: flawed characters, who are disconnected, so that they don't share what they know until the very end (when it's almost too late), an old house with a history of murders, a neighbor that knows more than he's willing to share, a realtor that doesn't want to sell the house but gives in because of a hefty commission, and a mom tuned into the supernatural….as well as the daughter (wife and homeowner).
Don't rush through the book, realize it's not Amityville House of Horrors (although it comes close), and know that everything will unfold as it needs to-leading up to a great ending!
Without giving too much away, I will answer these questions:
Why does Lacey seem intent to stay in a home that is obviously haunted?  First, she is wanting to give her unborn child what she never had: roots.  Also, by the time she realizes she needs to get out, she learns that where she goes-the ghost does too.
Why doesn't Eric leave?  Because he's mounted high in debt and doesn't want to disappoint his wife, and he also doesn't want to believe that there is any truth to what is presented to him by Lacey and others.
I enjoyed this book and loved how each chapter had a picture of the book cover…..just to remind you that someone is always watching!  The only suggestion I have is for the author: please be more visible on FB & Twitter, as well as amping up the website.
It's such a fantastic book, that I've decided to offer this book as a giveaway!
A huge thanks to LibraryThing and the publisher for giving me an opportunity to read and review the book!
Scroll down to get the info!
About the Author:
Sonja Condit received her MFA from Converse College, where she studied with Robert Olmstead, Leslie Pietrzyk, R. T. Smith, and Marlin Barton. Her short fiction has appeared in Shenandoah magazine, among other publications. She plays principal bassoon in the Hendersonville Symphony Orchestra and the Greater Anderson Musical Arts Consortium. She teaches at the South Carolina Governor's School for the Arts and Humanities.
Book Details:
Enter your name, email, and answer this question in the comment section:
What's the name of the scariest movie you've seen?
Giveaway ends: March 30, 2014.
(US entries only).