Blogger Note:
While I haven't read this book yet, I am very excited to present to you, Kristy Woodson Harvey.  I was first introduced to her by fellow blogger at
Traveling with T
.  T and I have similar book tastes and when I read the synopsis, it made me even more eager to read it ( my review will be posted later).  Kristy has graciously offered 1 copy of her book to a reader!  Take some time to read her guest post and down below, you will find information on the book giveaway.
Guest Post by Author, Kristy Woodson Harvey
Hi, Books in the 'Burbs readers! I am so excited to share with you about my debut novel, DEAR CAROLINA. I was thrilled when Lisa invited to me to be with y'all today on her FABULOUS blog. (I can say 'y'all' here, right? Southern novel, Southern blog… It's bound to happen, isn't it?) It has been one of my favorites for a long time!
Another one of my long-time favorites is historical fiction, even though I write Southern women's fiction. In fact, I read the first historical novel that really hooked me years before I had ever even thought of being a writer myself. It was Philippa Gregory's The Other Boleyn Girl. (I'm actually kind of horrified to realize that I was fifteen when I picked that up… Seems like yesterday!) I'd heard it was wonderful, but I was hesitant to start it because I already knew what happened. I might not remember all of the history behind some of the historicals that I read. But pretty much everyone knows that Anne Boleyn loses her pretty head. (Yikes!)
But, oh my gosh, despite knowing the outcome, I was HOOKED. I remember thinking what an interesting feeling it was to know what was going to happen in the book already but to still be totally captivated by it, to be so interested in it all the way until the end, to feel on the edge of my seat despite knowing the final outcome.
The more I read and the savvier of a reader I became during my teenage years, I started to realize that it wasn't too hard to figure out how most of the books I read were going to end, at least if you picked up on the clues.
I've heard it said so many times that there are only seven real stories and that they are told over and over again in different ways. So, if you're an avid reader, you probably have some idea of what might happen right from the get go.
When I sat down to write DEAR CAROLINA, I figured I was probably going to be telling some semblance of one of those seven stories. No matter how I framed the lives of Khaki and Graham and Jodi and baby Carolina, readers weren't going to be fooled. So I decided to take a risk. I decided that, instead of making the readers of DEAR CAROLINA wonder whether Khaki and Graham adopt baby Carolina from Jodi, I would just tell them right off the bat.
Because, in reality, how else was that story going to end? Would I just leave that baby with an unfit mother? Probably not. And readers were going to realize that pretty quickly.
I figured it's kind of like how people always love hearing about how couples met. They're married. You already know the ending. But finding out how they got there is almost as fun as the end result!
I spent some nights awake after DEAR CAROLINA had gone to print wondering if I had done the right thing. Was giving away my major plot point in the first chapter too risky of a move? Despite the fact that there are other mysteries to be solved, would it take away the enjoyment of the book for the readers?
Fortunately, five weeks later, it seems that readers have really connected to DEAR CAROLINA, that they have found reasons to keep reading. The gamble paid off.
DEAR CAROLINA isn't historical fiction, of course. But it's a family's history. It is its re-telling, the way that baby Carolina will know for the rest of her life where she came from, how she got where she is now, and all the people that loved her along the way.
It isn't Anne Boleyn and it certainly isn't Philippa Gregory, but some messages are worth sharing right away. That you can never have too many people who love you just might be one of them!
Thank you again for having me, Lisa! I can't wait to see who wins DEAR CAROLINA!
About the Author (Bio taken from blog):
Welcome! It's so nice to meet you. I can't wait to get to know you!
I'm Kristy, wife to the boy whose eye caught mine across the restaurant nearly a decade ago. I pronounced him my husband and haven't looked back since – or doubted my intuition ever again! We have the most incredible two-year-old boy that is pure joy. (And, yeah, the occasional tantrum.)
I'm a Southerner through and through, a North Carolina girl who loves all four seasons – especially fall in Chapel Hill, where I went to college (Go Tarheels!) and summer in Beaufort, where we spend every free moment. (I'm sitting at my desk in Beaufort in this picture!)
I blog at Design Chic about how creating a beautiful home can be a catalyst for creating a beautiful life. And I'm blogging right here about absolutely everything else!
My first women's fiction novel is forthcoming from Berkley (Penguin Random House) in Spring 2015. My dream of being a published author is finally coming true and I. Can't. Believe. It. What's your dream? (You know, that one you're afraid to say out loud?) I just know it's about to come true!
Book Information: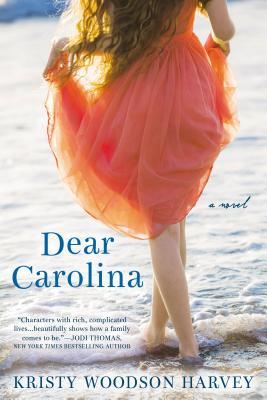 Dear Carolina, A moving debut novel about two mothers—one biological and one adoptive—from a compelling new voice in Southern women's fiction.
One baby girl.
Two strong Southern women.
And the most difficult decision they'll ever make.
Frances "Khaki" Mason has it all: a thriving interior design career, a loving husband and son, homes in North Carolina and Manhattan—everything except the second child she has always wanted. Jodi, her husband's nineteen-year-old cousin, is fresh out of rehab, pregnant, and alone. Although the two women couldn't seem more different, they forge a lifelong connection as Khaki reaches out to Jodi, encouraging her to have her baby. But as Jodi struggles to be the mother she knows her daughter deserves, she will ask Khaki the ultimate favor…
Written to baby Carolina, by both her birth mother and her adoptive one, this is a story that proves that life circumstances shape us but don't define us—and that families aren't born, they're made…

"Characters with rich, complicated lives…beautifully shows how a family comes to be."—New York Times bestselling author Jodi Thomas
"Southern fiction at its best… Beautifully written."—New York Times bestselling author Eileen Goudge
Connect with the Author:
Book Details:
Open internationally. One random winner will be selected to receive a copy of the book. Simply fill out the comment form. Extra entry opportunities will be provided.
Giveaway ends July 31, 2015
*Please note:  All information on the comment form is not visible to anyone but me (the blogger).  No information will be given to anyone else, except the name and address of the winner to the author, who is mailing the book directly to the winner.