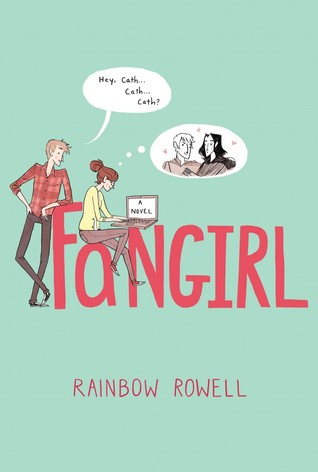 My Review:
I love Rainbow Rowell's writing. I first experienced her writings last year and I haven't stopped.  I absolutely loved Eleanor and Park and read Landline, which I also enjoyed.  It made perfect sense for me to read Fangirl, too!  Especially since I had already purchased a tote from fellow blogger and Etsy owner, I knew it was time to pull out this book to read!
First of all, I had no idea the amount of fanfiction that is out there!  While I love reading spin-offs of Jane Austen's work, I had no idea that there is this underground world (so to speak), with writings available on the internet that are not even published!  It's pretty intense, exciting, and I have a lot of reading…especially because of my infinite love of Twilight!
This story has a bit of fanfiction within it.  Cath(er) is writing her version of a perfect ending of the Simon Snow series.  I blame it on my eyes, but I seriously didn't know that the cover is of two guys dreamingly looking into each other's eyes.  Otherwise, I may not have even read the book.  Because I don't read books with gay romance, I was a little uncomfortable but knew the premise of the story was primarily about Cath and her sister, and how they both adjust to college life.  Honestly, what Cath writes about didn't come across as a love story between Simon and Baz.  I know Cath feels they are both are in love with one another and that is where she wants to take her story.  However, I saw them more as brothers, who really had no one else to depend on.  I just didn't feel the romance or magic that oozes between Cath and Levi.
Being a mom of a freshman in college, this novel was a little bit close to home.  Although I am married and have a wonderful husband and children at home, I could completely relate to that feeling of sadness and loss of self that Cath and Wren's dad experiences.  Granted, he does have other issues, with one being a mental illness-but any college parent can relate to what he experiences when not one, but both children leave for college.
I love the realistic college campus life that Rainbow Rowell describes.  It was also great to see how different Cath and Wren (identical twins) adjust differently to campus life. I loved that it showed how hard it can be to make friends, going to class and dealing with being the "fish", and trying to balance home and college life.  While both Cath and Wren have their own issues to contend with, in the end, they both realize what is most important is what they had all along: each other.  They will be pulled apart, fight, but in the end, they will come together and tackle some tough issues along the way.
As a mom, I was freaking out about premarital sex, the accessibility to drugs and alcohol, isolation, and making friends.  However, if I look back on when I went to college, I can completely relate and understand the pressures a college student has and the journey to self discovery.  It's a great novel that I enjoyed reading!