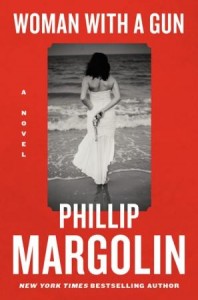 Publication: December 2, 2014
Publisher: Harper Collins
Genre:  Mystery/Thriller
Synopsis:
This compelling thriller, from New York Times bestseller Phillip Margolin, centers on an intriguing photograph that may contain long-hidden answers to the mystery of a millionaire's murder.
At a retrospective on the work of acclaimed photographer Kathy Moran, aspiring novelist Stacey Kim is fascinated by the exhibition's centerpiece: the famous Woman with a Gun, which launched the artist's career. Shot from behind, the enigmatic black-and-white image depicts a woman in a wedding dress standing on the shore at night, facing the sea. But this is no serene, romantic portrait. In her right hand, which is hidden behind her back, she holds a six-shooter.
The picture captures Stacey's imagination and raises a host of compelling questions: Who is this woman? Is this a photograph of her on her wedding day? Does she plan to kill herself or someone else? Obsessed with finding answers, she soon discovers the identity of the woman: a suspect in a ten-year-old murder investigation. Convinced that proof of the woman's guilt, or innocence, is somehow connected to the photograph, Stacey embarks on a relentless investigation.
Drawn deeper into the case, Stacey finds that everyone involved has a different opinion of the woman's culpability. But the one person who may know the whole story—Kathy Moran—isn't talking. Stacey must find a way to get to the reclusive photographer, and get her to talk, or the truth about what happened that day will stay forever hidden in the shadows.
My Review:
Phillip Margolin is an exceptional writer.  He actually did see the photo at the front of the book cover and the questions that the character, Stacy, asks herself, are the very ones that motivated him to write this novel.  Genius!
While the picture is stunning, I imagined the picture being hung on a wall at the museum-as the book cover.  The red trim isn't my favorite, but it certainly wouldn't deter me from picking up the novel!
The storyline starts a little slow, which helps to understand each character and their motivations.  Readers will later discover how they are somehow related-even when it doesn't seem possible.  There are moments that I had questions: Why does Kathy turn from a hard-hitting attorney to drug user? What does Jack find so irresistable about Kathy? Why is Gary Kilbride so invincible?  Does Megan really have amnesia?  Who wants to silence Stacy?  However, these questions will slowly be answered, with some room for interpretation by the reader.
There are so many different storylines, within one great story, that it is quite fascinating how Phillip Margolin ties it all together, in the end.  Stacy leaves her job in the Midwest, moves to NY, and comes across the picture of a woman in a wedding gown, holding a gun.  As she explores more about the picture and the details surrounding it, readers are introduced to Kathy, Gary, Jack, and the murder of Jack Cahill.  Megan Cahill is suspected of murder, and is having issues remembering anything after her wedding banquet.
The story has twists and turns, with lots of anticipation building up to the final scenes.  It's a great story, especially for those who love a great murder mystery!  The storyline switches from past to present, which helps readers get a better understanding into the reasons why people are where they are.  It is a book that will keep you guessing!  One thing is for sure-I will never just look at a picture and say, "that's pretty or interesting".  I may become just a little more curious, like Stacy, and want to know more about the people in that photo!  I also loved that Phillip includes court scenes that make the book even more realistic, without bombarding the reader with lingo that is unfamiliar.  It is a book that is very well rounded and is sure to please those who love great novels, with a who-dun-it theme!
About Phillip Margolin
Phillip Margolin has written eighteen novels, many of them New York Times bestsellers, including the recent Worthy Brown's Daughter, Sleight of Hand, and the Washington Trilogy. Each displays a unique, compelling insider's view of criminal behavior, which comes from his long background as a criminal defense attorney who has handled thirty murder cases. Winner of the Distinguished Northwest Writer Award, he lives in Portland, Oregon.
Find out more about Phillip at his website, and connect with him on Facebook.
Phillip's Tour Stops
Tuesday, December 2nd: The Steadfast Reader
Tuesday, December 2nd: Staircase Wit
Wednesday, December 3rd: Books in the Burbs
Thursday, December 4th: Under My Apple Tree
Friday, December 5th: BoundbyWords
Monday, December 8th: The Daily Dosage
Tuesday, December 9th: From the TBR Pile
Wednesday, December 10th: Kahakai Kitchen
Wednesday, December 10th: Great Minds Read Alike
Thursday, December 11th: Bibliotica
Friday, December 12th: FictionZeal
Monday, December 15th: Fuelled by Fiction
Tuesday, December 16th: No More Grumpy Bookseller
Wednesday, December 17th: The Book Binder's Daughter
Thursday, December 18th: Jenn's Bookshelves
Friday, December 19th: Reading in Black & White
Monday, December 22nd: Ace and Hoser Blook
Tuesday, December 23rd: Living in the Kitchen