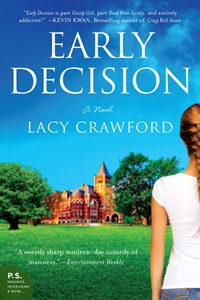 My Review:
As a mom of a freshman in college, I can still remember all the preparation it took and time spent to fill out college applications, scholarships, and visiting campuses.  During that time, a friend mentioned hiring a person to fill out the applications for their son.  It was a lot of money, and I thought it was a bit crazy.
Well, apparently, that is the norm!! This book moved at a great pace and highlights different families and the challenges they face, along with the "college whisperer" to make sure the student has the best opportunity to go to the best university.  This book isn't a "how-to", rather it shows the extents families will go for their child to remain a legacy in the family, the pressures the students face, and the way it can potentially bring a family closer, or break them further apart.  I found it most interesting the relationships and family dynamics that Anne sees, as she spends more time with her students and family secrets are exposed and the pressures each one faces.
It's not a depressing book by any means, but it's a somber look at what families expect from their children, even when their child may have a different idea of what they want for their future.  I love how Anne is able to bring out the best in each of the students she works with and the trust she works hard at establishing.
Anne has her own share of struggles and a relationship that is long distance, which puts pressure on her work and her own goals.  Anne is a young woman, who didn't set out to be a college coach.  She taught at school and helped her students with their college essays, which slowly morphed into her coaching other kids because of the huge success she had with her former students.
About a year ago, I read the book, Accelerated by Bronwen Hruska.  Reading Lacy Crawford's book made me think of the students from Accelerated, and I pictured them and their parents as the ones seeking help from Anne.  I know…these books have nothing to do with the other, but I could see a natural extension of it all.
Overall, I loved this book! Again, there aren't any huge secrets that are revealed in the book.  However, I loved the essays because it showed what each student was thinking, their writing ability, and how Anne was able to pull more from her students when she read the essays.  I loved this book and any parent who has dealt with college admissions, has a child in school, or is simply a reader who loves books about family secrets, family relationships, and the pressure of today's society, will all enjoy this fantastic read!
*This book was provided by the publisher and TLC Book Tours, in exchange for an honest review.  No forms of compensation were given.
About Lacy Crawford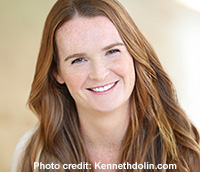 For fifteen years Lacy Crawford served as a highly discreet independent college admissions counselor to the children of powerful clients in cities such as New York, Chicago, Denver, San Francisco, Los Angeles, and London. Her "day jobs" included serving as senior editor of Narrative magazine and director of the Burberry Foundation. Educated at Princeton and the University of Chicago, Crawford lives in California with her husband and two children.
Connect with Lacy Crawford through her website or Twitter.
Lacy's  Tour Stops
Tuesday, August 26th: Walking With Nora
Wednesday, August 27th: Back Porchervations
Thursday, August 28th: Man of La Book
Monday, September 1st: Alison's Book Marks
Tuesday, September 2nd: The Ludic Reader
Wednesday, September 3rd: cakes, tea and dreams
Thursday, September 4th: Staircase Wit
Monday, September 8th: Carpe Libros
Wednesday, September 10th: The Scarlet Letter
Thursday, September 11th: missris
Monday, September 15th: Mrs. Mommy Booknerd
Tuesday, September 16th: Shall Write
Wednesday, September 17th: Book Journey
Thursday, September 18th: Bibliotica
Thursday, September 25th: Books in the Burbs
Friday, September 26th: The Things You Can Read