Abingdon Press
What, what, what???  I just saw this incredible book for FREE!!! So, of course, I have to share it with you!  This is a great read, especially as we approach the 10th anniversary of 9/11.  I was given this book from the publisher to provide a review, which will be posted this month.  In the meantime, check it out for yourself and let me know how you like it.  After all, free is always best!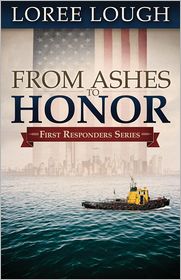 Product Details
Format: Kindle Edition
File Size: 612 KB
ISBN#:  13: 978-1-4267-0769-8
Print Length: 336 pages
Publisher: Abingdon Press Fiction (August 26, 2011)
Genre:  Christian Fiction/Inspiration
Synopsis:
If he had only answered that last phone call from the World Trade Center . . .

Minutes before two jumbo jets changed U.S. history, New York police officer Austin Finley ignored the call from his brother, who'd been bugging him for days. Trying to live with his one regret causes hatred and bitterness to consume Austin, and when counselor Mercy Samara recommends desk duty, Austin resigns. Haunted by her own memories of 9/11, Mercy takes a job as a school counselor in Baltimore. When Austin, now an EMT, responds to an emergency at Mercy's school, both are stunned and wary.
Finally their common—and painful—memories turn suspicion into friendship, then romance.
But hard questions linger: Can they truly move beyond their past harsh judgments and harsh words? Will their past finally bring them closer or—as the tenth anniversary of 9/11 draws near—drive them farther apart?
Download this FREE book onto your Kindle
Download this FREE book onto your Nook
Related articles
Never Doubt That the Unending Love of a Father—or the Pure Faith of a Child—Can Change Lives
"His name is Ashish. His name is Blessing. The boy is my blessing."
Virat and Latha named their son Ashish, for he is the light and glory of their world. Yet a simple drink of water changes all their lives forever. For Virat, Latha, and Ashish are Untouchables, members of a caste who must never contaminate the world of the other, higher, castes.
When Ashish mistakenly drinks from the wrong cup, he's badly beaten. Knowing that his son needs a doctor—which takes money—Virat ventures into the dangerous realm of the high caste. He begs Mammen Samuel Varghese, the wealthy landowner and Christian, for money. He receives the loan—along with a life of slavery for himself and his family.
But Mammen Samuel does not understand the strength of a father's love, the power of a young British nurse who could not forget a boy named Blessing, or the faith of a child.
Kay Marshall Strom has published 34 books, numerous magazine articles and short stories, and two prize-winning screenplays. Her best-known book is Once Blind: The Life of John Newton, which is packaged with the DVD of the popular film Amazing Grace. She lives in Eugene, Oregon.
My Review:
Kay Marshall Strom immediately brings the reader into the lives of  Virat, Latha, and Ashish. When Virat and Latha's only son is severely beaten, they try everything to receive healing for him.  After much prayer and sacrifice to the Hindu gods, Virat knows only one man can help him.  However, going to Mammen Samuel for assistance means that he is also signing away the rights of his family to a life of slavery.
Ashish is a sweet little boy that is inquisitive and loves to explore.  He is always asking his dad why they cannot drink water from certain wells and why they cannot be seen in other's shadows.  Because of his childhood innocence, he simply does not realize that those actions  signify that they are condemned to live a lowly life, which is due to generational traditions passed down in the Hindu religion.
Throughout the story, the reader sees how Ashish goes from being a very brave and curious young boy to a scared one because of certain events that happen to him. However, it is with the help and love of Abigail, a nurse at the medical clinic, that not only heals his external wounds but also teaches him that he is worthy of love and acceptance.
Kay captures the lifestyles of Indian families and shows how the rankings truly limit and confines them to a predestined future.  However, she does this without judgement or being disrespectful to the Hindu religion.  This relaxed approach allows the reader to focus on the stories of each family and truly understand their behaviors and attitudes.
I loved the way Abigail is so caring and learns the Indian language to help patients feel comfortable.  The love Abigail gives to Ashish is a reminder of the love Jesus has for all of us and that we don't have to shove religion down someone's throat.  Rather, through acts of kindness and service, we can reach others even further as we minister to their needs.
I highly recommend this book to anyone that loves historical fiction, wants to learn about the Hindu faith and how it impacts a society, and how Christians can be a witness and a light to others.
What I loved:  learning about the different levels in Hinduism, Christian outreach, the style and flow of the story, being introduced to each family and their relationships, a dictionary (at the back of the book) to know the various Hindi terms used in the book
*This book was provided for an honest review by Abingdon Press via Netgalley. No monetary or other form of compensation was given.
Related articles