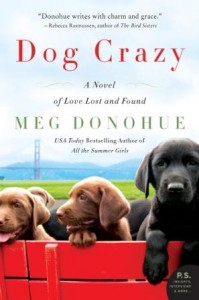 • Paperback: 288 pages
• Publisher: William Morrow Paperbacks (March 10, 2015)
The USA Today bestselling author of How to Eat a Cupcake and All the Summer Girls returns with an unforgettably poignant and funny tale of love and loss, confronting our fears, and moving on . . . with the help of a poodle, a mutt, and a Basset retriever named Seymour.
As a pet bereavement counselor, Maggie Brennan uses a combination of empathy, insight, and humor to help patients cope with the anguish of losing their beloved four-legged friends. Though she has a gift for guiding others through difficult situations, Maggie has major troubles of her own that threaten the success of her counseling practice and her volunteer work with a dog rescue organization.
Everything changes when a distraught woman shows up at Maggie's office and claims that her dog has been stolen. Searching the streets of San Francisco for the missing pooch, Maggie finds herself entangled in a mystery that forces her to finally face her biggest fear-and to open her heart to new love.
Packed with deep emotion and charming surprises, Dog Crazy is a bighearted and entertaining story that skillfully captures the bonds of love, the pain of separation, and the power of our dogs to heal us.

My Review:
HUGE DISCLAIMER:  I did not read this as a therapist, do not recommend therapist's read this as a therapist, nor for non-therapists to assume that therapists provide therapy this way.
Dog Crazy is a light read that covers some heavy topics: grief, fear, anxiety, and sadness.  However, Meg Donahue writes this story in such a way that makes the issues so laden with heaviness and makes the book just as cozy as those cute dogs, who have personalities that many who are dog lovers will relate with.
A mystery (Maggie helps find a missing dog), adjusting to a new city, dealing with her own loss and family issues, Maggie is a woman many will relate with and find compassion towards.  She is a woman with a huge heart, one that has been broken, and while she ventures into a practice to help others-she finds that there is healing for her, too.
This was a quick read for me, but still had me shed a few tears.  Don't let the cover fool you- it's not all warm and fuzzy.  It deals with some heavy topics that people face everyday and will give hope…which always makes for a great ending!!
Overall, I enjoyed the book and am sharing this with one lucky winner!
Giveaway Details:
One person will receive a paperback copy of Dog Crazy by Meg Donahue.
To enter, please fill out the comment form.  Information entered on the form is only visible to me and will not be displayed online.  All information is confidential and not shared with anyone.  No P.O. Boxes, please.
Open to the US & Canada
Giveaway ends April 28, 2015